Following on from stars such as Keith Urban and Coldplay's Chris Martin yesterday, Benjamin Gibbard, the lead singer of American Indie band Death Cab For Cutie, took to Facebook live with an acoustic guitar to perform for fans who are trapped inside their homes at the moment.
The video was posted to the band's page on Wednesday afternoon and has been viewed 250,000 times.
The band, and Gibbard as a solo artist, were forced to cancel several gigs over the coming weeks and months due to the COVID-19 outbreak.
"I know you are all really freaked out right now," Mr Gibbard wrote.
"I am too. And while I'm proud that we're all doing the necessary things at the moment to help flatten the curve, I know it has left us all incredibly isolated.
"But because we're all going through this nightmare together we are quite literally NOT alone. Our lives and stories are all linked, maybe more now than they have ever been."
He said that for the next few weeks he'll perform daily on Facebook.
"We're still working out the details but I'm hoping to take some requests and maybe even have a guest or two stop by digitally."
Outdoor clothing retailer Patagonia has taken the major step of closing all its eight Australian stores for the next two weeks, effective immediately.
The company had previously limited its trading hours to prevent the virus' spread and stave off the sales drop felt by the virus, but a spokesperson said today it was taking this step due to an "abundance of caution".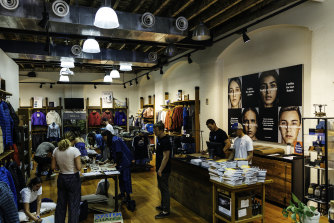 All Patagonia staff will receive their regular pay throughout the closures.
"Over the years, as our Patagonia community has been faced with challenges, we have always been inspired by how we emerge stronger and with an even deeper sense of purpose. We will persevere through this challenge, too," the company said.
We're asking readers to share their stories and tips on how they are coping in these unusual times when the coronavirus outbreak has upended many of our everyday routines.
And there have been plenty of ideas from comfort cooking and meal planning; to checking on elderly neighbours; online yoga; arts and crafts; breaks from screen-time; the best things to watch and play during screen-time; picking wild greens and gardening; cubby hut building; and even making a bidet. (Really!)
UNSW law professor Michael Legg shared a picture of the Dick Smith class action, with many watching via livestream on YouTube.
Meanwhile, Sydney high school Mount St Benedict College shared pictures of their virtual assembly to Facebook, complete with a "studio audience" sitting on chairs placed 1.5 metres apart.
Victoria University is preparing to bunker down for online classes for the foreseeable future, becoming the latest university to suspend on-campus classes, effective from Monday to Friday next week.
Vice-chancellor Professor Peter Dawkins said VU, which has over 27,000 students, would use the week to ensure a smooth transition to digital-only classes.
"We believe this change will help us to be prepared as possible for any long-term disruption to classes as a result of the coronavirus," he said.
"As many classes as possible" will be delivered online from March 30.
The global airline industry needs government aid and bailout measures totaling between $US150 billion ($250 billion) and $US200 billion if it's to survive the coronavirus crisis, according to the International Air Transport Association.
Even then, the pandemic is likely to reshape the industry, with many airlines failing, others consolidating and entirely new groupings emerging, IATA Chief Executive Officer Alexandre de Juniac said in a webcast briefing on Tuesday.
IATA, which represents 290 airlines around the world, said a March 5 estimate suggesting carriers will lose $US113 billion in revenue this year is already outdated. It didn't take account of the border closures and flight bans that have been enforced around the world as the virus has spread.
At the same time, De Juniac said he was "pretty satisfied" with the response of governments to the industry's pleas for help.
He praised state intervention in support of airlines in Singapore, South Korea and China, and said packages being put together in the US, UK and European Union appear positive.
"We are pushing hard," he said on the call. "Governments are listening."
IATA Chief Economist Brian Pearce said only about 30 airlines worldwide have reasonably healthy debt and earnings.
And even the stronger carriers probably have only enough cash to survive for a matter of months without some sort of aid, making bankruptcy a real near-term risk, he added.
Airlines require a variety of measures, ranging from fully-fledged bailouts through loans, loan guarantees, bond-market support and tax breaks, De Juniac said.
Even once the crisis has past, carriers will remain weak and governments will have to reduce the general burden on the sector, he said.
Bloomberg
The Sydney Film Festival has followed a string of other arts events in announcing its event will not proceed in June.
The organisers said the decision to cancel was made with "deep regret" due to the federal government's ban on gatherings of more than 100 people.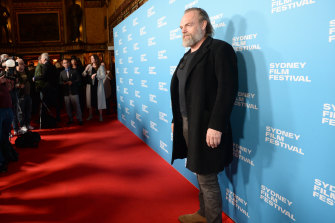 "In this rapidly evolving and unknown environment, the SFF board and management know this is the only responsible decision – albeit a devastating one," they said in a statement.
Refunds will be available for ticketholders, with the festival to return "as vibrant as ever" in 2021.
There has as yet been no government edict for cinemas to close, but following this morning's cap on "non-essential" gatherings of more than 100 people Palace has unilaterally decided it is the right thing to do – especially given the demographic of its audiences.
"The customer profile at Palace Cinemas is more mature and with that higher median age there is a higher degree of risk to our patrons in remaining open," the group's CEO, Benjamin Zeccola, has told staff via email this afternoon.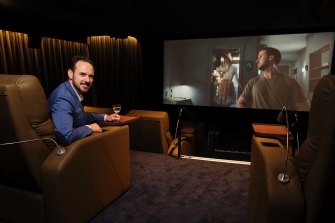 "Our sites accommodate many more than 100 people; we are not of the view that it is operationally possible to limit the numbers of people gathering at our cinemas to 100 people in all circumstances (for example, in an evacuation scenario, or where people arrive early for their sessions or remain in our lobbies/cafes for longer than expected).
"Taking into consideration these factors, we have formed the view that it is no longer responsible or safe to continue operating without a risk to the health of our customers and staff."
The group operates 20 cinemas nationally, and all venues will close from the end of the last session on Wednesday until further notice.
"At this stage we don't know when we expect to be able to re-open, but hope that we can do so within the next two to three months," Mr Zeccola said. "We are deeply saddened by this."
Lifeline says 23 per cent of callers this week have discussed coronavirus concerns.
Lifeline Australia Chairman John Brogden said calls were only expected to increase as the coronavirus crisis continues.
"We want to reassure Australians that no matter what happens with COVID-19, if the government calls for a lockdown in any or all of Australia, Lifeline is prepared and we are committed to being available to any person who needs us," he said.
Mr Brogden also encouraged people to check-in on one another.
"The current social isolation policy means many of the important opportunities for people to connect with each other and do things they enjoy are being stopped. For someone who is already struggling, this can be a huge blow.
"If you can't knock on their door, be imaginative in how you can connect- give someone a call, write them an email, put a note under their door, sing under their window.
"By reaching out to someone who may be struggling and letting them know you care, you can send a really powerful message of hope."
Lifeline 13 11 14
Jake Niall reports that AFL clubs overwhelmingly want the first round of the season to go ahead as scheduled.
The league will make an announcement today on whether the season will kick off on Thursday night or be postponed.
The ultimate decision rests with the AFL Commission, which faces one of the biggest calls in the game's history.
AFL chief executive Gillon McLachlan received feedback from the clubs during a teleconference earlier today.
The financial ramifications are enormous for the AFL and its clubs.