Considering the edict of the Australian Turf Club and Racing NSW warning off any essential personnel in "a high-risk group such as older people", I did not expect to be one of the lucky ones to gain admission but survived the cut.
My colleague and mate John Holloway, who carries the gold badge of the ATC for his services to racing with Sydney Turf Club, has seen every Golden Slipper, while I missed three when in the United Kingdom in the 1960s.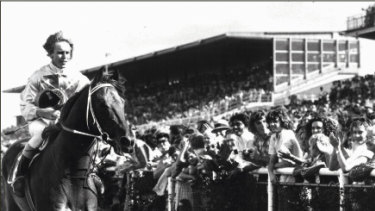 There was a time when Holloway would have leapt the fence, gone under it, positioned in the boot of a car or shared a float, encased in a bag of chaff, with horses, so I graciously considered, if possible, giving him my place.
Holloway has always been a Golden Slipper aficionado. To me it is a mad, helter-skelter for two-year-olds: good, thrilling but hardly one of Australia's greats.
However the program, including the Rosehill Guineas, the George Ryder and Ranvet, would make me a fence-jumper, albeit with the assistance of a step ladder.
And Saturday will be a race for the memory bank that started with Todman. None that followed Todman would have beaten him, which is difficult to imagine when recalling Vain (1969), dazzling before a record attendance of 40,058, and Luskin Star (1977).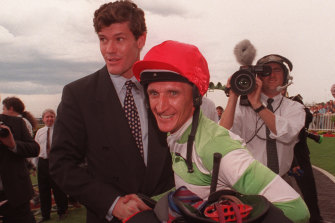 Of course, Saturday will be a low in many spheres, particularly the crowd, where Pago Pago's 1963 holds the record. Pago Pago ploughed through the mud to score after the Saturday program was postponed due to track conditions to Wednesday before 19,827.
Suspect surfaces, even currently, are a problem. Rosehill last Saturday was regarded as "bottomless" by jockeys as horses usually comfortable in the wet sank.
Certainly Imagele, trained by Tommy Smith, wasn't a victim of the ground in 1973 when one of the best two-year-olds beaten in the Golden Slipper. Imagele fell and the rich sprint went to another worthy youngster, Tontonan.
Loading
Smith notched a major achievement in the event when Bounding Away (1986), a filly he bred, owned and trained, scored at the meeting, which had a bookmaker on-course turnover of $8,278,769.
The following year, with Marauding under Ron Quinton winning, the program produced betting that will never be seen again. Bookmakers reached a turnover of $40,544,400, the enormity of which was emphasised in 1988, which had a healthy $10,192,605.
Kerry Packer had cut loose, but when his influence on the figures made headlines, he reckoned Jim Fleming, the Sydney Turf Club chairman, was the leak and decreed never to bet at Rosehill again.
Fast forward to 1996 when the Packer part-owned Merlene succeeded due to an aggressive ride by Greg Hall that cost the jockey a two-month suspension and a $50,000 fine. Packer didn't attend and bookmaker turnover was only $7,632,553.
By comparison, Saturday will be tame, but the horses and those that make them will produce another unforgettable episode.