The search for koalas lasted just three hours and 40 minutes, a fraction of the minimum of 112 hours that ecologists should have devoted to studying the marsupial in the impact study, Steve Phillips, a koala expert, said.
The spotlighting for the presence of greater gliders lasted 15 hours – or just one-twelfth the time spent looking for the nocturnal animals during a 2007 environmental impact study (EIS) on the area.
While the surveyors examined plants within 100 plots, each 20 by 20 metres, they did not look for the presence of endangered species, only their level of vegetation disturbance over a total area of less than half a hectare.
Even so, they identified at least four species not previously mapped for the region, including the slaty red gum and the narrow-leafed finger fern.
Bob Debus, director of the Colong Foundation and a former NSW environment minister, said the 2000 declaration of the area as a World Heritage zone meant "making a solemn undertaking to protect its integrity forever".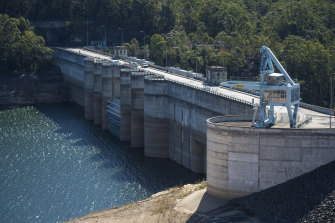 "For the NSW government, 'forever' turns out to mean less than 20 years," Mr Debus said, adding the "shoddy assessment" didn't even mention the World Heritage listing.
A spokeswoman for Stuart Ayres, the minister overseeing the dam wall raising, said that, as it is a State Significant Project, WaterNSW would prepare an EIS in line with "environmental assessment requirements".
"Detailed mapping, targeted surveys and assessment for flora and fauna species have been undertaken in accordance with the NSW Framework for Biodiversity Assessment and other relevant guidelines," she said.
Loading
Kate Washington, Labor's environment spokeswoman, said that, at a time when "communities across the state are struggling to stop the extinction of koalas, the government is paving the way for their demise".
"This is not an environmental assessment, it's environmental vandalism designed and delivered by the Berejiklian government," she said, adding that the use of such minimal surveying "rigged the outcome of this assessment at the expense of the environment".
A government source said ecologists had conducted no further studies since the SMEC research, despite the area being poorly surveyed.
"The more you look, the more you find," the insider said. "If they had more time, who knows what they would have found?"
Loading
The ecologists had also not returned to examine the impacts of the recent bushfires, despite some sections of the proposed new flood zone "being burnt severely", the person said.
Mr Ayres' spokeswoman said the Planning Department had recently released guidelines for gauging impacts of hard-hit fire zones.
"WaterNSW will implement the new guideline as it applies to the study area for the dam-raising proposal," she said.
Peter Hannam writes on environment issues for The Sydney Morning Herald and The Age.
Most Viewed in Environment
Loading