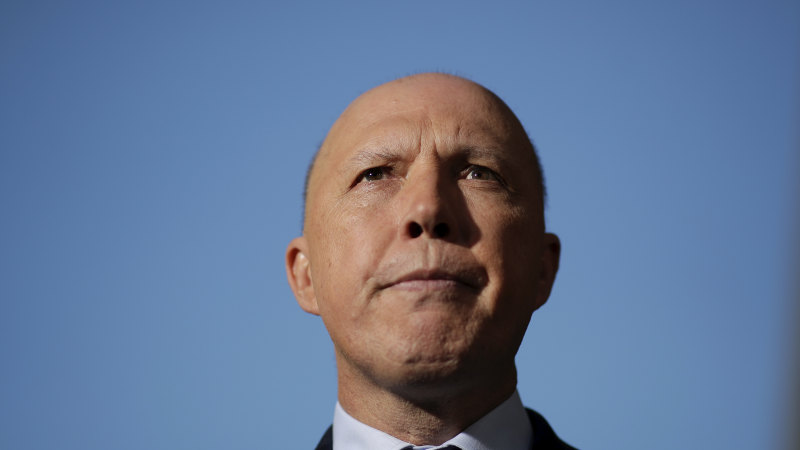 "If people are profiteering out of a national crisis, then they are going to be dealt with."
Asked whether the buying was "highly organised and has a criminal element", Mr Dutton said: "I believe that there is but we are working through that at the moment."
"And [we] will come down like a tonne of bricks on these individuals because I think they're the ones who have created this pattern of behaviour of hoarding and clearing out shelves," he said.
Mr Dutton said the Australian Federal Police, Border Force and state police forces were in talks about how to catch hoarders selling products on the black market.
Loading
He said Australians who had photos or information such as vehicle registration numbers of mass hoarders should contact Crime Stoppers.
The move comes as 24-pack rolls of toilet paper are regularly selling for more than $100 online in Australia.
"We're trying to deal with this issue and make sure that common sense is restored because some irrational behaviour at the moment, as the Prime Minister has pointed out, is unacceptable," Mr Dutton said.
"People who are assaulting somebody or involved in some of the footage that we have seen … are going to be dealt with by the police.
"There is certainly a bigger police effort now across a number of sites where we do have concern."
Loading
Mr Dutton said he had recovered from the symptoms of COVID-19, the illness caused by the latest coronavirus, but was awaiting two negative tests before he was allowed out of self-isolation.
The minister, who contracted the disease last week, said it was important for Australians to realise the symptoms could be mild so they should get tested if they believed they had been in contact with someone with the virus.
"I have had nothing more than Panadol, [I] haven't had a fever since I left hospital and … it's a heavy flu. And I think that's going to be the experience for the vast majority of people who catch it," he said.
Anthony is foreign affairs and national security correspondent for The Sydney Morning Herald and The Age.