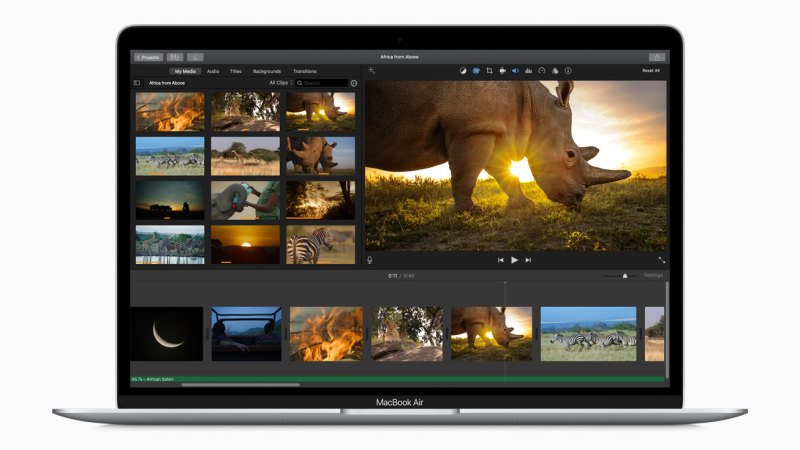 Thankfully, Apple listened to our complaints. The base model now comes with 256GB storage, making it a safe purchase for regular users as well as the enterprise, and the new Magic Keyboard, which I loved on last year's MacBook Pro, has made it to the Air.
For the first time, the Air supports a 10th Gen Intel quad-core processor in the $1999 configuration. Apple provided this model Air for review, and I have found it perfectly capable of my day-to-day tasks. I stress-tested the machine with some large Photoshop files, and even a full Windows VM, and the Air performed well. Developers and video editors are best sticking with the MacBook Pro, but for the rest of us, the Air will be fine.
Loading
The SSD inside is slightly slower than the MacBook Pro, (1300Mbps write speed versus 1700) but the Pro does have the fastest read and write speeds on the market. The slower speeds were not noticeable during normal daily use, only while installing hefty apps such as Microsoft Office and Photoshop. According to Black Magic's Disk Speed app, this machine has the muscle to process 4K ProRes footage in real time, so people just sending emails all day won't notice the speed difference at all.
I am disappointed the base model only has 8GB of RAM, not 16GB. At the scale Apple purchases RAM, this surely would be a cheap upgrade, but I guess they had to leave me something to complain about. And again, in real world usage, bouncing between email, Slack, and even Photoshop, I couldn't notice the step down from my MacBook Pro, with its 16GB of RAM.
With the 2020 Model, the MacBook Air will once again be my recommended laptop for most users, with no asterisk required. The base model is a fantastic machine, and I'll be replacing my 2017 MacBook Pro immediately. There is no question that this is now the best small laptop Apple makes, as well as the cheapest. It has a fantastic, quiet, comfortable keyboard, the best operating system with macOS, and the simple security of Touch ID without the pointless Touch Bar. And in my limited use, it seems to have the Air's legendary battery life. It's great to welcome you back, MacBook Air – you've been missed.