All work for the dole and job seeker group activities that cannot be done online will be paused "until further notice", the Morrison government has announced.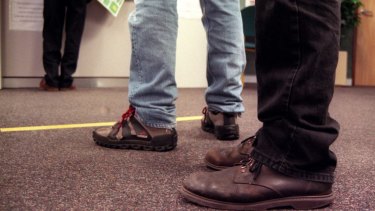 The number of jobs people will need to apply for in order to qualify for unemployment payments will also be radically reduced, with the default number dropping from 20 to four per month, "to reflect the softening labour market conditions."
Job seekers will also be able to meet with job service providers via phone or Skype, in a bid to cut down on physical contact.
Employment Minister Michaelia Cash announced the significant relaxation of "mutual obligation" requirements for job seekers on Friday "to eliminate the need for face-to-face contact" in response to the coronavirus pandemic.
Mutual obligation requirements are the activities – such as job searches, work for the dole or training tasks – that people need to do to receive unemployment benefits.
ACOSS, Labor and the Greens have been pushing the government to suspend mutual obligation requirements in the face of coronavirus, to protect people's health and reflect crumbling economic conditions.
The AFL is introducing new protocols on "social distancing" between players and others on game day following the constant contact between players in the Richmond v Carlton game on Thursday night.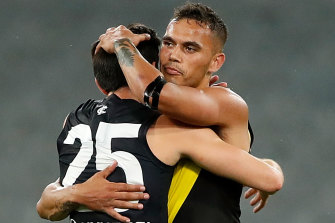 The league was sending out a new series of guidelines for teams to follow late on Friday, seeking to reduce the amount of unnecessary touching between teammates – such as hugging and high-fives – and advising against the sharing of water bottles and other measures.
The protocols were being sent out before the Western Bulldogs v Collingwood game and the rest of round one.
The AFL's new protocols were not only a matter of safety, but also the example that players would set for the general public during the coronavirus pandemic.
The government is facing growing concern from teachers' unions who say staff are at risk of infection and the information and resources available are insufficient for them to observe social distancing and hygiene rules.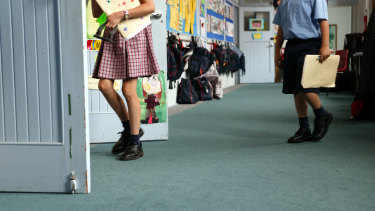 The Independent Education Union, representing staff in private and Catholic schools, has written to Prime Minister Scott Morrison saying current preventative measures are "manifestly inadequate" and teachers are at "grave risk".
IEU federal secretary Chris Watt said many schools did not have sufficient resources to implement hand-washing and cleaning advice, and social distancing rules were not possible for children in packed school environments.
"Social distancing is not and cannot be applied to students. Teachers, particularly in primary schools, must necessarily come into contact with students," he said.
Mr Watt requested full details of the medical advice that is "the purported basis for schools remaining open".
He also said at-risk employees and those with vulnerable relatives should immediately be allowed to work from home or go on leave.
The intervention from Mr Watt follows a similar letter from the Australian Education Union, representing public school staff.
The teachers' unions will meet with federal Education Minister Dan Tehan and government medical officials next week to discuss their concerns.
In a press conference on Friday afternoon, Mr Morrison said the national cabinet's position on keeping schools closed had not changed.
"It is in the national interest that we keep schools open," he said.
Children will have many questions on what is unfolding around them. Can I have play dates and birthday parties? Will we have enough food? Why are we still going to school? Why aren't we getting toilet paper?
You may find yourself struggling for answers. We have gathered children's questions on the coronavirus and answered them in a way the young ones will understand. We even got them to illustrate the story. Read on here.
The Australian Council of Trade Unions has asked for a 4 per cent rise in the annual wage this year, less than the 6 per cent it requested last year.
In its submission to the annual wage review, the ACTU argues that while the economy will suffer a blow from coronavirus, a higher minimum wage will help Australia rebound by giving workers more money to spend.
The United Kingdom will increase its minimum wage by 6.2 per cent next month while New Zealand is raising its minimum wage by 6.7 per cent.
Employer groups have called for the minimum wage review — which is normally completed by the end of the financial year — to be delayed so that decision-makers can take stock of how far the economy has fallen.
A Victoria Police member has tested positive for COVID-19, resulting in the temporary closure of a police station in Melbourne's east for the second time in a week.
The Ringwood police station was temporarily closed on Friday so it could be cleaned.
The officer who tested positive came back from annual leave on Tuesday and then found they had been in contact with someone who had coronavirus.
The station was cleaned and the officer went into self-isolation while they awaited results. On Friday the results came back positive.
The station will now be cleaned again. A police spokesman assured the public that delivery of local services would not be impacted.
California has issued a statewide "stay at home" order for its 40 million residents and Washington is warning Americans to return home or stay abroad indefinitely, with the number of coronavirus deaths in the country hitting 200.
Governor Gavin Newsom said modelling has shown that 56 per cent of California residents were expected to contract COVID-19 over the next eight weeks, requiring nearly 20,000 more hospital beds than the state could provide.
He said Los Angeles, as the nation's second-largest city, would likely be "disproportionately impacted" by the pandemic in the coming weeks.
As authorities ramped up measures to keep the virus from spreading, Washington could announce restrictions on travel across the US-Mexico border as soon as Friday, limiting crossings to essential travel, two officials briefed on the matter said. That would follow a similar measure on Wednesday closing the border with Canada.
AP
Geelong are sharing a chartered flight to Sydney on Friday afternoon with Melbourne's AFLW squad while the Demons' men's team will head to Perth on the same flight as Fremantle on Saturday night.
The travelling arrangements were put in place on Thursday as the AFL worked out how to transport clubs around the country on flights chartered through Virgin Airlines.
The Cats will open their season against Greater Western Sydney at Giants Stadium on Saturday night just hours after their travelling companions, Melbourne, play the Giants in an AFLW semi-final.
Geelong will stay in Sydney on Saturday night rather than fly home after the game.
Melbourne's men's team will board the aircraft for their match against West Coast at Optus Stadium alongside the Dockers who will have just completed their match against Essendon.
The AFL have also organised for teams to stay on the same floor of hotel rooms throughout the country in an effort to limit the contact players and officials have with the general community.
BHP will embark on a hiring frenzy to bolster its Australian workforce during the coronavirus pandemic.
On Friday the big miner announced it would hire 1500 additional staff in a range of areas on six-month contracts.
The announcement comes as governments and businesses grapple with the decimation of certain sectors and huge job losses as a result of the pandemic.
Positions are available for machinery and production operators, truck and ancillary equipment drivers, excavator operators, diesel mechanics boilermakers, trades assistants, electricians, cleaners and warehousing roles across BHP's iron ore, copper and coal operations.
The jobs will be offered through existing labour hire arrangements.
BHP acting minerals Australia president Edgar Basto said as part of BHP's social distancing measures the company was introducing more small teams with critical skills to work dynamically across different shifts.
"The government has said the resources industry is vital in Australia's response to the global pandemic," he said.
"We are stepping up and providing jobs and contracts."
BHP said at the end of the six-month contract it would look to offer permanent roles for some of the extra jobs and may increase the number of jobs available.
On Thursday BHP also announced a $6 million fund to pay for labour hire workers' sick leave and reduced payment terms to small suppliers from 30 days to a week.
Speaking alongside Mr Morrison, Chief Medical Officer Brendan Murphy implored Australians to quarantine themselves immediately if they have just returned home.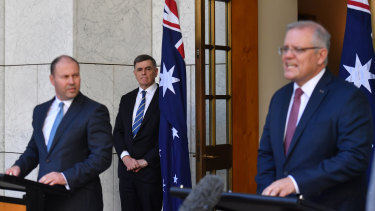 "This issue of quarantining when you come home is serious," he said.
"This is not an advisory. This is your civic duty to your fellow Australians to stay home for that entire 14 days, if you've come back to Australia. No exceptions.
"And if you see anyone who is not abiding by that, a recent traveller, make sure they do because we are really serious about that."
Mr Morrison said that while the coronavirus cannot be stopped, it can be "defeated" by slowing it down.