Volunteer lifesavers patrolling one of Victoria's busiest beaches amid the coronavirus crisis have been dealt "another blow" with graffiti vandals targeting their club.
Torquay Surf Life Saving Club had its patrol tower, solar panels and much of its premises spray-painted overnight on Saturday.
Club official Sarah O'Dwyer described it as a disgrace that placed further pressure on volunteers patrolling the beach amid the challenges of coronavirus social distancing measures.
Bourke Street Mall is normally one of the busiest places for pedestrian traffic in Melbourne on a Saturday, but at the moment the area is far quieter than usual.
The red line of the graph below shows foot traffic in the area today, while the dark blue line shows how many pedestrians were detected by City of Melbourne movement sensors two exactly two weeks ago. It shows that pedestrian traffic today is half of what it was a fortnight ago.
To put that in perspective, there are fewer people in the area at the moment than there were on Christmas Day last year.
I examined the weekday foot traffic data earlier in this week too, and it showed that the city's streets were getting quieter with each passing day.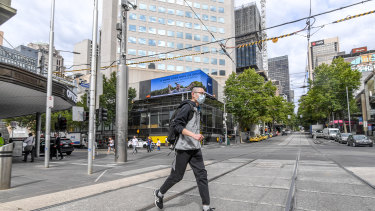 Here is some video from Chief Health Minister Brett Sutton's media conference earlier this afternoon, in which he talked about the latest rise in confirmed cases and outlined ways to limit your exposure to the infectious disease:
A total of 51 Victorians tested positive for coronavirus overnight, bringing the total number of cases statewide to 229.
Crown Casino has been stripped of its exemption from social-distancing rules aimed at arresting the advance of coronavirus, in a decision that could force the closure of part of its flagship casino in Melbourne.
The Victorian government had provided Crown's Southbank casino complex with a controversial exemption from the rules limiting gatherings to 100 people. The James Packer-backed company offered its own suite of policies such as deactivating every second poker machine and limiting attendance numbers at restaurants, bars, ballrooms and conference facilities.
But Premier Daniel Andrews on Saturday said the chief health officer had revoked the exemption.
"We're not confident the measures that were in place and were appropriate are appropriate now," Mr Andrews said.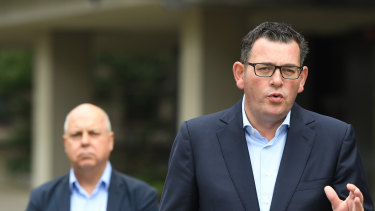 We have shared a link to this explainer on the blog a few times over the past couple of days, but it is worth including again as it clearly sets out the rules for self-isolation.
In a press conference earlier today, Chief Health Officer Brett Sutton said there had been instances in the past week of people who are required to self-isolate at the moment – overseas travellers and those who have been in contact with a confirmed coronavirus infectee – had gone out in public.
Victoria Police is currently running spot checks on those who should be self-isolating.
I have received a couple of emails from readers noting that the video of Victorian Chief Health Officer Brett Sutton's 1.30pm press conference today is not working. I have removed the video from the blog for now and am trying to get a video of the correct version.
I should probably take this opportunity to introduce myself as well. I'm Age liveblogger and data journalist Craig Butt and I have taken over the live blog from our digital editor Mat Dunckley. If you have anything share, please get in touch with me over email (craig.butt@theage.com.au) or leave a comment in the blog.
The AFL has confirmed that games will continue after a Collingwood Football Club non-football staff member tested positive to coronavirus.
Collingwood revealed on Saturday that a male staff member who was recently overseas had tested positive to the COVID-19 virus and was now in isolation. It's the first confirmed close connection between the AFL and anyone who has tested positive to the virus.
However, an AFL spokesman said the season would not be halted.
"The staff member who returned from overseas had no contact with anyone at the club. The person continues to be isolated until fit to return to work," the spokesman told The Age.
Collingwood Football Club president Eddie McGuire told the Fox Footy Channel: "[the staff member] did the right thing, did the two week isolation, came down with the coronavirus and had no contact with anyone at the club."
After 51 new cases of coronavirus were confirmed in Victoria overnight, bringing Victoria's total to 229, we now have more detail about those people who are affected by the virus.
The new cases include 30 men and 19 women, with ages ranging from the early teens to late seventies. Two further cases are still being investigated by the Health Department.
So far the overwhelming majority of cases have been recorded in the Melbourne metropolitan regon. A total of 12 cases of COVID-19 have been detected in regional Victoria – five in Greater Geelong, and one each in Hepburn, Surf Coast, Warrnambool, Macedon Ranges, Mildura, Latrobe and Ballarat.
Overall, 51 people have recovered from the disease across the state.
So far almost every confirmed case has been an overseas traveller or someone who has been in close contact with a person already known to have been infected.
There are two confirmed cases of COVID-19 in Victoria that may have been acquired through community transmission.
The Australia-wide total is now at 1049 cases of COVID-19.
A total of 83 new cases of COVID-19 have been confirmed in New South Wales since overnight, 51 in Victoria, 37 in Queensland and 26 in Western Australia.
To put that those numbers in perspective, the total number of cases nationwide crossed 100 about 11 days ago.
A Collingwood Football Club staff member who was recently overseas has tested positive for the COVID-19 virus.
In accordance with government protocols, the staff member has been in isolation since returning to Australia. He is recovering at home and being monitored by the Department of Health and Human Services.
Due to quarantine requirements, the staff member has at no point been in any contact with players or staff members at Collingwood since returning and has therefore presented no transmission risk to the club.
The staff member will not return to the Holden Centre until medically cleared to do so.