"What we saw this morning at Bondi Beach was the most irresponsible behaviour of individuals that we've seen so far."
Federal Health Minister Greg Hunt on Saturday blasted Bondi's beachgoers for "putting others at risk" on Friday afternoon and warned the federal government would be forced to resort to lockdowns if the behaviour continued.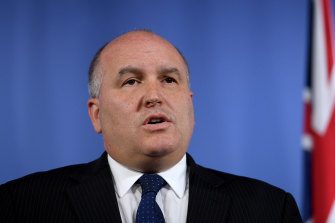 "What happened in Bondi was unacceptable, and the local council must take steps to stop that from occurring," Mr Hunt told reporters in Melbourne on Saturday.
"This is all of our responsibility, each of us … I would say to everybody, we are all in this together."
Mr Elliott said beachgoers had been moved on after thousands crowded the beach on Saturday, flouting safety measures restricting non-essential gatherings to 500 people.
Mr Elliott said authorities made the decision to remove people from the popular beach with "a significant level of disappointment", and reminded beachgoers they needed to comply with social distancing measures.
"This is not something we're doing because we're the fun police, this is not something the government is doing to make life easy," he said. "This is about saving lives."
But he said there would be police patrolling Bondi Beach "if necessary".
Mr Elliott said surf lifesavers would work with local councils and police to ensure no more than 500 people gathered at beaches across NSW.
"Beaches across the state that fail to comply with the public gathering regulations [will be] closed."
Mr Elliott said surf lifesavers would advise police if they believed numbers on beaches exceeded 500 people. The surf lifesavers would then close the beach and order people to move on. Police will have powers to move on anyone who did not comply with those orders.
Assistant Commissioner Karen Webb said it was "a last resort" for the police to intervene to remove people from the beach.
"But we will be asking people to comply with those health orders where appropriate and necessary," she said.
George Shales, the president of Surf Life Saving NSW, said surf lifesavers would withdraw from beaches if crowds exceeded 500 people, but would continue to provide "surveillance patrols".
NSW recorded another 83 cases of COVID-19 since 8pm on Friday, pushing the state's number of confirmed cases to 436.
"Tomorrow we will probably crack, in NSW, 500 cases of coronavirus," Mr Elliott said.
Mr Elliott also said that if the community did not comply with regulations and the health warnings "then this is going to become the new norm".
"We will be closing down the type of iconic activities that unfortunately we've come to know to love and adore about our lifestyle," he said.
Mr Hunt warned that if local authorities failed to stop people from congregating in large numbers the federal government would consider locking down parts of Sydney and Melbourne, as foreshadowed by the Prime Minister on Friday.
"[W]e will not hesitate … to make sure these provisions are enforced," Mr Hunt said.
He called on Australians to "be our best selves and our most responsible selves" in responding to the pandemic.
Dana is health and industrial relations reporter for The Sydney Morning Herald and The Age.
Lisa Visentin is a state political reporter at The Sydney Morning Herald.
Laura is a journalist for The Sydney Morning Herald.
Andrew Taylor is a Senior Reporter for The Sydney Morning Herald.