AFL CEO Gillon McLachlan says the league is facing the biggest financial crisis in its history after the suspension of the 2020 season due to the coronavirus outbreak.
He said both the AFL and clubs would detail "drastic and immediate" steps to cut costs due to the shutdown.
"The AFL industry is facing its biggest financial crisis in our history," he said.
Despite the impact suspending the season would have on the game, he said the priority was to keep players, staff and supporters healthy.
"To say that this is the most serious threat to our game in 100 years is an understatement," he said.
"It is unprecedented in the impact it's having on our game and the wider community. As a community and as a code we all need to take the unprecedented and required actions to get through this together."
The league would work work with its funding partners to secure a line of credit to fund cash shortfalls across the industry, he said.
The AFL season has been suspended following the match between West Coast and Melbourne
Games will be suspended until May 31
The situation will be reviewed by the end of April to determine whether a further suspension is required
AFLW season will also be cancelled, with no premiership awarded
All AFL club training will be suspended
Despite the suspension, the AFL plan is to play all remaining 144 games plus finals this year
Over the next 48 hours, the AFL and clubs will detail "drastic and immediate" steps to cut costs
The hospitality industry is fiercely lobbying state governments to ensure restaurants are able to offer home deliveries and takeaway meals when lockdowns are enforced, as it seeks to avoid mass job losses.
Wes Lambert, chief executive of the Restaurant and Catering Industry Association, said he was very hopeful the Victorian and NSW governments would allow restaurants to continue operating as long as they did not allow diners to eat in.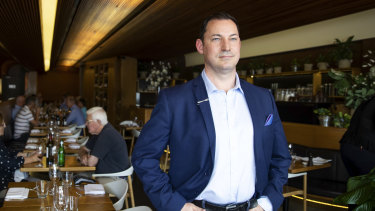 In some jurisdictions around the world where strong restrictions have been enforced, including New York City, restaurants have been permitted to deliver food.
In statements released this afternoon, both Victorian Premier Daniel Andrews and NSW Premier Gladys Berejiklian said "home delivery" would be considered an essential service that would continue under the states' respective lockdowns.
Mr Lambert, who has been lobbying state governments over the past week, said he was confident this meant restaurants could continue trading, even though the premiers' statements did not specifically refer to restaurants.
The Victorian and NSW governments are expected to announce which businesses provide essential services early this week.
"Businesses need to be able to continue to employ staff for food delivery and takeaway, which we think is essential," he said.
"About 36 per cent of meals are eaten outside the home, so you're talking about a substantial amount of extra purchasing at grocery stores if you don't allow food delivery."
Delivery services have announced funding to ease the strain on restaurants that use their platform.
UberEats will distribute $5 million to restaurants to allow them to discount and promote meals. It will also scrap service fees for restaurants until July.
The AFL season has been postponed as the country locks down amid the coronavirus crisis.
Whether that means the final game of the opening round, between West Coast and Melbourne in Perth later on Sunday, remains to be seen.
The AFL held an urgent teleconference with club chief executives on Sunday afternoon with this year's season on the verge of being shut down.
Furthermore, the AFLW season has been cancelled with four teams remaining in the premiership race. No premiership will be awarded.
More than 1000 hospitality workers have told the HospoVoice union they have lost their jobs during the coronavirus pandemic.
On Saturday, the union created a website — ilostmyhosposhift.com.au — to hear from Victorian workers affected by the economic downturn.
So far, more than 1000 people have indicated on the website that they have lost their jobs, and more than 5000 said they have lost shifts.
A message posted on the site by someone called Tatiana reads: "All casual employees were cut first and then hours of the restaurant [were cut] and now we are being forced to shut down until this crisis is over."
"I am left with no income and no fall back income and no job and soon no home."
A press conference with AFL boss Gillon McLachlan is scheduled in the next twenty minutes or so where we will learn the league's plans for the rest of the season.
Many are predicting that games will be put on hold after this round.
Western Australia has become the latest state to impose border restrictions, with all interstate arrivals to be forced into self-isolation.
The decision came after a 30 people in WA tested positive to COVID-19 overnight, bringing the state's total to 120.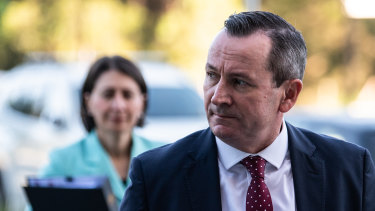 WA Premier Mark McGowan announced that the new border controls will come into effect at 1.30 pm on Tuesday and will apply to all roads, rail, air and sea routes into the state.
Unless exempted, arrivals from interstate will be ordered to self isolate. Essential services and workers will come under special rules.
The state government was actively looking at establishing a quarantine centre on Rottnest Island.
"These are extreme steps, but these are extreme days," Mr McGowan said.
The Red Cross will launch a food and supplies service for vulnerable Victorians and those in self-isolation.
The Red Cross, in partnership with other agencies such as Foodbank, will begin delivering emergency relief packages to "people required to self-isolate, who have little or no food, and no network of family and friends to support them".
"This is a collective effort and requires government, agencies and business to come together. During these extraordinary times, it is encouraging and helpful to see so many people working to support the people most in need in our communities," said Kate Siebert, Red Cross Victorian State Manager Emergency Services.
People living in Victoria who wish to register for the service must ring the Victorian Government COVID-19 Hotline on 1800 675 398
I'm sure you all have lots of questions about how the shutdown will work. Premier Daniel Andrews has said he will provide an update in the morning.
At the moment there is no detail about what it means for public transport, or whether any other activities will be declared essential. Places like post offices, child care centres, GP clinics, shopping malls and many others weren't mentioned.