It meant the Wanderers didn't have the backing of their vocal supporters but the silver lining was an ability to call for – and then make – much quicker tactical adjustments.
"Sometimes you can't really hear yourself or hear your teammates. For me and the boys yesterday, it was a lot easier to communicate and it was a lot easier for [interim coach] JP [de Marigny] to get his messages across during the game than it would normally be," Jurman said.
"I think that ended up helping us a lot during the game. We could help each other out and try and minimise their attacking players as much as we could because they do a lot of rotations."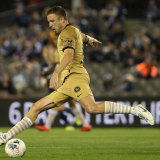 The Wanderers are awaiting Football Federation Australia approval before knowing when and where they will next play. They are scheduled to face Western United probably on Friday but that fixture is now uncertain due to recent travel restrictions imposed by the federal government.
Western United are set to play Perth Glory on Monday but did not travel on Sunday due to the uncertainty, pushing their flight to Perth back to Monday morning, the day of the game.
While sport isn't the priority amid the peak of the coronavirus outbreak, the uncertainty makes for difficult preparation for players. Jurman is eager for games to still be played. The A-League is one of the few football leagues around the world yet to be suspended, alongside the Belarusian and Singaporean leagues.
It has given the Australian league unprecedented exposure around the world, which could help off-contract A-League players secure moves abroad for next season when leagues resume by impressing clubs, scouts or agents watching in Europe or Asia. Jurman is in the final months of his contract with the Wanderers and, like captain Mitchell Duke, could be tempted to move overseas again.
Loading
"It's strange to know that so many people would be focused on our game televised all over the world. Especially for some of us players who are off contract, you never know what can happen. Opportunities can arise," Jurman said.