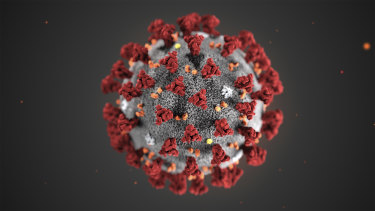 Nearly 70 drugs and experimental compounds may be effective in treating the coronavirus, a team of researchers reports.
Some of the medications are already used to treat other diseases and repurposing them to treat COVID-19, the illness caused by the coronavirus, may be faster than trying to invent a new anti-viral from scratch, the scientists said.
Chief Medical Officer Brendan Murphy said coronavirus-testing criteria would expand to include aged-care workers who pose a serious risk of transmitting the infection and some people in the community with flu-like symptoms.
This "sentinel testing" would give health authorities an indication if there were widespread undetected cases, Professor Murphy said.
"We know that, in fact, testing is done more liberally than the criteria at the moment … In a way that's good because we still have a very low positivity rate, one of the lowest in the world," he said.
"But we need to expand our testing criteria. We are getting good indications of significant expansion in testing capability and the testing is being expanded and that is being reviewed everyday."
But at the moment, it was not possible to test everyone with flu-like symptoms.
"We have to be risk-stratified," Professor Murphy said.
Melbourne University is asking students to stay away from its campuses from midnight Tuesday, with all teaching and assessments paused for one week.
In an letter on Monday afternoon, Vice-Chancellor Duncan Maskell said the university would not close its campuses completely, as there would still be people "maintaining essential services to support online teaching".
"We will pause all teaching, learning, assessment and examinations from midnight tonight, for technical reasons, to allow us to prepare to transition fully to the launch of our virtual campus on Monday 30 March," Mr Maskell said.
"The federal and state governments have made it very clear that they expect the community to reduce the level of face-to-face interactions as much as possible to limit the spread of COVID-19. We must take it upon ourselves to do what we can to contribute to this."
Melbourne University had reported two staff members with confirmed cases of coronavirus.
Federal Health Minister Greg Hunt has agreed to expand access to Medicare-funded telehealth, including for mental health, after practitioners complained that restrictions were putting them and their patients at risk.
Mr Hunt said the government was working on a plan to enable access to Medicare-funded online or telephone consultations "for all patients, with or without COVID-19, to see any general practitioner, medical specialist, mental health or allied health professional during the COVID-19 health emergency".
Currently, only patients who are required to self isolate due to travel or exposure to a confirmed case, or patients considered vulnerable – including those who have COVID-19 – are able to access the Medicare rebates for telehealth.
The Australian Defence Force is withdrawing all non-essential personnel from Iraq and Afghanistan as a result of the coronavirus outbreak.
The spread of COVID-19 has forced Australia to suspend its training missions in Iraq and Afghanistan.
Defence Minister Linda Reynolds said Australia regularly reviewed its operational requirements with its coalition partners and in consultation with the Iraqi and Afghanistan governments.
"Non-essential personnel will be relocated to Australia's main logistics base in the Middle East and those who are close to concluding their operational duties will be able to return home," Senator Reynolds said.
"This temporary measure is to preserve the safety of our people and partners, and to limit the spread of COVID-19 in operational areas.
"There will be no impact to the force-protection of ADF personnel remaining in Iraq and Afghanistan."
Victorian Police Minister Lisa Neville is speaking to ABC radio at the moment.
She's called on people to take personal responsibility during the shutdown, and warns if people don't take social isolation precautions, lives will be lost.
She's urged people to ring police on 131 444 and report people who breach isolation conditions.
"This is new territory for all of us … and our lives depend on it over the next few months," she said.
Lots of messages coming through from people having trouble making mobile calls. Some Optus customers are getting messages saying their network is congested.
Readers say there are problems Australia wide. We're told this could be due to the number of people on hold with Centrelink. Reports too of internet services dropping out in newly established home offices.
A Telstra spokesman said there were no major network outages.
"We are seeing a small amount of voice congestion across our networks due to the increased number of people working and studying from home," he said.
"At this stage it appears to mainly be impacting some 13/1800 calls between service providers. We are working collectively to address it and have already seen an improvement this afternoon."
Optus told customers on Twitter it had "identified an issue" and some customers may experience issues making calls. They're working to fix it.
Back to the most pressing issue at hand for countless Australians, we've produced an explainer today on what to do if you've lost your job due to coronavirus.
What help is available? What can you do about big living expenses? And how are the banks pitching in?
The full explainer is here, but below we've compiled an easy guide of federal assistance:
Federal government measures
$750 payment from the end of March to recipients of Age pension, Family Tax Benefit, Youth Allowance, Newstart, Austudy, Disability Support, parenting and carer payments.
Services Australia offering Major Personal Crisis exemption of 14 days for those who cannot meet current income-support obligations due to required isolation.
Extra payments of $550 per fortnight over the next six months for new and existing recipients of benefits such as JobSeeker, Youth Allowance, Parenting Payments, Farm Household Allowances and Special Benefits, on top of existing payments.
An extra $750 payment to social security, veteran income support recipients and eligible concession card holders, provided from July.
Individuals in hardship able to access $10,000 of their superannuation in 2019-20 and $10,000 in 2020-21.
Almost 300 Australian passengers stuck on a cruise ship in the Pacific will be allowed to return home.
The Australian government has been able to secure an agreement from local authorities in Hawaii to allow the Norwegian Jewel to dock in Honolulu, where they will travel straight to the airport and fly home.
Foreign Minister Marise Payne said the ship would docking on Monday evening in Honolulu.
Meanwhile, Australian authorities and travel company Chimu Adventures are still working on a plan to fly charter flights into Argentina and Peru to rescue stranded Australians.
Argentina has not yet allowed Ocean Atlantic cruise ship to dock in Buenos Aires for the purpose of allowing Australian passengers to disembark and head straight to the plane.
Up to a million people are expected to access additional welfare payments announced last night by Prime Minister Scott Morrison.
Centrelink call centres will extend their hours to cope with the demand. Centres will be open between 8am and 8pm on weekdays and 9am to 5pm on weekends.
Lilli McDonald told The Age earlier today she was supposed to be working the first shift in a new job. Instead, she was calling on Centrelink help for the first time in her life.
"I don't know what I'm feeling," she said from the line at Richmond Centrelink, which had moved about 15 metres in half an hour. "It's overwhelming and I'm in a bit of shock. It's scary with everything so uncertain."