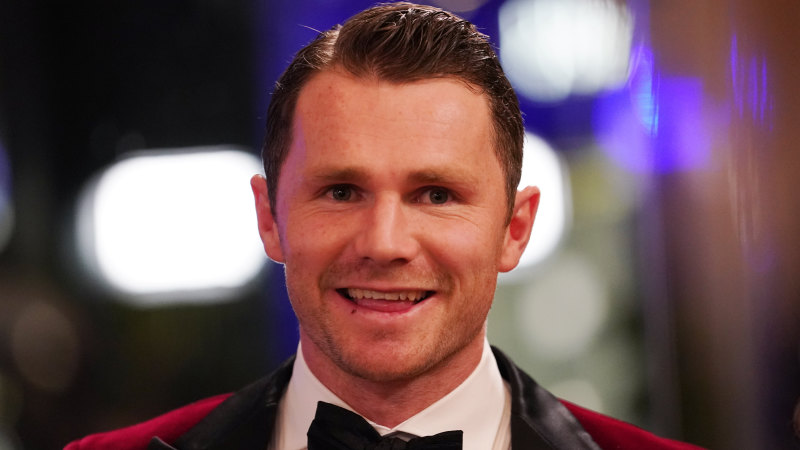 Australian Football Hall of Fame legend and Brisbane Lions director Matthews slammed players via 3AW radio on Tuesday night.
Loading
"I've lost a lot of respect for this collective playing group over the last two months," Matthews said.
But speaking on SEN on Wednesday morning, Geelong superstar Dangerfield clarified the union's position.
"I think the next step is getting clarity around the finances of the game and where the line of credit or whatever it might be sits with the cost of keeping the whole competition running without games and without any income," Dangerfield said.
He said the players were "absolutely" prepared to take longer-term pay cuts.
"We need to be in sync with the AFL so it's not asking for something that's totally unreasonable, it's going 'yep we understand where you're at, now let's come to an agreement that looks after all parties'.
"We have a responsibility to the game absolutely, but we have a responsibility that we are looking after our players and their families."
In reference to Matthews' comments, Dangerfield said: "People need to put some time into understanding the intricacies of this before shooting from the hip".
"I understand the AFL are in an incredibly difficult position but we need greater certainty so we can make an informed decision.
"That's not rape and pillage, it's respectful of being able to continue the competition if and when it starts again.
"There's a perception that we've been too slow– remember a week and a half ago this hit our industry and we had a hook-up with 850 players and whether we feel safe in order to play and continue to drive revenue for the competition."
He said players were contributors to the community.
"Where I take issue is with the last two months, there was an $8 million fund from players for the bushfire game. We have players that do an incredible amount of work in the community."
Senior North Melbourne duo Jack Ziebell and Told Goldstein also expressed their disappointment at Matthews labelling the players selfish.
"It's disappointing [Matthews comments] to be honest. The players are one stakeholder in the game that it taking a massive hit, the game is taking a massive hit," Ziebell said in a club interview on Wednesday.
"Staff members at football clubs, staff members at AFL House [are losing their jobs], the game is taking a big hit and as players we are not immune to that … we'll take a hit. What that looks like we are not quite sure. We are trying to work that out.
"There's a little bit of worry about that [the season being cancelled for 2020], but I am pretty confident that it will [go ahead eventually]. Everyone … wants the season to go ahead.
Goldstein told SEN on Wednesday: ''From a player's point-of-view it's a bit disappointing to hear comments like that because we've only been dealing with this situation as it's evolved over the last three days."
With Anthony Colangelo, AAP
Daniel is an Age sports reporter