Ms Turnbull, who is the wife of former prime minister Malcolm Turnbull, said before the virus outbreak she had planned to do a lot more travelling, but "to say that's not an option or a wise idea is a major understatement".
"I'm just going to go back to the private sector and I think I might do a whole lot of online courses while this horrible pandemic plays out," she said.
She is particularly interested in energy distribution systems and wants to first dive into an online course about creating low-carbon economies.
"Malcolm and I have our own investments and interests so [I'll] sort of go back into the family business," she said.
Mr Turnbull has previously said the couple, who have twin backgrounds in investment banking and law, managed a portfolio that spans blue-ribbon property and hedge funds.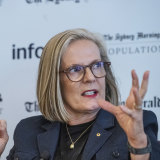 Ms Turnbull will also continue her work with former prime minister Paul Keating on the state government's plans to transform the historic Macquarie Street east precinct, with a report into the the area "almost finalised".
But she didn't know whether she would take up another public role. "I will always be passionately interested and, in some way or another, involved in being a voice for Greater Sydney," she said.
Three years ago, Ms Turnbull authored the commission's long-term strategy to transform the metropolitan area into three interconnected cities – eastern, central, and western cities – by 2056.
The goal was for two-thirds of Sydneysiders to be able to commute between their jobs, homes and crucial services within 30 minutes.
Ms Berejiklian said Ms Turnbull's "leadership and vision" through that strategy helped transform Sydney into a thriving and connected global city.
"Lucy brought an enormous amount of passion to this incredibly important project and I am certain her legacy will live on in the communities and residents of Greater Sydney," Ms Berejiklian said.
The commission's deputy chief commissioner, Geoff Roberts, has been appointed chief commissioner from April 1 to March 2021.
Ms Turnbull said Mr Roberts was "vitally concerned" about supporting the economy and jobs through planning, which made him well-positioned to steer the body through the present upheaval.
She said the priority for Sydney throughout the crisis would be to "support jobs and the economy through the prism of the metropolis of three cities plan".
Megan Gorrey is the Urban Affairs reporter at The Sydney Morning Herald.