If West Australians do not adhere to fresh warnings to not holiday in the regions this Easter, police may be forced to set up regional police cordons, WA Police Commissioner Chris Dawson said.
"If you're in Perth and you're planning to spend Easter down in the South West, you need to change your plans. I would strongly suggest that you're probably not going to find too much to do down there, in fact you may be stopped from going there," he said.
"This is where people have to think through this carefully… this is abnormal, it's extraordinary, it's a state of emergency."
Commissioner Dawson said if people did not listen to the warnings to stay home, police could be forced to create cordons around vulnerable regional towns to stop people entering.
"That may eventuate depending on the data that we get on where the virus may be present, or likely, or spreading," he said.
"The message I'm saying is, if you don't need to move around, don't move around … if you think you can just holiday back and forward at will, you're not actually recognising we're in a state of emergency."
The Commissioner also said police would be stationed at WA's borders from today to ensure no one entered the state unless they were considered an essential service, such as freight.
West Australians trying to return will be forced to self-isolate in a remote town close to the border for 14 days, with the Commissioner flagging Norseman as a potential location for those crossing the Nullarbor.
Telstra has blamed problems with its mobile phone network on a 20-fold increase in the number of people calling Centrelink.
Mobile calls have been patchy, cut out, and users have been told "the call cannot be made" at that time or hear a tone.
Telstra said there was "congestion" on Monday and again on Tuesday when there was a 200 per cent surge in calls.
A Telstra spokeswoman said government call centres were experiencing three times the call volumes compared to last week, and more than 20 times the normal call volume.
Government Services Minister Stuart Robert would not comment on how long people were waiting on hold for.
West Coast forward Josh Kennedy concedes there may not be room for him on the club's roster next year even if he wants to continue his AFL career.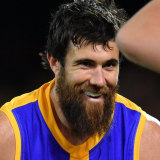 Kennedy is in the final stage of his decorated career and there was a chance the 32-year-old would have retired at the end of this season anyway.
But if the shortened – or abandoned – season leaves Kennedy fresh and wanting to play on in 2021 he's not sure if there will be room for him, given the AFL may drastically cut list sizes next year to reduce costs.
"Who knows where the industry is going," Kennedy told Radio 6PR.
"There's been a lot of cuts this year in terms of jobs and money.
"The years after are going to be hard to get it back up to where the AFL was.
"They might cut list sizes.
"All those things will come in [to my decision] and it just depends where the football club sees me and a lot of the guys in that situation."
A Transperth bus driver who had been overseas has tested positive for COVID-19.
The driver, who went back to work before being diagnosed, drove buses in Perth between March 9-18. Contact tracing is now under way and CCTV footage is being reviewed.
An email sent to the Canningvale depot from Swan Transit advised other drivers that anyone identified as having been in contact with the infected driver would be notified either by the company or the Health Department.
Swan Transit is responsible for 48 per cent of Perth's urban bus network and for regional bus services in Bunbury and Busselton in the state's South West, as well as the Albany regional town bus services.
It is not yet clear the areas in which the driver had been working.
After slashing offshore jobs last week Woodside has turned attention to its onshore North West operations as a result of tightening coronavirus restrictions.
The Australian Workers Union claims Woodside laid off about 400 workers at its Karratha gas plant and 100 at the Pluto plants on Monday.
Woodside denied Pluto had been impacted by the workforce cuts but would not put a figure on the Karratha plant losses.
On Friday, as social distancing rules escalated, Woodside laid off up to 400 workers from its North Rankin and Goodwyn offshore platforms.
The AWU has lashed the LNG giant for its treatment of the workers, calling on it to stand the workers down with pay, not "summarily" send them home with no compensation.
"Everyone understands changes have to be made and pain has to be shared, but Woodside's treatment of its workers is brutal, cold, and unnecessary," AWU national secretary Daniel Walton said.
A Woodside spokeswoman said the workforce cuts were necessary to comply with government rules in response to the pandemic.
"In order to continue safe and reliable production at Karratha Gas Plant while minimising COVID-19 risks, we have informed our workforce at site of plans to reduce or defer non-essential maintenance and refurbishment works," she said.
"This is a difficult decision to take but these are highly unforeseen circumstances.
"Business as usual is not an option, and we need to take extraordinary measures to protect the health and safety of our workforce.
"We acknowledge the broader social and economic impacts from the current COVID-19 situation on the community.
"We are working with our contractors and suppliers to identify re-deployment and re-allocation opportunities where possible."
The spokeswoman said Woodside was prioritising roles for residential and indigenous employees where possible and when a contractor was asked to be stood down before the end of their shift they would be paid out til the end of that day.
Woodside has established a $3 million COVID-19 community fund to support organisations in Karratha and had introduced quicker payment terms for small businesses.
Premier Mark McGowan has given a rare insight into his mental health as he attempts to lead Western Australia through its worst crisis since World War II.
"I have trouble sleeping sometimes but that's probably not uncommon among many people at the moment," he said,
"I just feel so distressed sometimes because so many people are suffering.
"You go into a cafe or restaurant and you see the proprietor basically in tears. It's just awful, It's a hard road for everyone in WA."
Premier Mark McGowan has warned Perth residents not to flock to the beach this week as the weather heats up to 35 degrees by Thursday.
It comes after busy scenes at Bondi Beach in Sydney at the weekend forced the NSW government to close its iconic beaches.
Mr McGowan said he did not want to follow in Sydney's footsteps.
"If we see people not doing the right thing at our beaches like Cottesloe and Scarborough, we will need to act," he said.
"That means we may be forced to close down these or other beaches.
"I don't want to be doing this but if we have to protect people from themselves on our beaches, then we will."
On Saturday, numbers at Cottesloe Beach were low, considering it was a 30+ degree day.
WA Police Commissioner Chris Dawson said police were already patrolling the beaches.
"It is a hot day today, it's a hot day tomorrow, we will make the decision to close the beaches if people are not listening," he said.
Optus Stadium will be converted into an emergency headquarters for WA Police as the state attempts to co-ordinate its response against the COVID-19 pandemic.
The stadium became available in recent weeks when all planned concerts and sporting events were cancelled under the new guidelines on mass gatherings and WA Premier Mark McGowan said on Tuesday the state's police would now commandeer the facility.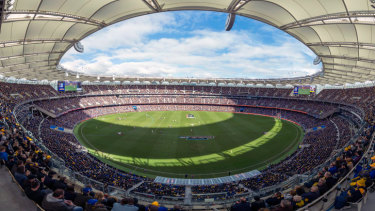 "Police here will track workforce impacts and plan for the need for essential services across Western Australia," he said.
"They will turn the directions that come out of state emergency committee meetings … into operational guidance for officers to ensure the resilience and continuity of law and order in Western Australia."
WA Police Commissioner Chris Dawson said the stadium's operation as an incident command centre would be similar to cyclones or bushfire emergency situations.
"This is one of four centres in which we are both co-ordinating commanding a state of emergency," he said.
"This is about our community. This is about us being able to make decisions … and there are many issues that will impact on people's lives, people's businesses and indeed the way we operate as a community.
State authorities will put restrictions on movements between the regions of the state.
WA Police Commissioner Chris Dawson said: "If you don't need to move around, don't move around."
He said anyone thinking they could holiday within the state, or even move between homes was not recognising that we were in a state of emergency.
Premier Mark McGowan said the drafting process was underway, to stop non-essential travel between regions.
"This is a difficult thing, but I think we need to do it," he said.
The Premier said he was trying to protect people who lived in the regions and remote communities.
"Stop your holidays, stay home, just do your essential stuff," Mr McGowan said.