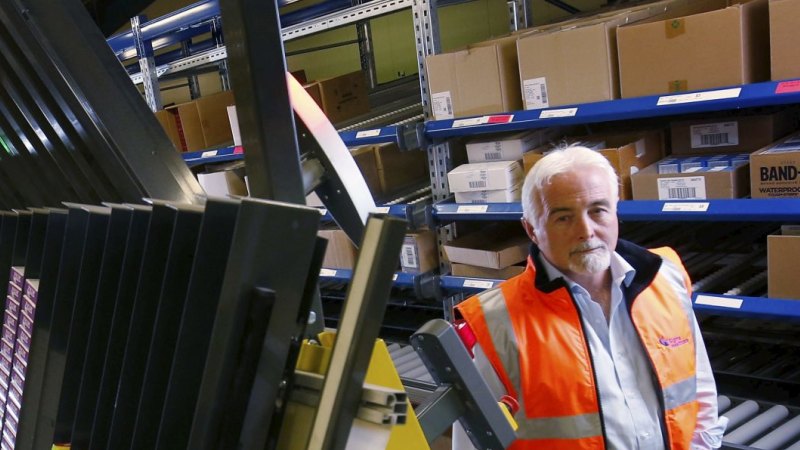 The pharmaceutical logistics executive was complimentary about how the governments have coped with what he describes as an extraordinary set of circumstances.
Loading
"I think governments of all persuasions, state and federal are doing a pretty good job, it's not perfect but it's a pretty dynamic set of circumstances."
Sigma declined to make any profit forecasts due to uncertainty about how things will unfold in the months ahead.
In the announcement of its 2020 full-year results on Wednesday, Sigma Healthcare said its strong recent growth has received an additional boost by "abnormally high demand" flowing from the COVID-19 pandemic.
"While we have seen a significant increase in demand for medicines and FMCG (fast moving consumer goods) products for the first seven weeks of this financial year, it is impossible to predict how this will unfold for the remainder of the year," said Mr Hooper.
The boost came from strong demand for hand sanitiser, cold and flu medicines, as well as masks and gloves.
Mr Hooper said that in the absence of the coronavirus, Sigma had been expecting a year of good growth as it gains market share and increases its business with existing customers, but the viral demand is providing an additional short term boost.
But he pointed out that if the effect of the virus drags on there will be "there will be other consequences for the economy."
The company confirmed there will not declare a final dividend for 2020 and said the interim dividend for the current year will also be suspended.
Sigma's earnings for the year ending December 31 was in line with its revised December guidance.
Loading
It reported that underlying earnings before interest, tax, depreciation and amortisation (EBITDA) was $46.7 million for the year, down from $89.6 million the prior year due to Sigma losing the Chemist Warehouse contract.
Sigma said that it expects to make a decision in the third quarter on whether it will do a sale and leaseback of its newly developed distribution centres to reduce debt and pursue further growth options.
Sigma was forced to make significant investments in its infrastructure after it won back the FMCG business for Chemist Warehouse more than a year after it announced an end to the relationship.
The company said it remains on track to deliver $100 million in cost savings as promised in a review that followed the loss of the Chemist Warehouse business.
Sigma shares, which hit a low of 44c after losing the Chemist Warehouse contract, were trading 2c lower at 68c on Wednesday.
Colin Kruger is a business reporter. He joined the Sydney Morning Herald in 1999 as its technology editor. Other roles have included the Herald's deputy business editor and online business editor.