There is doubt over whether racing will continue after the last two races at Warwick Farm were called on Wednesday following a COVID-19 scare involving a Melbourne jockey.
The jockey, who rode at Rosehill on Saturday, took a commercial flight a fortnight ago, which had someone on it who has tested positive for coronavirus.
It happened before racing authorities banned jockeys from flying commercially. He was on the private plane with 10 jockeys, including Hugh Bowman and Tommy Berry, who came from Melbourne to Sydney for the Golden Slipper meeting.
Premier Daniel Andrews has warned Victoria will go it alone and enact tougher coronavirus containment measures independently of other states, just hours after new national restrictions were announced.
Mr Andrews flagged Victoria would move to "stage three" restrictions as the number of confirmed coronavirus cases continues to rise.
On Wednesday, Julia Crawford's busy hair salon, Union Jacks Hair, in Frenchs Forest was a hive of activity. On Thursday, she is shutting its doors.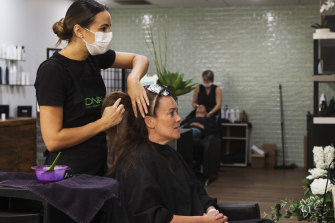 While hairdressers are exempt from tougher new restrictions announced by the Morrison government on Tuesday night that ban similar businesses such as beauticians, the 30-minute time limit on each customer means that Ms Crawford has made the decision that she will not be able to operate her business.
"Thirty-minute haircuts, they really don't exist unless you're a barber," she said from behind her mask inside the upmarket north shore salon as she worked.
The Australian National University will close its Canberra campus until June, turning to remote teaching and sending all but a few staff home.
"Today I have announced that from 26 March all ANU staff are to work remotely. From 30 March our campus will close, excluding some very limited and essential exceptions," said vice-chancellor Brian Schmidt.
"ANU will still operate as the nation's university, but likely not from our campus until at least 27 June."
A small group of researchers will stay on campus to continue their lab work on COVID-19.
The university's residential accommodation will also remain open "under strict social-distancing, health and hygiene regimes".
WA Premier Mark McGowan wants two cruise ships sailing off the WA coast out of the state's waters and heading home.
The MSC Magnifica, which has reported no unwell patients, and the Artania, which has suspected COVID-19 patients, are both near Fremantle.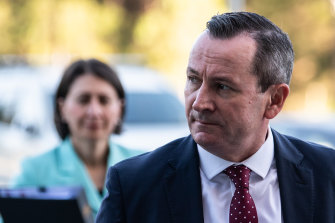 Mr McGowan said the Artania had reported 25 passengers and crew with respiratory symptoms.
He said one passenger, who is no longer aboard the ship, had tested positive to COVID-19.
The Artania requested assistance with health assessments and COVID-19 testing last night. WA Health Department officials are on board the ship, but results of testing will not be known until later tonight.
The Magnifica has been denied access to ports in Dubai, which was its next port of call and has returned to Fremantle.
In addition, preparations are underway for Australian passengers on board the Vasco da Gama to be quarantined on Rottnest Island, off Perth.
Mr McGowan said about a quarter of WA's COVID-19 cases had been linked to cruise ships from the eastern states.
He said no passengers from either the Magnifica or the Artania would be allowed on shore unless they were in a life-threatening emergency.
NSW Premier Gladys Berejiklian is being urged to reassure renters that support is on its way.
Greens housing spokeswoman Jenny Leong said many renters were "only just holding on", after countless jobs vanished overnight in line with the federal government's increasingly stringent shutdown measures.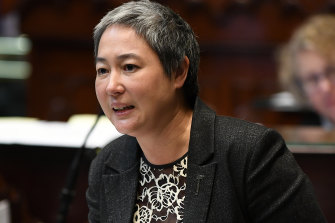 "Renters need an urgent message from the Premier to telling them that help is on the way," Ms Leong said.
"Everyone knows the full solution might take a bit of time to work out, but giving a commitment to people who know they have no way of paying next week's rent that we've got their back is needed now."
The issue of rental relief is looming as a major challenge for the National Cabinet, which is due to consider the issue again at tonight's meeting.
Prime Minister Scott Morrison said last night that the National Cabinet had made "a lot of progress" on the issue this week and was poised "to hopefully finalise some measures".
"This is obviously a complicated issue because you've got a tenant, you've got a landlord, you've got creditors and all of those issues and you need to solve for the entire chain that's there," Mr Morrison said.
It comes as the NSW Parliament last night agreed to a series of Greens amendments aimed at bolstering protection for renters as it passed the government's emergency legislative response to the coronavirus pandemic.
But the amendments don't, in and of themselves, change the status quo.
Rather, they hand increased power to the government to make new regulations if they see fit, including halting evictions and preventing people from having their lease terminated in connection with the pandemic.
"While these amendments give delegated power to the relevant minister to act, they still need to do that," Ms Leong said.
"If this amendment hadn't been made, they would have had to draft legislation, wait until parliament resumed (next scheduled date in September), then have the legislation debated and passed."
Get in touch: The Herald is looking to talk to NSW residents who have been laid off from their jobs in connection with the coronavirus pandemic and, as a result, have left or are making arrangements to leave their rental properties. Contact lisa.visentin@smh.com.au
Foreign Minister Marise Payne has blasted Chinese authorities for formally indicting Australian academic Yang Hengjun on espionage charges, saying his poor health makes him especially vulnerable to the coronavirus.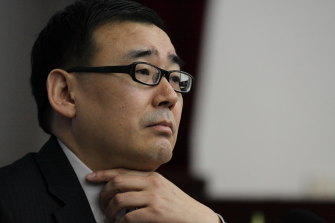 Lawyers for Dr Yang said on Wednesday that their case had been received by the Prosecutor-General's Office on the last day that formal charges could be transferred under China's opaque judicial system.
Senator Payne said the Australian government strongly objected to the formal indictment in China on suspicion of espionage.
"The Australian Government is very disappointed that the Chinese authorities have not yet provided formal advice on Dr Yang's indictment," she said.
"Since his detention over a year ago, the Australian Government has repeatedly expressed its strong concern about the treatment of Dr Yang. Dr Yang's case continues to be of key interest to the Australian community.
"Crises are a time for nations to pull together. It is not in the spirit of mutual respect and trust that our continued advocacy for Dr Yang has not been acknowledged.
"Dr Yang's poor health makes him especially vulnerable to COVID-19. In our most recent representations, we appealed for humanitarian considerations to apply to Dr Yang's situation."
The Australian citizen and pro-democracy political blogger was detained in January last year and formally arrested by the Beijing State Security Bureau on August 23 on suspicion of endangering Chinese national security.
His lawyers say the 54-year-old has been held largely in isolation since.
NSW Police Commissioner Mick Fuller has announced a raft of new powers granted to police including on the spot fines of $1000 for individuals and $5000 for corporations who flout social distancing laws introduced in the wake of the virus outbreak.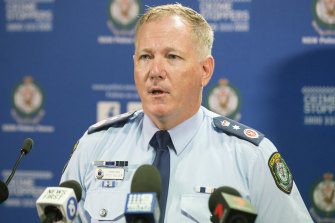 The fines will apply to any individual or corporation that fails to quarantine for 14 days after returning from overseas, or flouts laws banning gatherings of more than 100 people indoors and more than 500 people outdoors.
The fines will also apply to stricter measures announced by Prime Minister Scott Morrison last night, restricting outdoor fitness groups to 10 people, weddings to five people and funerals to 10 people.
Commissioner Fuller said if there was an indoor gathering or party with more than 100 people, everyone could potentially be fined $1000.
"If you have the coronavirus and you go into the community putting it at risk, you could face an on-the-spot-fine," he said.
"I would much rather be writing out tickets… that might get people's attention to start listening to the health minister, start listening to the premier and the prime minister."
He said crowds gathering on Bondi Beach at the weekend showed "clearly communities are not getting the message."
Minister for Police and Emergency Services David Elliott said if people wanted to have house parties and flout the law, "we will legislate and we will enforce the law."
"If you don't need to be outside at the moment don't go outside."
The on-the-spot fines will be in place from 12am Thursday.
Wellington: New Zealand Prime Minister Jacinda Ardern has declared a state of national emergency as the country prepared to go into a complete lockdown at midnight to combat the coronavirus outbreak.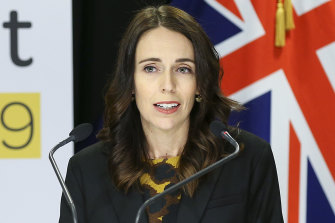 The government has commandeered the defence force to assist police to uphold public safety and enforce the lockdown, which begins at midnight on Wednesday.
Police and civil defence personnel have been afforded a range of sweeping powers to close roads, take control of buildings and public spaces, and regulate the flow of food, fuel and essential supplies.
The federal government is considering non-scheduled flights to remote locations to rescue hundreds of thousands of Australians trapped overseas.
In a joint statement, Deputy Prime Minister Michael McCormack and Foreign Affairs Minister Marise Payne said the Department of Foreign Affairs and Trade is "working around the clock" to assist Australians who needed to get home.
The announcement follows DFAT's warning that Australians trapped overseas will be forced to stay where they are for "a longer period until departure can be arranged or border closures are lifted".