"During the week on Monday a lot of the boys were in the club loading up on exercise equipment.
"I was in there just grabbing what I can for my knee rehab … I will be able to do most of my stuff from home.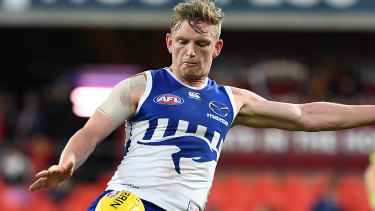 "There was people coming in left, right and centre grabbing bikes and medicine balls and weights. It was like and end of financial year sale. People were going off."
Ziebell said he feared the worst – an ACL tear – but quickly knew it was a medial injury.
Loading
"It was a sharp pain on the inside of my leg. It lasted for a minute or two and then it went away," Ziebell said.
"If there was a time to be injured it's probably now."
"For me to be injured in round one and potentially play round two, from a selfish point of view, that's not a bad result. At the same time I'd love the game to still be playing right now because I know how much it means to the footy world."
The skipper also spoke about the importance of players taking care of their mental health during this period of coronavirus pandemic limbo. This was a high priority for Ziebell and the club would be constantly checking in with players.
Loading
"It is a [mental] challenge, 100 per cent. To be able to get through the whole pre-season, get to the time of the year that every player loves in round one and kick the season off, for it all to be stopped I think is quite tough," he said.
"We all realise the gravity of the situation as well and understand that. In conjunction with our clubs our training programs will probably reflect a little bit of a break to be honest.
"Our guys won't do too much for the next week or two before they start really building up towards getting back to play."
Anthony is a sports reporter at The Age.