"Nobody knows how long this crisis is going to last for," he told The Sydney Morning Herald and The Age.
"We've taken action that will preserve cash for as long as possible and that's based on an assumption that this will be a long crisis."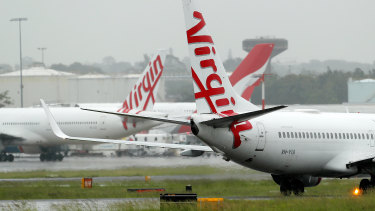 Mr Scurrah said that he was in discussions with government about further support for the travel and tourism industry, which employs over 600,000 people.
"Our sector is going to need some support for us to get through. What we're seeing is every single airline in the world is talking to their government about support," he said.
The federal government announced a $715 million rescue package last week, consisting of waived fees and levies.
Loading
However, Qantas has been pushing back against a government bailout for Virgin, going so far as to ask employees to lobby their local MPs against it.
Qantas on Wednesday said it secured $1.05 billion in fresh debt to help see it through the coronavirus crisis in the form of a loan against seven 787 Dreamliners which it bought outright in recent years.
Mr Scurrah would not comment on what type of help he was asking government for, other than that it would be for the whole industry, not just Virgin.
Virgin is 90 per cent owned by the government-backed Singapore Airlines, Etihad Airways, the Chinese groups HNA and Nanshan, and Richard Branson's Virgin Group.
Loading
Mr Scurrah would not comment on whether any of its owners were in a position to support Virgin financially, or whether it was looking to take on more debt as Qantas had done.
"We're looking at a raft of options to make sure we can work through an unprecedented crisis," he said.
Asked why Australian taxpayers should bail out an airline owned by foreign interests, he pointed to the 16,500 people Virgin employs directly and indirectly, and its importance for competition.
"It's crucially important that we have a competitive and robust aviation sector with two full-service airlines," he said.
Flights end Friday
Virgin's new capacity cuts will take effect from midnight this Friday, and come after the airline already reduced domestic flying by half and was set to cease all international flights from March 30.
Virgin's budget arm Tigerair will suspend all flights immediately.
Like at larger rival Qantas, workers will be able to use leave entitlements but otherwise will not be paid.
Qantas has cut its domestic flying by 60 per cent and is expected to ground more planes as states close off their borders. Two-thirds of its workforce – 20,000 people – have been stood down.
Loading
Virgin said it was working with 25 partners to find short and long-term job opportunities for affected employees.
The financially troubled airline would return to the skies as soon as was viable, Mr Scurrah said, however he said how it operates "may look different when we get to the other side of this crisis".
Virgin said it will continue to fly daily services to 17 destinations to transport essential services, critical freight and logistics. Services to 19 destinations will be suspended entirely.
The coronavirus – which has now killed 18,227 people globally – has obliterated airline demand internationally and within Australia, as states close borders and governments recommend against all but essential travel.
There are now 2043 confirmed cases of coronavirus in Australia and 407,485 cases worldwide.
Business reporter at The Age and Sydney Morning Herald.