However, compared to my usual Sonos system of two Play:3s and a Sub, the Cambridge and ELAC configuration not only has good depth of bass, but also better detail on high notes, providing clearer definition for hi-hats and rides that gives a song extra emotion beyond the vocals. There is, however, a drop in quality between mainstream streaming services and physical media, which explains at least some of the disparity. The price difference between the two systems isn't huge either.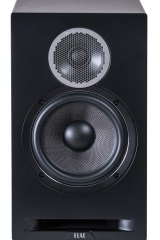 The look of the Cambridge amp and CD transporter is sleek, metallic and futuristic, while the ELAC speakers are a dark wood that evokes a smoking jacket and drawing room scenario.
What surprised me about the set up was just how much extra comfort I derived from the simple act of handling physical media. I live in a small apartment and can ill-afford the space for a record collection. (I even need to cycle my CD collection between here and my parents' place.) But there is something in the ritual of selecting a CD, placing it in the tray, and listening to the whole thing from start to finish that brings more consolation than just pressing shuffle on a playlist ever could.
My comfort game of choice is Forza Horizon 4. Turning off the music in-game and putting on an album like Paul Mac's Above The Clouds and tuning out the outside world while destroying ancient stone fences in digital England is an almost transcendent experience.
When sitting down becomes tedious, there's always blasting Taylor Swift in an impromptu mini dance party in the living room. Or letting out your existential angst in a Sleater-Kinney wail-along.
However long this ordeal lasts, the best way to get through it is with music, not just to support our favourite artists, but for our own sanity and emotional wellbeing. And life is too short for poor quality audio, as Cambridge and ELAC would agree.