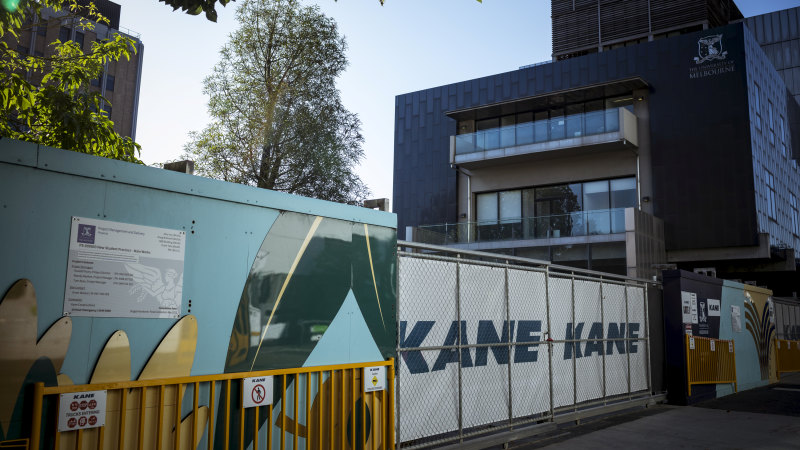 Kane Constructions managing director Richard Frisina said the worker had brought coronavirus onto one of his company's sites. "That had nothing to do with us, but our management processes have prevented the spread," he said.
Mr Frisina said he believed Kane's sites could continue to operate and not spread coronavirus infections among workers.
"Our plans and guidelines are designed to keep our staff, subcontractors and the broader community safe, but they are [also] designed around keeping our business operational," he said.
Loading
Construction is one of the state's biggest industries, accounting for 9 per cent of Victorian jobs and a shutdown under further government restrictions would have enormous ramifications for the state.
Unions and construction companies have formed an unusual alliance and are insisting that their work must continue – despite acknowledging some sites were not observing strict social distancing rules.
A media release from the Construction Forestry Mining and Energy Union on Thursday said the infected employee's work site had been cleaned by a specialist company to "hospital grade" standards. Work has now resumed on the new university precinct.
Many in the construction industry are quietly questioning why many work sites – especially high-rise construction, where workers often work collaboratively in close quarters – are being allowed to continue while other sectors of the economy have been forced by government edicts to close.
Several CFMEU members have told The Age that the union is actively deleting posts on its Facebook page questioning the wisdom of continuing to allow construction sites to operate. There is ample evidence that social distancing rules, of maintaining a distance of at least 1.5 metres from others, are not being followed on work sites.
The CFMEU statement said it was safe for construction to continue.
"Currently, the national cabinet's stance is that the building and construction industry is deemed an essential service and the CFMEU and industry bodies will continue to work through this challenging period, abiding by all government rules and enforcing strict social distancing and hygiene practices on all sites to ensure the health and safety of workers and their families," it said.
Clay Lucas is a senior reporter for The Age. Clay has worked at The Age since 2005, covering urban affairs, transport, state politics, local government and workplace relations for The Age and Sunday Age.
Zach is a reporter at The Age. Got a story? Email me at zach.hope@theage.com.au