The latest federal update on COVID-19 shows a rise in the crucial number of locally acquired cases with "no known link" – the category officials are watching closely to determine community transmission.
The national tally, as at 4pm on Friday, found there were 142 cases in the key category compared to 115 on Thursday morning.
The report from Prime Minister Scott Morrison's department said there were 3166 cases nationwide, of which 2129 were acquired overseas and 594 were acquired locally but from a "confirmed case" with the infection.
Another 301 were under investigation, the term used for cases where health authorities are tracing each person's contacts to identify the source of the infection.
Commonwealth Chief Medical Officer Brendan Murphy said on Friday he was worried about the scale of community transmission.
"That is the single most important concern for the health experts," he said. "There are small amounts of community transmission in some pockets in Sydney, which is probably the most significant in the country, but tiny pockets in other states. But we're not kidding ourselves: if community transmission becomes significant, that is the real serious concern. That's why these social distancing measures are just so important."
The national report said 1405 cases were in NSW, 574 were in Victoria, 555 were in Queensland, 257 were in South Australia, 255 were in Western Australia, 62 were in the ACT, 46 were in Tasmania and 12 were in the Northern Territory.
Of the 3,166 people with confirmed COVID-19 infections across the country, 13 have died.
Protective equipment is donated to the Elmhurst Hospital Centre in the Queens borough of New York.Credit:Bloomberg
Here are the latest developments from overseas today:
Cases are at 532,000 worldwide, according to John Hopkins data: 24,000 dead, 122,000 recovered
US fatalities top 1,100 and confirmed cases in Canada surge 72 per cent
New York medical authorities' top fear is a lack of ventilators, while New Jersey state authorities will ask a bioethics panel to set guidelines for them
The UK has given police stronger powers and warned coughing could be considered harassment
The collapse in international demand has rocked China's newly opened factories
From Spain to Germany, farmers warn of fresh food shortages
The Reserve Bank of India cut interest rates, joining central banks around the world in boosting stimulus to counter the economic impact of the coronavirus outbreak
North Korea has about 2,280 people in quarantine for "medical observation", state media reported
Iran has banned travel between cities
-Bloomberg
Before today's announcement, many Australians returning from overseas were already using hotels as quarantine facilities to keep their friends and family safe, while hotels were advertising "self isolation" specials.
Kate Parker, a 33-year-old Melburnian who recently returned to Australia after moving to Canada, is spending her 14-day quarantine at Quest Hotel Apartments in Melbourne. Parker was living in Toronto when DFAT issued the urgent travel advice for Australians overseas to come home.
"Toronto was already in lockdown at that point with schools and restaurants closed, so I knew the situation would get worse before it got better and didn't want to take the risk," Parker says.
"I booked the last seat on a flight from Toronto to Vancouver then direct to Melbourne which left the next day. By that point the US had closed their borders so I couldn't even transit through LAX, which made my options quite limited."
Parker, who is in her sixth day of quarantine, chose to spend her isolation period in a hotel instead of at home with family to minimise the risk of contact.
She chose Quest Hotel Apartments because the hotel offers one-bedroom units with a kitchen, so she can get groceries delivered and cook meals. The rooms also have a balcony so she can get fresh air and, she points out, to wave at family when they drop off supplies.
The justice system continues operating as an essential service, but County Court judges are only hearing urgent custody matters, such as bail applications, as well as some cases already underway.
The County and Supreme Courts stopped empanelling juries on Monday March 16, and no new trials were expected to start for another six months.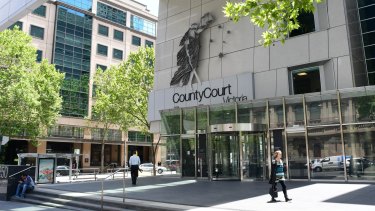 Staff at the court will use the time between Monday and Easter to test technology such as videolinks and teleconferences that will allow hearings to continue through the COVID-19 crisis.
The County Court hears the majority of the state's criminal trials but it and the Supreme Court have already suspended the start of new trials.
Only one jury is left sitting at the County Court – in a trial that began before the suspension took effect – and it will on Monday resume deliberations for three men accused of perverting the course of justice.
The Supreme Court has a much shorter list than usual for Monday, but criminal and commercial hearings continue, as do Court of Appeal hearings. Video links are being used where possible.
The Magistrates Court of Victoria continues to operate but with a focus on remand hearings, bail applications, family violence cases and administrative hearings for people charged with serious crimes. Many cases before magistrates have been adjourned.
The country's peak business body has joined the trade union movement, Labor and the Greens in backing an 80 per cent wage subsidy for workers whose jobs are at risk because of the coronavirus pandemic.
The subsidy proposed by the Australian Chamber of Commerce and Industry is modelled on a similar scheme introduced in the United Kingdom.
It would apply to all full and part-time workers along with sole traders up to a cap of average weekly earnings, currently about $1660 for an adult working full-time and $670 part-time. Casuals would not be eligible.
The chamber's plan aims to keep workers in their jobs rather than the welfare system amid hundreds of thousands of stand-downs and redundancies across the country.
There have been updates in four states on their coronavirus diagnoses:
Victoria
An extra 54 people were diagnosed yesterday, taking the state figures to 574. Sixteen of the patients may have acquired coronavirus through the community, the Department of Health and Human Services says.
The state has had three deaths, three men in their 70s, and 22 people remain in hospital including three patients in intensive care.
More than 27,800 people have been tested so far, and 172 people have recovered.
Western Australia
A five-month-old baby is among the 24 new COVID-19 positive cases in WA overnight.
Eleven were men, and 13 were women, aged up to 82 years.
The state total was now 255 cases.
The baby is a child of two confirmed cases and is at home with family in metropolitan Perth.
Eleven of the new cases are related to cruise ships.
Nine passengers of the cruise ship Artania, which is docked in Fremantle, were being evacuated off the ship. Seven are COVID-19 positive, and two were suspected cases.
Those not admitted to hospital would be quarantined at a police facility in Joondalup.
Queensland
Sixty-two more Queenslanders tested positive to the coronavirus since Thursday, taking the state total to 555.
As of Thursday, 80 per cent of cases were acquired overseas, with the majority of the rest of the cases contracted by family members of those people.
One Queenslander is in intensive care.
South Australia
South Australia has recorded 22 new cases of coronavirus today, taking the state total to 257. Six are in intensive care with four of those people in a critical condition.
Cases range from in age from 10 years to those in their 70s.
New South Wales
Earlier today, NSW Chief Health Officer Dr Kerry Chant says there are now 1405 cases in NSW – 877 of those cases are overseas acquired, 278 are locally acquired.
A doctor from Bathurst Base Hospital and a one-year-old child are among the newly confirmed cases.
While the majority of cases were overseas acquired, 877 in total, NSW Premier Gladys Berejiklian said authorities were most concerned by the number of locally-acquired cases with no known source, which has increased to 145.
"When you have cases that come from overseas, you can monitor them and you have a source," she said.
"But when it is community-to-community transmission and you don't have a source … that means the virus is starting to spread in the community without us knowing where and that's a concern. That's why it is so important that all of us, all of us, maintain social distancing."
The first two Victorians to die of coronavirus were cancer patients at The Alfred hospital.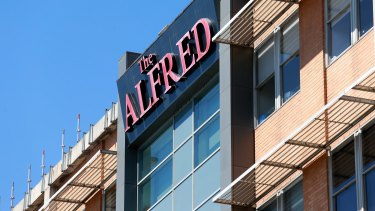 Both men, who were aged in their 70s and died on Wednesday night, were being treated in the hopsital's oncology department.
However, it was not discovered they had contracted the virus until after their deaths.
Two other patients at the hospital have since tested positive to COVID-19 as well as three haematology and oncology ward staff.
This story by investigative reporter Richard Baker helps explain why we will now have quarantine hotels:
Victoria Police spot checks on returned travellers subject to self isolation have found 42 people either not at home or having given a false address.
Officers conducting Operation Sentinel had conducted 180 checks by 9pm on Thursday but found only 138 people at home as required under Victoria's state of emergency laws. Twenty-two were not at home and 20 had provided incorrect addresses.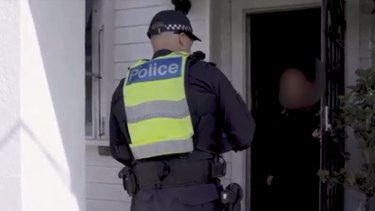 The alarming result has sparked fears among officers involved in conducting spot checks that some returned travellers may have deliberately supplied a false address to avoid the mandatory self isolation period.
Text message exchanges between officers involved in Operation Sentinel reveal what police on the frontline are encountering.
Mr Morrison accused experts advocating for a full lockdown of disregarding the impact on casual workers and vulnerable industries.
"I sometimes note that those who often are pushing for greater restrictions, they will keep their job," said Mr Morrison.
The government has spent several weeks attempting to balance the health risks of the virus with the growing economic consequences.
"I would not compromise that principle, save only that there would be a compelling health reason to do so," said Mr Morrison.
"I am not going to be so cavalier about it. I will make sure I fight for every job I can because I know that that job means something very important to that person and their family."
In today's episode of Please Explain, United States correspondent Matthew Knott and national editor Tory Maguire discuss how the coronavirus is impacting the United States of America and why Donald Trump's approval rating has never been higher.