Five thousand retail staff are set to be stood down as Country Road, Witchery, Trenery, Mimco and Politix stores shut.
In the latest blow for the retail sector amid the coronavirus outbreak, the 280 Country Road Group stores will close from 5pm on Saturday for at least a month.
The staff in those stores will be re-deployed to David Jones stores – owned by the same parent company – in Sydney and Brisbane. Large-format David Jones stores across the country are set to remain open.
Country Road Group chief executive Scott Fyfe said in a statement on Saturday: "With the continuing evolution of the COVID-19 situation, we believe the time is right to suspend trading across all Country Road Group stores until further notice."
David Jones announced on Saturday that two of its smaller format stores at Barangaroo in Sydney and James Street in Brisbane will close because the company cannot ensure social distancing requirements can be met.
On Friday night, Myer announced its intention to close all of its stores on Sunday and to stand down 10,000 retail staff, as well as a number of personnel at its head office in Melbourne.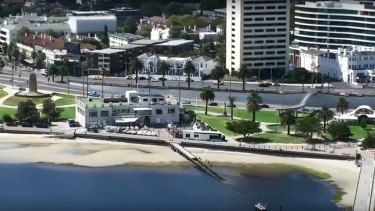 Despite some people disobeying social distancing guidelines at beaches today, Victoria Police has not fined anyone and says the "vast majority" have heeded warnings to remain at home and not congregate in large groups.
Drone footage released by police shows St Kilda beach deserted on Saturday morning. Police say very few people have congregated at beaches from Port Melbourne to Elwood.
As of 3pm, no one has been issued an on-the-spot fine for flouting rules.
Commander David Clayton said police would not discuss each individual breach of mass gathering guidelines and urged people to heed government advice.
"We need everyone on the same page to ensure we are not putting more people at risk," he said.
"Victoria Police ultimately does not want to have to be fining people, but if you choose to flout these restrictions we will find and hold you to account."
Cruise ship passengers say they are concerned they were notified too late after a passenger on a ship which docked in Melbourne tested positive to coronavirus earlier this week.
Carnival Cruise Line said in a statement that they had been contacted by the federal health department about a passenger on the Carnival Spirit cruise ship who had disembarked in Melbourne on March 14, and was later diagnosed with COVID-19.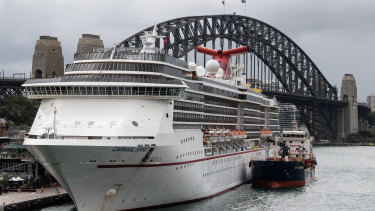 Tasmania's Health Department said the passenger tested positive on Tuesday, but Victorian cruise ship passenger Michael only received a government alert on Friday.
"I received a Victorian government alert on 27 March, asking us to self-isolate until 28 March," he said. "Fortunately we elected to do so from 14 March, out of caution. No instruction to do so. No alert received from Carnival."
Carnival Cruise Line suspended all passenger trips by its ships on Tuesday. The Carnival Spirit had been on a 12-day round trip from Melbourne to New Zealand.
"It is important to note, no crew member has been tested positive for COVID-19 since March 14 and none is currently showing symptoms of the illness," the cruise line's statement said.
Football Federation Australia have confirmed a Newcastle Jets player has tested positive to COVID-19, becoming the first professional footballer in the country to contract the virus.
The player is yet to be named but sources close to the player say he played in Monday night's 2-1 win over Melbourne City behind closed doors at McDonald Jones Stadium, the last game of the A-League to be played before the season was suspended due to the pandemic.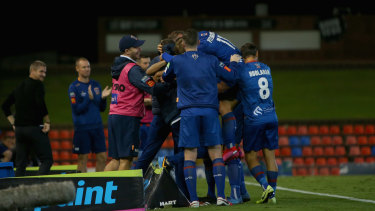 FFA and the A-League players' union, the Professional Footballer's Association, confirmed the result to the Herald.
"The PFA is aware that a Newcastle Jets player has contracted COVID-19," the PFA said in a statement. "The PFA has a process in place for supporting those acutely impacted. Through our extensive and expert outreach program, we will continue to service our players during this incredibly challenging period."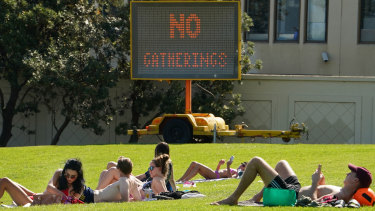 A Victorian senator has pleaded for crowds to stay away from beaches after people flocked to beach areas across the state, defying social distancing orders.
Hundreds of cars lined the streets near the coast at Point Addis, near Anglesea about 100km west of Melbourne.
Photographs also show people being moved on by police at St Kilda beach, and people sitting side-by-side in groups near a sign that reads "NO GATHERINGS".
Yesterday, Port Phillip Council shut down beaches after Melburnians ignored social distancing rules and packed the foreshore.
Sarah Henderson, a Liberal senator based in Geelong, said on Twitter she was pleased that police were patrolling beaches at the Bellarine Peninsula.
"The numbers of beach goers on the Bellarine is very concerning," she said.
"It's a magnificent day but staying home saves lives."
Retailer David Jones has made the decision to keep its main stores trading for as long as government regulations allow, the company said on Saturday.
In announcing the closure of two smaller-format stores, at Barangaroo in Sydney and James Street in Brisbane, the retailer, which is owned by the South African-based Woolworths group, said it would keep trading going at its larger stores within social-distancing guidelines to minimise the financial impact on its workforce.
"Health and safety will always be our primary focus, but we are also focused on supporting the livelihoods of our teams and their families for every day possible," a spokesperson said.
"Given this we have made the decision to continue to keep our large format physical stores open as long as we are confident that we can operate our stores safely and to the standards required by all current government health and safety directives."
The decision comes as Country Road announced its stores would shut indefinitely as of Sunday.
On Friday night, Myer announced its intention to close all of its stores on Sunday and to stand down 10,000 retail staff, as well as a number of personnel at its head office in Melbourne.
Deputy Chief Medical Officer Paul Kelly said the move to forcibly isolate returning Australian travellers in hotels from midnight on Saturday was necessary to stop the spread of the disease, which was still being caused by infections acquired overseas in the majority of cases.
"The force of law will be there to stop people leaving that hotel and there will be fines, even imprisonment, depending on the state or territory where that arrival takes place," he said.
Dr Kelly said the median age of Australians who had died from coronavirus was 77 years but warned the age range was "starting to get lower" after a 68-year-old died from the virus.
He warned younger Australians should not become complacent about the threat of the disease after more than 3400 confirmed cases in Australia.
He said the median age of all cases was 48.
Professor Kelly said contract tracing of locally acquired cases had largely shown a very clear contact with a known case of Covid-19.
"This demonstrates that we are finding the cases we need to find, tracing their contacts, and dealing with those issues so that they are isolated from the community and to decrease the transmission from person to person of this very infectious disease."
For the past week, we have been asking readers to share with us how their lives have been affected by the pandemic and the economic downturn attached to it.
We've heard many stories of adversity and struggle. We have also been shared many tales of kindness and community spirit.
If you have a minute this Saturday afternoon, drop us a line below.
Victoria today recorded its largest single-day increase in cases, but – in positive news – new cases of community transmission grew at a slower rate than the previous day.
Yesterday, the number of locally transmitted cases jumped from nine to 16, the most significant increase to date.
Today, that number grew by five to 21, representing slower growth of the type of cases that trouble health authorities because they indicate a localised spread of the virus not linked to overseas travellers.
The number of cases in Victoria is 685 – an increase of 111 from yesterday.
More than 30,100 Victorians have been tested, with 21 people in hospital and three in intensive care.
Almost 200 Victorians have recovered from the illness.
Of the total 685 cases, there have been 550 in metropolitan Melbourne and 117 in regional Victoria. A number of cases remain under investigation.