Amid the mayhem caused by the coronavirus pandemic, two Perth boys had a birthday celebration to remember after more than 100 cars and trucks came together to parade down their street.
On Saturday morning, Louis, 3, and Alby, 8, who had to cancel their birthday parties due to the current social distancing measures, walked outside of their Palmyra homes to a seemingly endless parade of tooting vehicles.
Some cheered the youngsters on while others held colourful balloons outside their car windows.
The isolation drive-by parade even caught the attention of Western Power staff, who joined in with their work utes, sharing a moving post on social media.
"Great job Palmyra and thanks for reminding us all that even though we are doing our best to physically isolate, we are all still one big community," the post read.
"Surely now this will be a birthday to remember for all the right reasons."
This comes after a video showing a similar parade for Katie Regan, a 12-year-old Irish girl in isolation, became viral on social media.
The clip, which has been seen by more than 980,000 people, shows young Katie standing in her driveway as her friends drive by her Rathcormac home.
A spokesman from the German embassy told WAtoday the plan to fly out passengers from the MS Artania docked in Fremantle still stands.
"The cruise ship's tour operator has chartered aircraft for this purpose. Moreover, the tour operator's agent in Perth is liaising with local authorities and the ship's captain to handle this issue expeditiously," he said.
"The German Ambassador to Australia, Dr Thomas Fitschen, and German Honorary Consul in Perth, Dr Gabriele Maluga, are in close contact with the Australian Government and the Government of Western Australia respectively in order to facilitate the repatriation of passengers aboard the MS Artania."
A cruise ship information website reported yesterday the original planes – chartered from Malaysia Airlines – had been cancelled after the airline requested COVID-19 testing of all people earmarked to board the plane.
The website said the planes were immediately replaced by four Condor charter planes, due to leave on the hour tomorrow from 5pm.
Football Federation Australia have confirmed a Newcastle Jets player has tested positive to COVID-19, becoming the first professional footballer in the country to contract the virus.
The player is yet to be named but sources close to the player say he played in Monday night's 2-1 win over Melbourne City behind closed doors at McDonald Jones Stadium, the last game of the A-League to be played before the season was suspended due to the pandemic.
FFA and the A-League players' union, the Professional Footballer's Association, confirmed the result to the Herald.
"The PFA is aware that a Newcastle Jets player has contracted COVID-19," the PFA said in a statement. "The PFA has a process in place for supporting those acutely impacted. Through our extensive and expert outreach program, we will continue to service our players during this incredibly challenging period."
A woman who said she was driving to get a coronavirus test allegedly coughed and spat on a police officer who pulled her car over in Sydney's southwest on Friday.
Police say the woman sped off and ran a red light after police tried to pull her Audi over on Greenacre Road about 5pm.
She was later approached by police and placed under arrest after getting caught in heavy traffic on Roberts Road. However, the woman allegedly refused to get out of the vehicle.
As she was being physically removed and handcuffed, the 25-year-old allegedly coughed on the police officer, spat in their face and told the officer she was on her way to a get a coronavirus test.
She has since been charged with a number of serious driving offences and assaulting a police officer on duty.
The woman was refused bail to appear at Parramatta Local Court on Saturday.
AAP
Deputy Chief Medical Officer Paul Kelly said the move to forcibly isolate returning Australian travellers in hotels from midnight on Saturday was necessary to stop the spread of the disease, which was still being caused by infections acquired overseas in the majority of cases.
"The force of law will be there to stop people leaving that hotel and there will be fines, even imprisonment, depending on the state or territory where that arrival takes place," he said.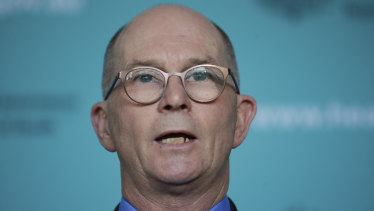 Dr Kelly said the median age of Australians who had died from coronavirus was 77 years but warned the age range was "starting to get lower" after a 68-year-old died from the virus.
Dr Kelly said the median age of Australians who had died from coronavirus was 77 years but warned the age range was "starting to get lower" after a 68-year-old died from the virus.
He warned younger Australians should not become complacent about the threat of the disease after more than 3400 confirmed cases in Australia. He said the median age of all cases was 48.
Professor Kelly said contract tracing of locally acquired cases had largely shown a very clear contact with a known case of COVID-19.
"This demonstrates that we are finding the cases we need to find, tracing their contacts, and dealing with those issues so that they are isolated from the community and to decrease the transmission from person to person of this very infectious disease."
Premier Mark McGowan has posted a firm message on his Facebook page calling on those at risk of contracting COVID-19 to self-isolate, or else the government will "make you".
"Let me be extremely clear about this," Mr McGowan wrote.
"If you are being told to self-isolate because you've been overseas, interstate or in close contact with a confirmed COVID-19 case, you must self-isolate."
That meant staying at home and not having any visitors, he wrote.
"Your inconvenience is not more important than public safety," he said.
"If you leave the house and infect someone else, there's every chance you will literally cost someone their life.
"It just isn't worth it."
He said the government had WA Police working to make sure people followed the rules, with fines in place of up to $50,000 and the power to forcibly quarantine people if necessary at play.
"As you may have seen this morning, WA Police have already had to take action against two Western Australians who chose to ignore directions to self-isolate.
"And as the Prime Minister outlined yesterday, the Defence Forces are set to join this effort too.
"If you're told to self-isolate, you must self-isolate."
WA apartment builder Finbar has delayed the start of its flagship Civic Heart tower as the coronavirus pandemic smashes property sales.
On Friday the builder joined a growing list of public companies by announcing to the ASX it was withdrawing its profit expectations for the 2019-20 financial year.
In its half-year results, Finbar said it was expecting a full year after-tax profit of about $14 million but on Friday managing director Darren Pateman said COVID-19 was expected to have a marked impact on confidence and sales activity on the Perth, national and global markets for some time.
"In light of the current environment and the likelihood of deferred decision making by property customers during this time of more pressing priorities, we have decided to delay the launch of any new projects, including Civic Heart in South Perth, until there is a higher level of certainty regarding the ongoing impact of COVID-19 to the economy and market," he said.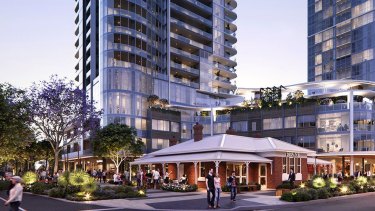 The delay is a blow to Finbar who had received approval from Planning Minister Rita Saffioti in February after fighting for the 320-apartment tower on the South Perth peninsula for several years due to planning knockbacks.
Finbar also announced construction was complete on its 164-apartment Sabina Applecross tower, which had secured $60.5 million in sales.
Retailer David Jones has made the decision to keep its main stores trading for as long as government regulations allow, the company said on Saturday.
In announcing the closure of two smaller-format stores, at Barangaroo in Sydney and James Street in Brisbane, the retailer, which is owned by the South African-based Woolworths group, said it would keep trading going at its larger stores within social distancing guidelines to minimise the financial impact on its workforce.
"Health and safety will always be our primary focus, but we are also focused on supporting the livelihoods of our teams and their families for every day possible," a spokesperson said.
"Given this we have made the decision to continue to keep our large format physical stores open as long as we are confident that we can operate our stores safely and to the standards required by all current government health and safety directives."
On Friday night, Myer announced its intention to close all of its stores on Sunday and to stand down 10,000 retail staff, as well as a number of personnel at its head office in Melbourne.
Charter flights to transport 470 passengers from the cruise ship MS Artania back to Germany over the weekend have been cancelled, according to a news post on a German cruise information website.
According to the report, Malaysia Airlines, the airline tasked with transporting the passengers back to Europe, requested that all passengers be tested for COVID-19 prior to boarding and cancelled the services when it was determined it was "logistically impossible".
However, an alternative has immediately been found, the site states, with four Condor planes chartered to fly the passengers from Perth to Frankfurt.
Passengers will be distributed on four flights scheduled to depart Perth on the hour between 5pm and 8pm on Sunday.
The Artania will then commence its journey back to Bremerhaven, in Germany's North Sea coast, the website states.