The minister said the dozens of fresh diagnoses reported on Sunday showed the virus was spreading at a worrying rate.
There are simmering tensions in the state's tourism hotspots as holidaymakers arrive in droves.
Signs have been erected throughout the Mornington Peninsula telling tourists "COVID-19 ain't no holiday – go home" and "you should've stayed in Aspen".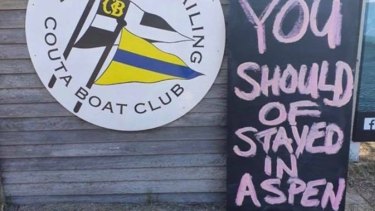 The community was already furious after wealthy residents failed to adhere to self-quarantine measures after a ski trip in Aspen. Melbourne high-society circles in Portsea, Sorrento and Toorak are among the top areas for coronavirus outbreaks in Victoria.
The Rye businessman said the influx of tourists has been good for his small business, but it could be disastrous for the area.
A total of 41 cases of coronavirus had been confirmed by Sunday in the Mornington Peninsula local government area – the second-highest total of any Victorian area.
"I would say today 80 per cent of our business has been from tourists," the man said.
"If you've got this number of visitors here at the moment, can you imagine what it will be like at Easter if things aren't shut down."
Sign up to our Coronavirus Update newsletter
The business owner said it wasn't just young people who were flouting the warnings to stay at home.
Loading
"We're seeing retirees out and about in their Range Rovers and Porsches not giving a shit," he said.
"The majority of the locals down here are really pissed off. Not only are these tourists clearing out our supermarkets, locals can't even go for a walk around the block any more because there are so many people around."
However, not everyone was wishing the tourists away.
"We need the tourists down here," one cafe owner in Blairgowrie said.
"We rely on people coming down here for our business to stay viable."
Police will continue to patrol tourism hot spots and enforce strict new social-distancing and quarantine regulations as people continue to flood into holiday destinations.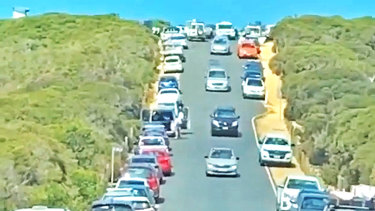 Beaches were shut down across the state on Saturday night after crowds flocked to the ocean from the Surf Coast to Gippsland as the weather warmed up.
On Phillip Island, resident David Wilson said visitors continued to ignore the stay-at-home advice, with camping spots continuing to fill up and Airbnbs "as busy as ever".
"There seems to be a lot of people who just don't understand the seriousness of this … I'd actually like to see all the Airbnbs banned in holiday areas to stop the influx into these communities," he said.
In Walhalla, east of Melbourne, one resident said the small population was "begging people to stay away".
"Vehicles, especially 4WDs, are pouring through and into Walhalla … but groups are claiming it is their right to camp, and the best thing to do."
Another resident on the Mornington Peninsula said many people were treating the new restrictions as a joke.
"All day [there are] cars, boats, people and jet skis everywhere. They are not locals. Why are people not taking this seriously," said one resident, who did not wish to be named.
Individuals caught breaking social-distancing and quarantine rules face fines of up to $1652, or $9913 for businesses.
Despite reports of mass gatherings on several beaches across the state on Saturday, including on the Surf Coast and Mornington Peninsula, which were closed later in the day, police said they had not issued any fines for breaches of COVID-19 regulations as of 3pm on Saturday.
On Sunday, police would not comment on whether any particular areas would be targeted in a bid to avoid further mass gatherings.
"We have seen the vast majority of the community treat this issue with the seriousness it deserves up until this point," Commander David Clayton said.
With Cameron Houston
Rachel covers general and breaking news for The Age.
Noel Towell is State Political Editor for The Age