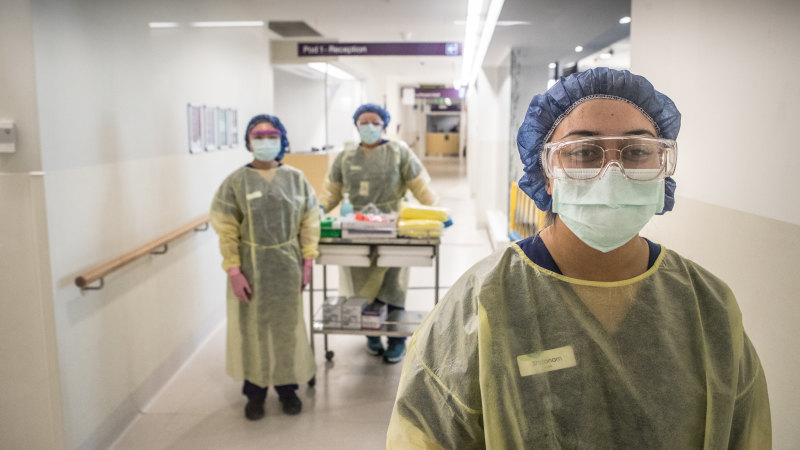 The latest Victorian death from the coronavirus was that of a man aged in his 80s who died in a Melbourne hospital.
More than 39,000 tests for the virus have now been conducted in the state, with 21 confirmed cases of community transmission and 93 people who have recovered from the illness.
Ms Mikakos said 26 people were in hospital being treated for the disease. Four of those were in intensive care.
It comes as major hospitals in Melbourne's west closed their intensive care units to visitors.
Western Health, which runs the Sunshine, Footscray and Williamstown hospitals announced the changes on Sunday.
"It is with regret that Western Health wishes to advise that we are no longer able to allow visitors to our intensive care units," a statement said.
"This measure will be in place while we respond to the COVID-19 outbreak. This decision has been made in the best interests of our patients and staff as well as visitors. "
Western Health said families of patients would be advised of the new measures by the ICU care teams.
Ms Mikakos said the state was performing about 4400 coronavirus tests each day, with 11, mostly private, labs joining the effort. That testing capacity was expected to grow in the coming days, she said.
Strict quarantine regulations forcing international arrivals to spend 14 days in a hotel began at midnight on Saturday.
About 470 returned travellers were due to fly into Melbourne Airport on seven flights on Sunday. They will be housed in hotels around the city.
Ms Mikakos said the process had gone smoothly from the first of several flights to arrive under the tough new regime.
Victoria Police conducted 139 checks on returning travellers quarantining at home in the 24 hours to 8am Sunday.
Of those 11 were not at home.
A police spokeswoman said there were a range of reasons why someone may not be at the residential address they provide and didn't necessarily mean they were deliberately flouting the restrictions.
Police also checked 614 businesses, 210 populous places and 467 non-essential services and businesses.
"At this time, no one has been charged with refusing or failing to comply with the direction however a number of warnings were given to people found at populous gatherings," a spokeswoman said.
Ms Mikakos condemned the "stupid behaviour" of those Victorians who went to beaches at the weekend, saying they had put lives at risk through their conduct.
Loading
"I share the frustration of my Chief Health Officer," she said, echoing Dr Brett Sutton's comments on Saturday criticising people's "crap" behaviour.
"It is, it is stupid behaviour," Ms Mikakos said.
"We all need to do our bit, so it's just those small minority of people who are putting the rest of the community at risk. We all need to make some sacrifices here."
The minister said the latest number of positive tests was worrying and the social-distancing rules were the only way Victoria could avoid being overwhelmed by the pandemic.
"The numbers do continue to trend up and that is very, very concerning to us," she said.
"If you can stay at home, you must stay at home.
"This is the only way we're going to defeat COVID-19 It's the only way we're going to slow down the spread of COVID-19."
Ms Mikakos acknowledged that it had been difficult for the public to keep up with the social-distancing rules in what she called an "evolving situation" and promised more government advertising with clear and simple guidelines.
"I acknowledge that the rules have have evolved over time and that is because national cabinet has been responding to an evolving situation," the minister said.
"So we want to make it as easy for people to understand as possible, and so there will be more advertising that will be coming … and making the rules very clear to people."
Noel Towell is State Political Editor for The Age