Loading
Wesfarmers' businesses have stayed open during the crisis, with hardware chain Bunnings and office supplies company Officeworks both seeing a heightened level of demand in recent weeks.
Due to this, Mr Scott said his business was not currently planning to take advantage of the subsidy, but warned if a more significant shutdown came into place, Wesfarmers would apply.
"If we don't take more personal responsibility for complying with the government's mandates around social distancing and gatherings, then we will see a more significant shutdown, and that will be extremely damaging to the economy," he said.
With the payments amounting to just $39,000 for a full year salary, Mr Scott noted it wouldn't cover the loss of wages for many of Wesfarmers' employees.
"We should all be mindful while the JobKeeper subsidy certainly helps workers for businesses that are essentially shut down, we all need to brace ourselves for what is likely to be a more significant downturn in GDP and the economy," he said.
Loading
"The more we can do to keep businesses operating and help businesses big and small manage the cash flow burden in the months ahead, that will be important."
Virus to accelerate retail's structural change
Following a recovery from the coronavirus pandemic, Australians can expect to see a more concerted push into online selling along with further closures across bricks and mortar stores, Mr Scott predicts.
Australian retail had been in the midst of a structural change prior to the virus, and the disruption over the past month is likely to have "accelerated" those shifts, he said. One such change will likely be in retail leasing.
"There are some challenges facing bricks and mortar retailers relating to the way leases are structured, the size of stores, and also some of the more onerous regulations that disadvantage retailers that employ a lot of people versus online retailers that employ far less," Mr Scott said.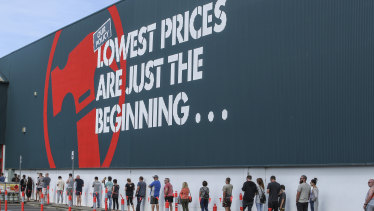 "So I think we'll see further rationalisation."
Yesterday, Wesfarmers completed a $1.06 billion sale of a further 5.2 per cent stake in supermarket giant Coles, netting the company around $130 million in pre-tax profits, and shareholders have already begun to question the best use for the company's fresh funds.
Primarily the profits will be used to boost Wesfarmers' balance sheet, Mr Scott said, though the conglomerate was also actively seeking opportunities to invest despite the "many risks" present in markets currently.
"We have been approached by some companies that are facing funding challenges, and we do look at those opportunities," he said.
"But in the current environment, those types of opportunities we would only look at in a collaborative way to help companies with any funding issues they may have."
Dominic Powell writes about the retail industry for the Sydney Morning Herald and The Age.