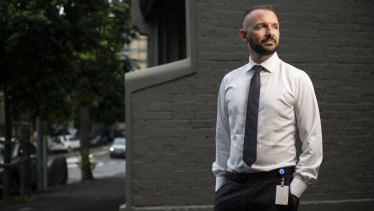 Psychiatrist Mike Millard says the dual forces of change and uncertainty brought on by the coronavirus pandemic have triggered a "massive increase" in anxiety across the community.
Dr Millard is clinical director of Sydney's Clinical Research Unit for Anxiety and Depression (CRUfAD), a joint project of St Vincent's Hospital and the University of NSW, which is making its "This Way Up" online courses on stress, anxiety and depression free during the COVID-19 crisis.
Dr Millard said extra online learning modules with a focus on dealing with rising anxiety and depression linked to the virus would also be rolled out gradually and be free to access from Monday.
"I think people feel on edge. People are feeling a lot of tension in their muscles. People find they're breathing a bit more quickly, their heart rate's probably a bit faster, even if they don't realise.
"Everyone has experienced anxiety at some stage. They're not alone. The key at the moment is managing that anxiety."
Loading
Dr Millard said the six-part online programs used cognitive behavioural therapy and mindfulness techniques. They take participants through an illustrated story of a character who is experiencing similar symptoms, followed by practical exercises and techniques to help with their mental health.
Dr Millard had spoken to a lot of people "who don't know how they feel" at the moment and said the website also provided an online tool so people could check their levels of stress, anxiety or sadness.
"These programs have proven to be helpful, but some people will need additional help," Dr Millard said, noting that mental health service BeyondBlue was providing help over the phone and online.
"At the moment we need simple and practical things that we can do to get through this together."
Campbelltown psychiatrist Angelo Virgona said the online courses were also "really good ammunition" for mental health professionals, who are increasingly using online and over-the-phone services to help people through the crisis.
"They're a really good first step if there's a delay in getting to see your GP, or getting a referral to us or to a psychologist or a clinical psychologist," Dr Virgona said.
Dr Virgona, who is chairman of the NSW branch of The Royal Australian and New Zealand College of Psychiatrists, said his colleagues were noticing a rise in anxiety and uncertainty among patients.
"Are we seeing massive numbers coming to us? No, not yet really. But people being in quarantine and self-isolation probably has something to do with that."
Feeling Anxious? These Tips Might Help
Here are Dr Millard's tips for coping during the coronavirus outbreak:
Follow the facts. "The worst thing for people to be doing is constantly following their phones and, particularly, engaging with unreliable sources of information."
Take each day at a time and focus on the here and now.
It's important to remember it's OK not to be OK. It's important to be kind to yourself.
Keep connected. "I talk about keeping connected to ourselves first, then to our friends, families and communities."
Do things you're able to do. "This might mean developing a routine at home, managing to stay active, and sleep is important."
You can access the free This Way Up courses here. BeyondBlue, 1300 224 636.
Loading
Megan Gorrey is the Urban Affairs reporter at The Sydney Morning Herald.