As finger-pointing around the Ruby Princess debacle continues, Nine News has revealed an email chain between the cruise ship's senior physician and NSW Health, where the department reportedly said that testing was not required before letting passengers disembark without any examiniations in Sydney last week.
Leaked emails were exchanged between NSW Health and the Senior Physician on the ship, with the health department told that two travellers from NSW had upper respiratory tract infections and needed an ambulance after being administered 15 swab tests and testing negative for influenza.
"The NSW Health expert panel has assessed the Ruby Princess as NOT requiring on board health assessment in Sydney. We would however ask you to send the 15 samples to our lab for COVID testing," an email from the department read.
The ship was then told it was free to disembark.
Australia owes a debt of gratitude to its pandemic modellers, public health officials and politicians – we have avoided the explosive beginning of a COVID-19 epidemic that most other countries are now cursed with.
Globally, it looks like – with our ANZAC mates across the ditch – we are advantaged by being at the bottom of the world with a slightly longer time to respond. Without wanting to cheer too early, the daily case notifications out of the state furthest down the path – NSW – are encouraging. The number of locally acquired cases are not increasing (much) in the past week.
If those cases start to track up, and double quicker than every eight days or so, the rest of this opinion article should be dispatched to wrap fish 'n' chips or deleted from your digital files. While I do not have a crystal ball, I do believe that the physical distancing measures are working – we have suffocated the early stage of the epidemic, "squashing the curve" rather than allowing it to increase then flatten.
But what next?
Epidemiologist and public health medicine specialist Tony Blakely has more here.
Beaches will remain open across the state this weekend though potential beachgoers are being warned they will be kicked off if they do not abide by health authority directives.
The Sunshine Coast council reminded residents on Friday that those "sunbaking, sitting, reading, or gathering together to eat or socialise" will be asked to move on.
"So when you venture out to your favourite coastal outlook, please remember, you are only permitted on the beach if you are performing some form of exercise whether it be to go for a swim or surf, walking the dog or otherwise," the council wrote on its Facebook page.
Police now have the power to issue on-the-spot fines of $1334 under the public health orders, which forbid people – unless members of the same household – from gathering in groups of larger than two in public or leaving the house for reasons not deemed "essential", such as exercise.
Gold Coast mayor Tom Tate warned residents of his region again this week that beaches could be closed if people continued to disobey the rules.
European Union Justice Chief Vera Jourova has criticised US tech giants such as Google and Facebook for making money off coronavirus-related fake news instead of putting in more efforts to stop the deluge.
With millions of people confined to their homes due to lockdowns to counter the spread of the virus, social media and online platforms have seen the volume of news on their sites and user traffic soar.
That has in turn sparked alarm and criticism because of the flood of disinformation.
Read more from Reuters here.
At times like this, it can be hard not to be pessimistic. Each day brings more news of the immense damage caused by the coronavirus pandemic.
But there are glimmers of light as well. Facing a health and economic crisis like no other, people have come together in ways that offer hope amid great uncertainty.
Rather than grand deeds, many of these acts of kindness are small. They are moments and gestures that offer a hand to someone in need.
Follow this link for a selection of short stories where people have done just that. They're from different walks of life but they show that we are all in this together.
Australia could face a deeper public health crisis because jobless temporary visa holders are unable to access welfare and are at risk of homelessness.
Researchers from the University of Sydney's business school said Australia is risking the spread of COVID-19 by creating an underclass of migrant workers thrown out of jobs but with no right to the new $1500 JobKeeper fortnightly payment, Medicare or other welfare – and many unable to fly home even if they want to.
With no income, the researchers say many are struggling to pay rent or see doctors – even if they have symptoms that should be reported – and many will be tempted to move to cash jobs in the underground economy to survive, raising the risk of infection.
Read more from Anna Patty here.
The Queensland opposition has called on the state government to not take action to legislate a moratorium on rental evictions without a parallel support package for property owners.
Deputy premier Jackie Trad flagged in a Facebook Live video this week that the government would seek to write the eviction prohibition into law for those unable to make payments due to the impact of COVID-19.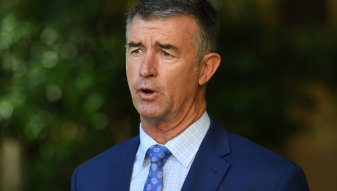 This is expected to be back-dated to the announcement out of National Cabinet on March 29
Ms Trad's opposition counterpart, Tim Mander, said while he welcomed the decision, it should not be made without land tax concessions to help landlords pass relief on to small businesses and residential tenants.
"State land tax is a significant cost for many property owners, particularly when they are exposed to a loss of cashflow from tenancy agreements," Mr Mander said in a letter sent to the Deputy Premier this week.
Mr Mander added that a number of other states had already announced measures to reduce the burden of land tax and Queensland could not afford to be the last jurisdiction to provide the "desperately needed" relief.
The national cabinet is next week expected to discuss a code of conduct for commercial tenancies which would include a land tax waiver of at least three months.
On Wednesday, Ms Trad also revealed a $500-per-week grant the state government was working on to help those in the private rental market cover rental costs.
She said it would be aimed at those who had lost their jobs and were unable to access the newly announced federal welfare payments until later this month.
The one-off payment of up $2000 across four weeks of rent, paid to the lessor, would be available only to tenants able to provide evidence the lessor had declined all attempts to make alternative arrangements.
Other eligibility requirements include that the applicant not have more than $10,000 in cash and savings and are an Australian citizen, permanent resident or hold a protection or bridging visa.
Backpackers have been removed from buses and locals are being caught trying to cross the Queensland-New South Wales state line on foot as police crack down on the border ban.
One driver tried to sneak across the border, travelling along the footpath to avoid the barriers that cut Queensland off from interstate travellers.
More than 4000 vehicles have been stopped and 75 people so far refused entry.
Read more from AAP's Robyn Wuth here.
Wild weather is the latest blow to strike passengers and crew on board the stranded Greg Mortimer cruise ship off the coast of Uruguay, after confirmation an Australian dramatically rescued from the ship earlier this week tested positive for coronavirus.
With large waves battering the ship, plans by cruise operator Aurora Expeditions to have 215 coronavirus tests rushed aboard had to be delayed, and passengers are having to contend with seasickness and rationed water after the ship's desalination system was turned off to stop contamination from excess silt.
Rowena Hamilton, one of about 90 Australian passengers on board the ship, said she hasn't lost hope of being rescued, but the situation is increasingly desperate.
"We ask you all, and the Australian and Uruguay governments, to think of us and remember that as we sit here at anchor and this storm rages around us… every few minutes, as the ship is hit with a number of large waves, the whole ship makes this loud shuddering sound noise and shakes from top to bottom."
She said people on board are now experiencing seasickness on top of anxiety and, for about 10 of them, suspected coronavirus.
"The brown churning waves and swells mirror our own emotions," she said.
A spokeswoman for Aurora confirmed the storm had rendered it impossible to make use of the water surrounding the ship, but denied there was a shortage of water.
"We have a ready supply of water arriving by barge from Uruguay in case required, and plenty of water in the ships bunkers," the spokeswoman said.
As the state ramps up isolation measures to combat the coronavirus, small acts of kindness are going a long way to lift Queenslanders' morale.
Residents of Loganholme were cheering and whooping out their windows after spotting two police officers mowing an older man's front lawn.
While on patrol, Senior Constables Jim Daniels and Meagan Holley saw an older man struggling to clean up his front yard in the heat. They pulled up and offered to finish the job.
Read more from Lydia Lynch here.