The besieged Ruby Princess will be the lone cruise ship left in Sydney on Monday, as health authorities, police and Border Force grapple with what to do with the ship and its crew.
NSW Police Commissioner Mick Fuller said he has launched an investigation into the disastrous decision to allow its passengers to disembark and the "hours leading up to the ship coming in".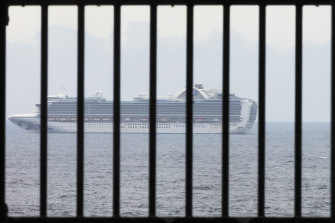 "There will be documentation, triple 0 calls, there will be evidence, hard evidence, that will help me work out which direction to take it," he said on Friday morning, saying it was too early to know whether criminal charges would be laid.
The ship continues to languish off Port Botany due to an outbreak of respiratory disease among the 1200 crew.
Read more here.
With Australians now facing massive upheaval due to the pandemic, social historian Dr Janet McCalman explores how people survived the Great Depression.
Hundreds of kilometres apart, Michael Salvatore and Adam Lewis have both experienced their own haunting Field of Dreams moment as they tend to the waiting turf of two of Australia's great sporting cathedrals.
This time of year would normally see the MCG and the SCG a hive of activity as the AFL season launches into life. Instead, with coronavirus halting play, pared-down crews of ground staff are keeping the hallowed surfaces in a perennial state of readiness.
That has allowed Salvatore, the MCG's executive manager of turf, and Lewis, the curator at the SCG, rare moments of solitude amongst deserted stands that would normally be pulsing with the sounds of winter football.
"What was surreal was that I was in there the other day and it was dead quiet. I was standing in the middle of the Melbourne Cricket Ground and there wasn't a soul there," Salvatore said.
Curators occasionally get told they are paid to watch the grass grow and the jest has more than the usual element of truth now. Oddly enough, they want the grass to grow slower than ever before as they try to nurse it through a period of inactivity and have it ready to play on at less than a day's notice.
An absence of sport doesn't equate to no work for the curators and their teams. The goats are being kept in their pens for the moment as both Salvatore and Lewis keep their prized surfaces in pristine condition until the green light shines once again.
Let's take a look back at the day's main developments so far.
Premier Daniel Andrews has flagged stage four restrictions are looming for Victorians. Today he announced a crisis council of cabinet, consisting of himself and seven ministers, was sworn in to help co-ordinate the ongoing response to the COVID-19 crisis.
Australia's death toll stands at 28, with a 12th death in NSW and a 3rd death in WA. An extra 49 cases of infection were confirmed in Victoria overnight, taking the state's total to 1085.
Stonnington council area, which has 84 confirmed cases, has more than 20 more cases than any other council area. Banyule, which takes in suburbs including Heidelberg and Ivanhoe, has the second-most number of cases with 62.

Prime Minister Scott Morrison says Australia is now moving into a new phase of virus suppression, saying the number of cases across the country would be double the current total without the strict restrictions put in place.
Swinburne University's senior executives will take a 10 per cent pay cut this year and forfeit any bonuses they may have received in response to the "budgetary challenges" of the COVID-19 pandemic.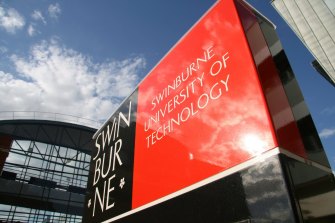 Staff are also being called on to take leave or make flexible working arrangements to ease the pressure on Swinburne's operating budget.
It is the second Victorian university to commit to pay cuts for executive staff in as many days.
La Trobe University – which is forecasting a loss of between $120 million and $150 million this year because of the pandemic – revealed on Thursday that its executive staff had agreed to take a 20 per cent pay cut between April 25 and July 3.
"Like all universities, Swinburne is facing budgetary challenges as a result of the coronavirus situation," a spokesperson for Swinburne University said.
"Our executive group will take a 10 per cent pay cut and forfeit any bonuses they are eligible for in 2020."
The university moved to full online learning on March 23, closing its campuses. Swinburne and La Trobe have also said students who fail a unit this semester will not have fail grades recorded on their academic transcript.
Werribee Gorge State Park, the You Yangs Regional Park and Sugarloaf Reservoir are now closed to visitors to help slow the spread of coronavirus.
Parks Victoria announced the new closures – along with the Yan Yan Reservoir Park and the Redwood Forest visitor site in the Yarra Ranges – to help aid physical distancing and to protect the health of staff and visitors.
This follows a long list of other closures including the Twelve Apostles Visitor Centre and lookouts, the 1000 steps in the Dandenong Ranges, plus all campgrounds, playgrounds, BBQ facilities, water drinking fountains, picnic shelters and tables, rotundas, toilets and viewing platforms on Parks Victoria-managed land.
"Other parks remain accessible for exercise if physical distancing requirements are strictly followed."
Visitation rates to other state parks will be closely monitored, with Parks Victoria warning the possibility of further changes.
The Premier said there was no guessing how long the health and economic crisis would last, but he noted it would be a matter of months not weeks.
"I can't tell you when this is going to end and I certainly don't want anyone to think that because we have got some reasonable stability at the moment that we are out of the woods," Mr Andrews said.
"It is not going to be over in weeks, it is going to be months and months."
Mr Andrews couldn't say what success would look like for Victoria and Australia, with seven deaths so far in the state.
"What I can do is I can point you to what failure looks like. Turn your TV on, have a look at New York, have a look at Washington State, have a look at Italy, France, Spain, the list goes on and on. It is tragedy."
Mr Andrews has warned he is expecting to ramp up the state's containment to a "stage four" lockdown.
"I think there will be a stage four. When I'm in a position and when I need to make those announcements I will."
He said the slowdown had helped to flatten the curve of new cases in Victoria, and ruled out allowing recreational fishing or golf under the "stay at home" rules.
"No recreational fishing trip, no trip to the golf course is worth someone's life," he said.
"I know it is a lot but it is making a massive difference too."
Mr Andrews said a schools announcement was on the way, and he expected there to be online learning after the school holidays.
"But I don't think we will ever see a situation where it is 100 per cent remote learning because there will always be kids whose parents play critical roles," he said, and schools needed to be open for their children.
He said the critical workers were health workers as well as people stacking shelves in the supermarket or driving trucks.
Premier Daniel Andrews has established a crisis council of cabinet to co-ordinate the response to the pandemic.
The ministers were sworn in via video conference on Friday afternoon in what Mr Andrews said was a "world first".
"These are not ordinary times and business as usual will not get the job done…" he said.
"We will be meeting very, very regularly."
Mr Andrews said there would be seven ministers in the crisis council, including himself, Education Minister James Merlino, Health Minister Jenny Mikakos, Attorney-General Jill Hennessy and Emergency Minister Lisa Neville.
"There are eight that will perform these very specific co-ordination roles and everyone will be involved one way or another in dealing with this crisis but it was important to formalise and to be really clear about who has the responsibility to co-ordinate quickly, efficiently, effectively," he said.
More to come