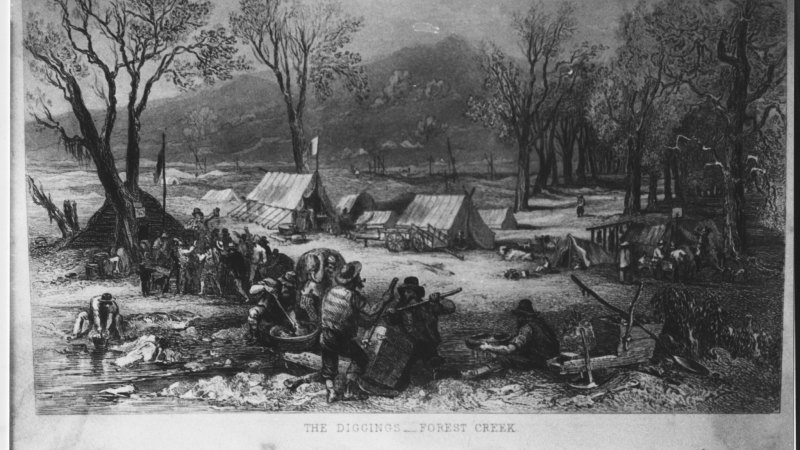 The ruins straddle private and public land in Donkey Gully and Golden Gully, part of the celebrated Forest Creek diggings which date from 1851. No one seems to know the full story of the ruins, but locally they are called the Welsh village. A map dated 1859 shows what appear to be housing blocks or mining leases under names such as Thomas, Edwards, Roberts, Jones, Davis and Williams.
Ms Anitra Nelson, who lives nearby, said yesterday: "Quite a lot of people know about this village privately. But this is a very secret place. You know, 'only we know about it'". The state historian, Dr Bernard Barrett, said there were a number of ruined villages scattered around Castlemaine, but he could not place the Welsh on. "I would not be surprised it was there."
Without a guide, one would stumble on the ruins by the sheerest chance. The road is rocky and twisted, and gives no sign of what lies in the silent, timbered valley a short walk from the end of it. The houses were built of local slate and blend with the surroundings. None have roofs anymore, and the tallest wall is a bit more than head high. No house appears to have had more than one room.
You can see where roads or streets have been, and where terraces contained gardens. Fruit trees, rosemary and a peppercorn tree still grow. The leaves of a clump of bulbs that are coming up seem to be jonquils, but they are broader, as if they have descended intact from an earlier age. "In winter," said Ms Nelson, "when the moss comes up and everything seems to be a dark olive green, it actually looks like Wales.
Ms Nelson is among 40 or 50 residents who are objecting to a permit which the Metcalfe Shire Council has decided to grant to Cluff Minerals (Australia) Pty Ltd for exploratory drilling on public land. They say that even though the drill sites are outside the village area, they may be close enough to cause disturbance. Should the drilling disclose gold, the village would be threatened further, they say.
Ms Nelson also has a personal objection. She suffers from an auto-immune disorder, and made news about four years ago when the State Government helped her build a special house in the area, isolated from all the products that make her ill. It contains no plastic or softwood. Big fans suck out all dust. She and her husband, Mr. Phillip Edmonds, can cook only with enameled cast iron or stainless steel. They cannot use shoe polish, only oil. They brush their teeth with bicarbonate soda.
"I have improved since living here," Ms Nelson said. "I have stabilised. This is the first year my life has ever been close to normal, but I have to be kept in this sort of environment." She is doing a post-graduate history course at La Trobe University, and goes to Melbourne once a fortnight. "If I go out more than once a week from home, my health begins to deteriorate. Basically, my body cannot stand the smallest amount of toxin."
She fears that drilling or mining near the Welsh village, which is a 20-minute walk from her house, would produce dust and fumes and force her to sell up. "There is no doubt it would put pollutants in the air," she said. "Our house water must be free of them." She considers it ironic that the council "waived the regulations" when she and Mr. Edmonds built the special house.
Metcalfe's shire secretary, Mr. Max Watson, said the council was aware of the importance of the Welsh village, and was certain it would not be disturbed. "Sometimes I have stood there and tried to imagine all the people moving about (in the gold era) and laboring from dawn till dusk," he said. "It is a pity there is not more of it, but what is there must be protected. The site is one of the most significant in the state, if not Australia.
"For this reason, we refused a Cluff Minerals' request to rezone part of the drilling area. We have also restricted the access. Cluff will have to use another road well away from the village, and they must honor a $15,000 bond to cover damage." Mr. Watson said he believed Ms Nelson was too far from the drilling to feel discomfort. There were mixed feelings about publicising the village, he said.
A Cluff Minerals spokesman said the company had heard from Ms Nelson, and wanted to discuss her situation with her.
Mining opponents, supported by the Melbourne Welsh Male Voice Choir, will hold a protest rally and concert in the Castlemaine Town Hall on 23 April at 2 pm. Ms Nelson said any outsiders trying to find the village should wait until guided tours were organised within the next month.