France, Germany, Poland, Austria, Switzerland and the Netherlands have arranged repatriation flights for citizens to return home, with up to 25,000 having registered their interest to secure a seat on a Qatar Airways flight out of Australia and about 10,000 of those have already departed.
Loading
The European Union's ambassador to Australia Michael Pulch said travellers "who have difficulty leaving Australia due to the coronavirus pandemic" should explore "all possible commercial options to do so", and contact their nearest consulate if unable to secure a flight home.
Some backpackers have complained of flight cancellations, expensive ticket prices and difficulty obtaining flight tickets for certain destinations.
Mr Morrison said those backpackers who opted to move to regional areas to take up fruit picking jobs must self isolate for 14 days before moving to the country.
"You can't have six backpackers in a caravan up out in rural parts of the country. That's not on. Not gonna happen," he said.
Local councils in Sydney and Melbourne are grappling with out-of-control backpacker parties in crammed share houses they say they are powerless to shut down.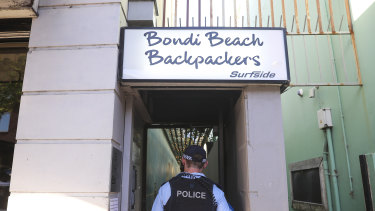 While backpacker hostels have begun to close their doors, Sydney's Waverley council is struggling to deal with "unofficial" hostels built by developers they say had exploited a planning loophole, where travellers slept eight beds to a room.
"We are begging and pleading for the government to give our rangers the power to go into these places and close them down or fine them," mayor Sally Betts said.
Noah's hostel in Bondi closed this week amid concerns about the cluster of coronavirus cases among backpackers in the suburb. Travellers were moved to a Sydney CBD hotel where health authorities provided them with short-term rooms and meal vouchers.
Former Wentworth MP Kerryn Phelps, a GP and City of Sydney councillor, said the government must find a solution for stranded travellers as a matter of public health and that authorities should have jumped into action as soon as the first coronavirus case was identified in a hostel.
In Melbourne, Port Phillip mayor Bernadene Voss said she feared for backpackers in the St Kilda area, where a number of hostels had closed and were being converted by the council into homeless shelters – saying many travellers would themselves face homelessness after losing their jobs.
Labor's foreign affairs spokeswoman Kristina Keneally last month wrote to federal Immigration Minister Alan Tudge warning that temporary visa holders who found themselves trapped in Australia posed a public health risk as they may not be able to self isolate.
Dana is health and industrial relations reporter for The Sydney Morning Herald and The Age.
Laura is a journalist for The Sydney Morning Herald.