Recap: Police issued 25 fines in Victoria yesterday to people found to be flouting social isolation laws.
"In the past 24 hours, Victoria Police conducted 707 spot checks at homes, businesses and non-essential services," a Victoria Police spokesman said on Saturday morning.
Since March 21, police have conducted more than 12,500 spot checks and handed out 57 fines.
The fine for ignoring public health advice or breaking a 14-day quarantine requirement is $1652. For businesses, it's $9913 if they are open unlawfully.
Here is some footage Victoria Police supplied of some of their officers running spot checks around Melbourne this morning:
Thursday at 5pm is typically the busiest time of week in Melbourne for traffic congestion. But now that almost everyone is staying home to slow the spread of coronavirus, peak hour doesn't look the same as it once did.
Using the interactive slider below, you can compare the typical traffic congestion during the Thursday evening peak with what it was like at this time last Thursday. The scale goes from dark red for heavily congested roads to green for free-flowing traffic.
During evening rush hour last Thursday, analysis from location data company HERE Technologies revealed 1.8 per cent of Melbourne's major roads were congested, far fewer than the 19.8 per cent typically clogged at this time of week. That means the city's roads were experiencing the sort of free-flowing traffic usually seen at 9.30am on a Sunday morning.
HERE Technologies Oceania head Daniel Antonello said traffic congestion in Melbourne over the past couple of weeks had reduced considerably and that falls had been significant across the entire day.
[See the interactive slider maps for Sydney, Canberra, Brisbane and Perth here]
Woolworths and Coles will begin restricting the number of customers allowed in-store at one time, as the stores prepare for their annual Easter rush.
Both Woolworths and Coles say they will begin enforcing the further provisions in the coming week.
Woolworths Supermarkets Managing Director Claire Peters said Easter Thursday was one of the "busiest times in-store" and customers may be asked to queue outside to adhere to current social distancing measure.
"Depending on how busy the store is, we may limit the number of people entering the store from time to time," Ms Peters said. "Customer limits will be specific to each location and based on the size of the store.
"Supermarkets overseas have successfully adopted similar measures."
Coles chief executive Steven Cain said he was also eager to see customers adhere to the government advice.
"We want to ensure that all customers can follow social distancing guidelines when shopping in our stores," Mr Cain said. "Team members will be at store entrances to provide assistance and let you know when it is OK to come in."
US President Donald Trump said on Friday that the Centres for Disease Control and Prevention was urging all Americans to wear a mask when they leave their homes.
But The New York Times reports he immediately undercut the message by repeatedly calling the recommendation voluntary and promising that he would not wear one himself.
"With the masks, it is going to be a really voluntary thing," the President said at the beginning of the daily coronavirus briefing at the White House.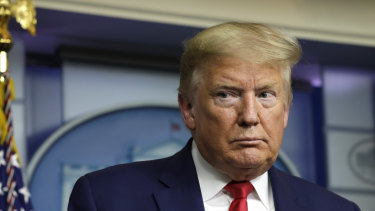 "You can do it. You don't have to do it. I am choosing not to do it. But some people may want to do it, and that's OK. It may be good. Probably will — they're making a recommendation. It's only a recommendation, it's voluntary."
"Wearing a face mask as I greet presidents, prime ministers, dictators, kings, queens — I don't know," he added. "Somehow, I just don't see it for myself."
A total of 1115 people in Victoria have tested positive for coronavirus, and of those 587 were male and 528 were female (for the remainder that information is not yet known).
About one quarter of Victoria's cases have been people in their 20s, with 132 men and 133 women testing positive in this age group.
But the highest rate of infections have been among men in their late 60s, for which there have been about 38 cases per 100,000 Victorian residents in that age group.
You can see the breakdown for your age group and sex using the chart below:
You can watch Deputy Chief Medical Officer Paul Kelly's update on coronavirus below.
Professor Kelly said the flattening of the curve now appears to be happening" in Australia, but the five new deaths in the past 24 hours "talk to why we are being so tough".
"There are 5544 cases in Australia and unfortunately 30 deaths, so we've had an increase again over the last 24 hours," Professor Kelly said.
"The good news about that is the daily increase is definitely less than it was a week or so ago, it really talks to the effectiveness of some of the ways we have tried to deal with the virus over the last few weeks."
However, Professor Kelly warned that the respiratory viruses, including COVID-19, "tend to transmit more easily" in winter, as Australia enters its colder months.
"Low humidity and low temperatures do tend to promote the infectiousness of respiratory viruses, and [indications suggest] that is the case with this virus too."
Use the map below to see how many coronavirus cases have currently been recorded in your local council area:
View the data in table format here
Keep in mind the data shows the local government area of residence of each of the 1115 people statewide who have been diagnosed with coronavirus, it doesn't tell you where they picked up the infection or whether they are still in that municipality.
Stonnington remains the local government area with the most confirmed cases, with 84.
The area that recorded the largest increase in case numbers over the past week is Banyule, in Melbourne's north-east. This municipality, which encompasses Ivanhoe, Heidelberg, Viewbank and Greensborough, currently has 64 confirmed cases, up from 25 one week ago.
Deputy Chief Medical Officer Paul Kelly said "masks are not recommended for the Australian public" as they move around the community, partially because of a shortage of supply for frontline workers but also because of doubts around the effectiveness of "people walking around with masks".
"In terms of mask use in the community, I would stress again, at the moment we do not think that is a good idea," he said.
"The key point there is masks can be useful to stop the spread from a person with the disease to other people. If the mask is used correctly, that's true.
"But at this time, our advice remains, if you are sick, stay at home."
Professor Kelly said the country is "building up the capability in Australia to make our own masks" and that there could be the need to have a national conversation around how masks can be used effectively if there were an unlimited number of masks available.
This interactive chart shows how much the number of coronavirus cases around the world have surged over the past month.
It shows the running totals on the number of cases by country each day, starting in mid February (when China was the only country in the world to have a count of cases in more than triple digits) to the end of the day yesterday, when case numbers had crossed more than one million worldwide.
Deputy Chief Medical Officer Paul Kelly has advised those living in residential colleges and boarding houses to re-examine their living situations amid the coronavirus crisis.
Mr Kelly said that communal living was a "challenge" during the current climate and encouraged people in shared living situations to heighten their basic hygiene measures.
"I understand that many boarding houses around Australia have closed or are planning to close shortly in relation to the Easter holidays, and that is a good thing," Professor Kelly said.
"We have seen already outbreaks in cruise ships, for example, also backpacker hostels, and so forth. Anywhere where there are larger numbers of people living in the same place, it is more challenging to have this social distancing."
Mr Kelly said people living in these situations needed to make "adjustments" from their normal lives.
"Thinking about how to keep that physical distance, so coming into the kitchen at different times, for example, making sure surfaces are also clean between use," Professor Kelly said.
I'm hoping to get a video of the press conference (which recently wound down) onto the blog shortly.