Shoppers attending Jan Powers Farmers Market at the Brisbane Powerhouse on Saturday have been pictured flouting social-distancing rules, despite market organisers outlining and encouraging all market-goers to follow recommended precautions just hours earlier.
On Friday, Jan Powers Farmers Market posted on Facebook that it's Brisbane Powerhouse and Manly sites would be open the next day.
However, the market mogul said COVID-19 precautions would be in place, such as social distancing, hand-washing stations, no seating, pre-packaged products, and only takeaway food available.
The organisers told customers to "come in, get what you need, be quick". They asked shoppers to stay 1.5 metres apart and recommended having only one person per household attend the markets.
Queensland Health Minister Steven Miles said he had seen the "concerning" photos from Brisbane Powerhouse and if the behaviour continued, he would reconsider whether farmers markets should continue to be considered an exempt essential service.
Read more here. 
Beijing/Wuhan: China on Saturday mourned the thousands of "martyrs" who have died in the new coronavirus outbreak, flying the national flag at half-mast throughout the country and suspending all forms of entertainment.
The day of mourning coincided with the start of the annual Qingming tomb-sweeping festival, when millions of Chinese families pay respects to their ancestors.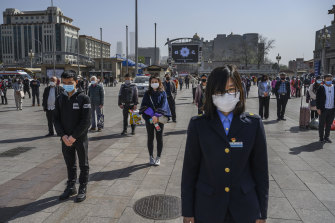 At 10am Beijing time, the country observed three-minutes of silence to mourn those who died, including frontline medical workers and doctors. Cars, trains and ships sounded their horns and air raid sirens wailed.
In Zhongnanhai, the seat of political power in Beijing, President Xi Jinping and other Chinese leaders paid silent tribute in front of the national flag, with white flowers pinned to their chest as a mark of mourning, state media reported.
Read more here. 
Reuters
As the coronavirus spread among crew members on the aircraft carrier the Roosevelt, its captain, Brett Crozier, wrote a four-page letter to US Navy officials, seeking an urgent evacuation.
"We are not at war, and therefore cannot allow a single sailor to perish as a result of this pandemic unnecessarily," Captain Crozier wrote.
As a result, he was fired. Videos posted on social media show a huge send-off for the Captain, as many praised his decision to protect his crew.
The deadly coronavirus is adding strain to drug and alcohol services, with some rehabilitation centres closing or refusing to take new admissions as the sector prepares for a COVID-19 outbreak, adding to wait times for Australians desperate to get treatment.
Victorian Greens senator Richard di Natale, a former GP, said the reduction in services came at a time when the need for support was growing, as the pandemic added to the loneliness and social isolation that were risk factors for addiction.
"You're going to see a spike in the need for drug and alcohol services," he said.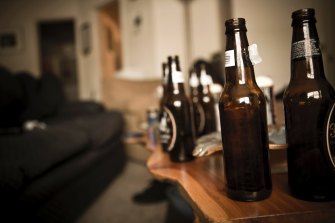 Returned travellers quarantined in hotels have complained of lack of access to alcohol, and a combination of substance and mental health problems has erupted among detained arrivals, while liquor stores have imposed purchase limits in response to Australians panic-buying booze.
Read more here. 
NSW Police issued 12 fines to people not following coronavirus restrictions on Friday, including a number of cases where fines were given on top of other charges.
In one case, police were called to a home in Wagga Wagga following reports of a disturbance to find five men at the premises who could not provide a legitimate reason for being there. After being fined for breaching the Public Health act, officers searched the home and found and seized methamphetamine and cannabis.
In another case, a man and woman were stopped for a roadside drug test in Revesby, which the male driver returned a positive reading for. Police searched the car and located a knife as well as four envelopes in the names of other people, and arrested and charged the man.
The pair were then issued an infringement notice for not having a legitimate reason for being in public.
A Goonellabah man was charged with mid-range drink driving after a random breath test, before informing police that he had returned from Singapore recently and was self-isolating. As he had left the house without a reasonable excuse, he was also fined.
Another man was handed a fine for breaching the public health act and charged with offensive language after swearing and yelling in the street in Darlinghurst.
Students and staff members at nine educational facilities are among the 104 new COVID-19 confirmed in NSW last night.
Teachers at Kambala, Wiley Park Girls High School and Gloucester Primary School and students at St Mary's Senior High School, St Michael's Catholic Primary School and Bankstown Senior college have all recently tested positive for the virus, NSW Health announced on Saturday.
There are now seven staff and six children from the Rose of Sharon childcare centre in Blacktown who have tested positive. There are also 12 additional cases confirmed in contacts of the staff and children.
A child from Woodport Early Learning Centre has also tested positive.
Prime Minister Scott Morrison announced this week that childcare services would be free to families and the federal government would provide additional funding to childcare centres as long as they remained open and sought to re-enrol students who had recently dropped off.
Health Services Union boss Gerard Hayes has fired a salvo at Labor leader Jodi McKay warning that demanding Health Minister Brad Hazzard resign is "ill-tempered and ill-advised".
In an extraordinary intervention amid the worsening Ruby Princess debacle, Mr Hayes said Mr Hazzard had been a "constructive and consultative minister" and he should not be removed.
Mr Hayes' comments come after Ms McKay and Labor's health spokesman Ryan Park called for Mr Hazzard to stand down over the government's "catastrophic failure" in regards to the Ruby Princess.
"It's time to end this 16-day cover-up, which has been distressing for all those passengers and family involved. The Health Minister must stand down. No more excuses, no more cover-ups," Ms McKay said on Saturday.
But Mr Hayes said it would be "extremely foolish to dispense of Mr Hazzard" as the state faces its most difficult health crisis in a generation.
"There are many points on which Mr Hazzard and I disagree. But calls for his resignation are ill-tempered and ill-advised," Mr Hayes said.
"Mr Hazzard has always had an open door when modestly paid health and hospital workers have sought his attention.
"Mr Hazzard was instrumental in overturning the planned privatisation of five regional hospitals. He listened to the pleas of paramedics, winning funding to employ 750 extra positions and supporting their ban on working alone."
Mr Hayes said Premier Gladys Berejiklian had announced an investigation into the circumstances surrounding passengers being allowed to disembark the Ruby Princess and that is "appropriate".
Woolworths and Coles will begin restricting the number of customers allowed in-store at one time, as the supermarket chains prepare for their annual Easter rush.
Both Woolworths and Coles say they will begin enforcing the further provisions in the coming week.
Woolworths Supermarkets Managing Director Claire Peters said Easter Thursday was one of the "busiest times in-store" and customers may be asked to queue outside to adhere to current social distancing measures.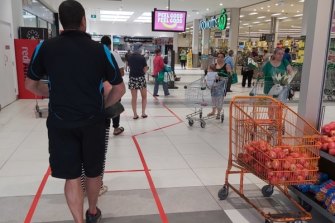 "Depending on how busy the store is, we may limit the number of people entering the store from time to time," Ms Peters said. "Customer limits will be specific to each location and based on the size of the store.
"Supermarkets overseas have successfully adopted similar measures."
Coles chief executive Steven Cain said he was also eager to see customers adhere to the government advice.
"We want to ensure that all customers can follow social distancing guidelines when shopping in our stores," Mr Cain said. "Team members will be at store entrances to provide assistance and let you know when it is OK to come in."
NSW Police are currently coordinating the crew movements of five cruise ships ahead of their journeys home in the "largest maritime operation undertaken in Sydney Harbour".
Dubbed 'Operation Nemesis' by NSW Police, officers are currently overseeing the ships as they enter the harbour to refuel and stock up on necessary supplies before returning to their home ports.
The operation will also see a number of crew transfers between the ships to allow crew members onto the voyage which is closest to home.
Marine Area Commander Superintendent Steve Hegarty said the operation has been planned over a number of days.
"NSW Police has been instrumental in facilitating the movement of more than 750,000 tonnes of shipping through the Port of Sydney over about a 30-hour period," he said."It will be the largest peacetime maritime operation undertaken in Sydney Harbour and has relied on the cooperation of Royal Caribbean Cruise Line and the Port Authority of NSW to ensure its success."
Spectrum of the Seas entered the port of Sydney about 4.30pm on Friday and was guided by a marine pilot, and anchored at Athol Bay to re-provision essential supplies, including fuel, food and medical materials.
It was joined by Radiance of the Seas which entered Sydney Harbour about 5am on Saturday, before over 600 crew members were moved between the two ships. Both ships departed NSW waters about 2pm.
Celebrity Solstice entered Sydney Harbour about 2pm, with Voyager of the Seas and Ovation of the Seas scheduled to enter the harbour later today where 780 crew members will be transferred.
A total of five Australian crew members remain on the ships.
Deputy Chief Medical Officer Paul Kelly has warned Australians against the use of masks, stressing that he did not think it was "a good idea" for people to be using them while out in public.
Professor Kelly said masks are "not recommended for the Australian public" as they move around the community, partially because of a shortage of supply for frontline workers but also because of doubts around their effectiveness.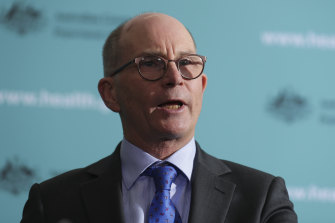 "The key point there is masks can be useful to stop the spread from a person with the disease to other people. If the mask is used correctly, that's true," Mr Kelly said. "But at this time, our advice remains, if you are sick, stay at home."
Professor Kelly said the country is "building up the capability in Australia to make our own masks" and that there could be the need to have a national conversation around how masks can be used effectively if there were an unlimited number of masks available.
Mr Kelly also warned that the respiratory viruses, including COVID-19, "tend to transmit more easily" in winter, as Australia enters its colder months.
"Low humidity and low temperatures do tend to promote the infectiousness of respiratory viruses, and [indications suggest] that is the case with this virus too."