"Today, again, is still going to be quite cold and there will be active showers particularly this afternoon," said Mr Russell.
"We have one more cold front moving across Victoria this morning into the afternoon."
Melbourne will see another 5 millimetres of rain today, while regional areas such as South Gippsland, the Yarra Ranges, the North East and the Strezlecki's could see between 10-25 millimetres across the day.
"The showers will be quite intensive but very brief," Mr Russell said.
On Sunday morning, snow was falling as low as 1200 metres, which is predicted to rise over the day to just alpine peaks at 1800 metres.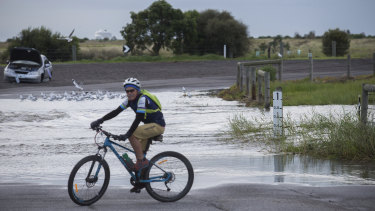 Overnight Saturday the Bureau of Meteorology issued a Moderate Flood Warning for the Goulburn River, and minor warnings for the Bunyip River, Yarra River, Campaspe River, Dandenong Creek, Loddon River and the Seven and Castle Creeks.
Melburnians are unlikely to see much clear sunshine until Thursday, with rainfall forecasted to start easing Monday and Tuesday.
"It's still remaining cool and cloudy in the south for the majority of this week unfortunately," said Mr Russell.
Melbourne will see tops of 16 degrees and lows of 10 and 11 degrees on Monday and Tuesday respectively, with the weather gradually warming throughout the week.
"Towards the end of the week the temperature should exceed 20 degrees – hopefully."
Rachael Dexter is a journalist & audio video producer at The Age.