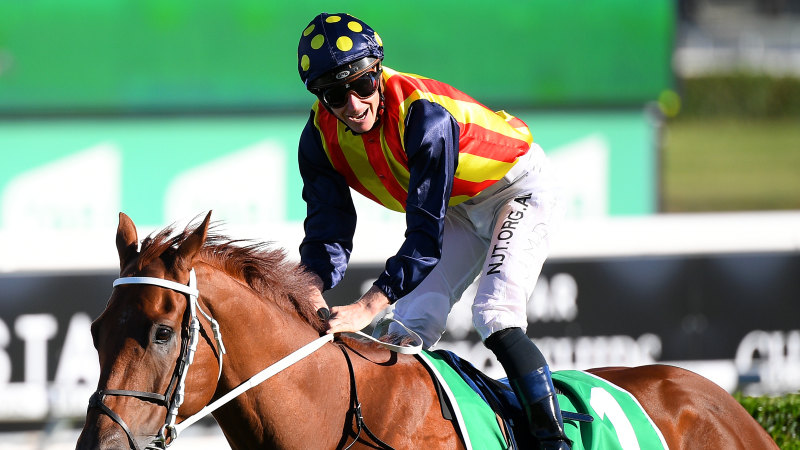 "He is just a gem. You can see how quiet he is. I think he just likes a bit of racing. Once he gets a bit deeper into his prep, he loves stable life with the Waller camp. He is doing a marvellous job," McDonald said.
Waller generally doesn't like his horses to be out in front as the bunny for their rivals. He prefers the Winx-like stalking role and firing through the line, but with Nature Strip he has made an exception.
"It's an amazing race to watch when you're training him, especially in a great field of sprinters," he said. "I just think he's an amazing horse.
"First up he's always a little bit soft and he showed that this prep but since then he's been on his A game and James does a great job with him.
"What he does to his rivals is he makes it so hard for them to stay with him and gee, from the 600m mark to the 300m mark, you can see they're all just struggling to stay with him. And he can still maintain it for 1200m.
"So wow, what a great horse and we've got a lot to look forward to."
McDonald has been a big part of solving the Nature Strip puzzle. He calls it a love-hate relationship but it is turning into a special one.
"As everyone knows, the first furlong is key to either winning or not with him," McDonald said.
"He is getting to the stage now where even if he is getting pressured, he is coming back that length until I signal for him to go. He is just getting better and better and he is a gem to be a part of."
While there was pressure from Vegadaze and White Moss, there was control from McDonald with Nature Strip. He held the fence from barrier one and then zipped through to lead.
Loading
"From about the 800m I felt like he was airborne from there and he was high steaming from the top of the straight," he said.
"I knew he was going to be vulnerable late but it was just a matter of getting enough out of him towards the end. He is just going so well."
Nature Strip won't be able to take on the world this year because of coronavirus, he was going to Royal Ascot. But Waller is already looking towards the Everest, which will probably mean his preparation will end after the TJ Smith win.
"We'd be very tempted [to go to the All Aged Stakes] but do we need to? I'd say there'd be plenty of people chasing him in the Everest and that's a big race," Waller said.
"He's very effective at 1200m, and I think more effective at 1200m than 1000m, so at 1400m he would be but the big races at 1400m are sort of a gap distance, so I think we'll stick to 1200m for a while. After today's dominant win, I doubt we'd need to go to the All Aged. We don't need to be greedy."
Racing writer for The Sydney Morning Herald