"We have seen the Police Commissioner's announcement. In addition to willingly participating in the investigation, Carnival Australia will vigorously respond to any allegations of which there must now be full disclosure and the basis for them," the spokesman said.
Mr Fuller said that from his perspective "there are many unanswered questions, and I certainly can't answer those for you today."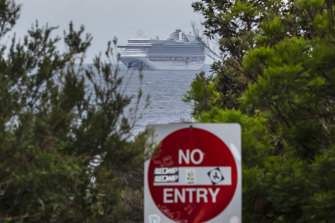 "The key question that remains unanswered, and a criminal or coronial investigation will need to be conducted, was if Carnival or crew were transparent in contextualising the true patient [and] crew health conditions relevant to COVID-19," Mr Fuller said.
"But [there are] records on the ship, between the captain and the captain's doctor, [as well as] thousands of witnesses out there who were passengers on the ship who will have crucial information in relation to their health [when they were] coming off of the ship."
Ministers, including NSW Health Minister Brad Hazzard and Ports Minister Andrew Constance, would be interviewed as part of the investigation, Mr Fuller said. He urged any of the almost 2700 passengers who were onboard the ship to contact Crime Stoppers if they had information to pass on.
Loading
Mr Fuller said a crew member was removed from the Ruby Princess on Sunday and there were still about 200 crew members with COVID-19 symptoms.
But Mr Fuller said the Ruby Princess would not be allowed to dock in Sydney Harbour again. It is unclear whether it could be sent to another harbour.
He said he had received a letter from Carnival, which operates the Ruby Princess, assuring him they would co-operate in any way necessary.
"There were a number of phone calls between ambulance, NSW Police and the NSW Ports Authority and can I just say the NSW Ports Authority did an exceptional job in trying to get to the bottom of the facts in relation to this case," Mr Fuller said.
"They made contact with ship on several occasions, they actually stopped the ship from coming into Sydney Harbour without further medical information.
"They made contact with operations from Carnival. And on each case, they were informed that COVID-19 wasn't an issue on the ship."
Alexandra Smith is the State Political Editor of The Sydney Morning Herald.