"To win it was amazing and because no one was there it was more special because I could hear the boys."
Innes was in tears pulling up and they have flowed freely since as well.
However, harsh reality hit home on Sunday when Glen Boss was booked to ride Nettoyer for Saturday's Coolmore Legacy.
"She has given me a day that can't be taken away, and Glen probably would have been riding her if he hadn't picked something else in the Doncaster. So that was lucky for me," Innes jnr said. "I understand [the decision], she is not the first winner I have been taken off."
Innes jnr's choice to ride in Sydney came because his girlfriend Aimee Taylor is expecting the couple's second child and is having complications with the pregnancy. Innes jnr knew if he was to ride in the southern region there would be more work but it would draw him away from his family for too long.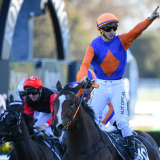 "Family comes first," he said. "The reason I did it was to be close to Aimee if something happened.
"A lot of people asked me why I would choose Sydney. I wasn't being a big head. I know where I stand in the jockeys room. I knew wouldn't get a lot of rides.
"I just needed to be with Aimee at the moment. It has worked out very well."
Innes jnr has never seen numbers like he saw on his phone after the races on Saturday – 150 messages and more than 100 missed calls – but most special was a trip to mum and dad's on the way home.
His dad James Innes snr rode and never won a group 1. The closest he came was in a Doncaster and has ridden the career of his son all the way.
"That was very special," Innes jnr said. "Dad feels like he has won a Doncaster as well now.
"When I got home Aimee couldn't stop crying. Every time we watched the video on Twitter of the finish, she cries.
"I still haven't watched the race but that video sends chills up my spine."
Loading
There were no big celebrations with the coronavirus restrictions in place and Innes spent the night at home on Saturday, but was in contact with his mates from the jockeys' room.
"I was on the Houseparty app with Tye Angland, Tommy Berry and Brenton Avdulla for a while. What has amazed me is how happy everyone else for me," he said.
The winning jockey's cheque of $45,000 will sustain the Innes family for the next couple of months and pay a tax bill. It might even open other doors.
"It will come in handy because I knew I had to pay the tax," Innes said. "The amount of rides I would get I couldn't earn that riding somewhere else.
"Hopefully I might get a couple of more rides now, but it won't matter if I do because it doesn't get better than Saturday."
Racing writer for The Sydney Morning Herald