Australian chief medical officer Brendan Murphy has said the national cabinet is "pretty close" to revealing its coronavirus modelling.
"National cabinet is going to consider some of the modelling work in the coming week," he said. He said the national cabinet was "quite keen" to share "some of that" modelling with the community.
"The intention is to provide the modelling when it's a fit form for publication, and that's pretty close I think."
Professor Murphy said 139 new COVID-19 cases have emerged in the past 24 hours, taking the national total to 5687.
The death toll is now 34 people, with 91 people in intensive care units and 34 on ventilators. He said more than 2000 people are estimated to have recovered.
But he has renewed calls for people to keep to social distancing instructions to keep community transmissions as low as possible.
As WA counts down to the hard border closure, Premier Mark McGowan has issued his final warning to West Australians who are not yet home. "We make no apologies here, we need to use our isolation to our advantage," he said.
"By now they [West Australians] should be home in WA. If you're not, then come home by midnight tonight. Unless you're exempt, you will not be allowed into WA."
No one will be allowed into the state from anywhere else in the country unless they are an approved traveller with an exemption.
Who is exempt from the border closure:
health services
emergency service workers
transport, freight and logistics workers
those with specialist skills not available in WA
national or state security and governance personnel
courts and judicial services staff
There will also be exemptions for FIFO workers and their families, but strict 14-day quarantine measures will need to be followed.
There will also be exemptions made on compassionate grounds.
Mr McGowan said West Australians who were already in quarantine for 14 days in the eastern states would be allowed back if they showed no signs of COVID-19.
"They would need to return to Western Australia within 24 hours of completing their period of quarantine, and then immediately self-quarantine [for a further] 14 days at their home," he said.
The state government today has released a 24-page document called Quarantine (Closing the Border) Directions detailing what the state is enforcing to limit the spread of COVID-19.
For more information about exemptions, click here and a special exemption form can be found here.
Premier Mark McGowan has urged all West Australians to prepare for the state's border closure to be in place for up to six months, as WA marks a "historic day" of becoming an "island within an island".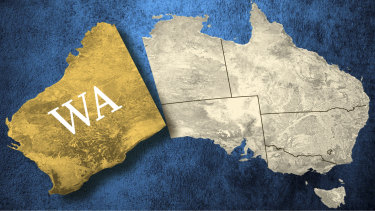 At 11.59pm tonight, the entire state will be closed off to the rest of the country, with all West Australians urged to return as soon as possible or be faced with the possibility of being stuck elsewhere for months.
When asked the "$64 million question" of when the border closure would be lifted, Mr McGowan said there was no easy answer, but encouraged people to be prepared for the long haul.
"I'd urge everyone to prepare for up to six months at this point of time," he said.
"We'll review it each month, but it's going to be a long, hard winter of restrictions. That is a very unfortunate reality in WA."
Mr McGowan said he never thought he'd have to close the border, but the unprecedented approach was what was needed to protect West Australians.
"What we've done in less than a week took Britain four years," he said, referring to Brexit.
The Premier said while it felt as though restrictions had been in place for months already, the sad reality was it had only been weeks.
"As time goes by I'm sure there'll be some people that are unhappy and some social unrest," he said.
Mr McGowan acknowledged the border closure would be frustrating for many people and that lives would be turned upside-down.
"But we are in a state of emergency," he said.
"The situation we find ourselves in is not of our making, [but] we need to take extraordinary steps to protect our citizens."
Another 159 people will return from overseas and land at Perth Airport today before being taken to hotels for a two-week forced isolation.
Premier Mark McGowan said returning overseas travellers, assisted to get back home by the Department of Foreign Affairs, would continue to be a risk in terms of COVID-19 cases in WA.
Mr McGowan said nine of the 17 recorded cases overnight were people who had recently returned from overseas, highlighting the importance of a forced quarantine.
"Unfortunately we have only just started our battle here in Western Australia," he said.
"What we're doing is working, but this is a marathon not a sprint, and we're still heading into the storm, not out of it.
"Our best weapon in this war is you."
Mr McGowan said the best way to keep seeing a low number of cases was if people continued to follow social distancing measures, kept hygiene up and where appropriate, self isolated.
Australia's chief medical officer Brendan Murphy has urged the nation to maintain social distancing or risk COVID-19 cases increasing over Easter.
Professor Murphy remains most concerned about community transmission cases which emerge with no known contact with someone who is infected.
Australia now has 5687 cases with 139 new cases reported and 34 deaths.
"Community transmission is what worries me most of all," Professor Murphy said.
"About 10 per cent of our cases are those cases with no known contact with another case.
"That is why we have brought in social distancing measures, to stop the spread. We all know how infectious this virus can be – just look at what it did on cruise ships, 35 people in one wedding or the Qantas/Jetstar baggage handlers in Adelaide – it spreads very quickly.
"We are in good place at the moment because the community has done what we have asked. They have done all the things we have asked of them and it's been hard, very hard."
Professor Murphy urged people to continue those measures during Easter, despite it meaning many people would not be able to holiday or spend time with loved ones as they would usually do.
"It's a time people normally travel and get together and have social gatherings, and we are asking you not to do that," Professor Murphy said.
"We are asking you to stay with your family, in your place of residence and not travel where you might unwittingly spread the virus and not have parties where you might unwittingly be spreading the virus to people who don't have it."
In a light-hearted moment, Professor Murphy said the Easter Bunny was cleared to travel across the country as "he or she" was a sole operator.
WA has recorded 17 new cases of COVID-19 overnight, bringing the state's tally to 453.
Of these, nine had a recent history of overseas travel, with three having been passengers on cruise ships, including one from the Ruby Princess.
Five cases are still under investigation, with the Health Department undertaking contact tracing.
The ages of those most recently confirmed are between 26-78. Sixteen of the new cases are from the metropolitan area, and one is from the Great Southern region.
There are currently 59 people in Perth hospitals with COVID-19, including 18 in intensive care.
So far in WA 17,744 people have tested negative.