Australia is about to face a cruel choice between protecting health and protecting the economy, with no way to dodge a decision.
National cabinet will consider modelling on Tuesday to guide the country to the endgame in suppressing COVID-19 without wrecking the economy.
The tension between the two goals has been a constant feature of the crisis but it grows more severe as the shutdowns continue, with fractures between the states on how hard to go.
As police clear parks and order people home, Australians will confront the question of how long the shutdowns can last.
Scott Morrison has made it clear there will be a "snap back" from emergency budget measures within six months.
The free childcare will come to an end, the JobSeeker allowance will halve to the old Newstart rate of $550 per fortnight and the JobKeeper wage subsidy of $1,500 per fortnight will have to stop.
That means there will be real pressure to ease the state shutdowns as well. The economy will depend on it.
Four Qantas crew members who operated a repatriation flight from Chile and did not have to go into quarantine have tested positive for coronavirus, raising concerns future international flights could weaken Australia's defences against the pandemic.
All passengers on the flight from Santiago which landed in Sydney on March 29 were put in quarantine for 14 days in city hotels. But crew members were free to return to their homes under an exemption for airline crew granted by the federal Department of Health and Australian Border Force.
Protective Services Officers will be redeployed from the public transport network to
boost police resources as part of the response to the coronavirus.
From Thursday, 200 PSOs will patrol major activity centres in the CBD, as well suburban areas and regional centres Geelong, Ballarat and Bendigo.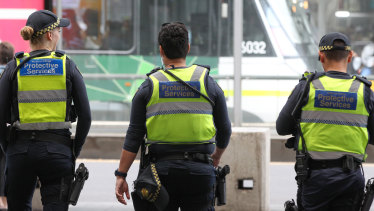 According to a statement from the state government, the PSOs will work in teams with police officers to provide a highly visible presence, "reassuring workers and members of the community shopping for supplies or travelling to health appointments, and deterring crime".
PSOs will continue to work at 83 train stations in addition to the new role.
The issue of whether or not driving lessons are an essential activity has been a hot topic all day.
Police Minister Lisa Neville says they aren't.
"My view is if everyone asks themselves, 'Do I need to be doing this now?' and the answer is no you should not be doing it. That is the common sense assessment," she said.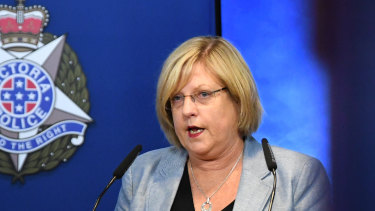 "This is not a popularity contest about what thing we should have or not have. These are health recommendations … which Victoria Police are implementing and enforcing. Sometimes they use discretion, sometimes they thing the fine is worthy."
Police have been fining people who have committed "deliberate, obvious and blatant breaches" of the Chief Health Officer's restrictions, said Deputy Commissioner Shane Patton.
"We apply a lot of discretion, in fact we issued 96 warnings today where they could be all fines. We will continue to use that discretion but where people are so blatant or obvious we will fine them," he said.
"Where there is ambiguity we use discretion and work through whatever circumstance that is."
He said he wasn't aware of anyone else being fined for going out for a driving lesson. The fine is the same amount for both adults and kids.
A $1652 fine issued to a 17-year-old learner driver for breaching coronavirus restrictions could be withdrawn, a senior Victoria Police officer says.
However, Deputy Commissioner Shane Patton said the rules were set by the Chief Health Officer, who has stood by the issuing of the fine as "non-essential travel".
"Although we are satisfied that was a lawfully issued infringement, I've spoken with the assistant commissioner for the region and in conjunction with the member will look at whether discretion should or could be applied in this circumstance," he said.
Mr Patton said whether the fine will be withdrawn will be determined "in due course".
"I think the fact it's being raised is giving clarity … it's possible it will be withdrawn, the public are now aware they can't do that activity."
Hunter Reynolds, 17, was about 20 minutes into the drive on Sunday when she was pulled over by police on the Peninsula Link in Frankston and told she was "too far from home".
The learner driver, who is in her final year of school, was issued a $1625 fine for "non-essential travel".
"I saw the police car behind me to pull over. I've never got in trouble with law, so I was confused – I was under the limit, had my L-plates up," she said.
"[The police officer] said I'd be getting fined for just driving. I was just so shocked."
Hunter's mother, Sheree Reynolds, said she was also stunned by the fine. She said their Hampton East family of six had barely left the house and have not been seeing anyone else during the COVID-19 crisis.
Ms Reynolds said she felt the police officer could have used more discretion and believed teaching children to drive fell under the category of education – which is permitted under stage 3 restrictions.
"I thought [the driving lesson] was educational. I did not believe for one minute what we were doing was a problem or breaking the rules given we weren't planning on stopping or getting out of the car," she said.
Deputy Chief Medical Officer Paul Kelly has said some of the 96 patients in intensive care due to coronavirus are "relatively young", warning that the disease does not just target older Australians.
In the latest update, Mr Kelly said 448 people were in hospital with the virus, and of the 96 in intensive care 35 were on ventilators. There are a total of 5795 cases in Australia.
Mr Kelly said amid "very encouraging signs", roughly eight percent of cases were due to local transmission.
The deputy chief medical officer said Australia would not follow the United State Centre for Disease Control in advising the public to wear cloth masks in public.
"If you're sick, [having] it on to protect others [can help]. In terms of protecting yourself from others, that may give us a false sense of security. At the moment, we're not advising people to wear masks in the general public," he said.
Mr Kelly also urged the general public to leave medical grade masks for frontline workers. But he did suggest Australians sign up to the regional flu tracking network – an online health surveillance program that helps detect flu outbreaks in Australia and New Zealand.
Mr Kelly said contributing to the network takes "10-15 seconds a week" and involves updating the program with any respiratory symptoms you may be feeling.
Using the map below, you can see how many coronavirus cases have been confirmed in your area since the beginning of the outbreak.
You can also view the data in table format.
In Banyule, in the state's north-east, the number of cases have more than doubled over the past week.
As of today there have been 72 coronavirus diagnoses in the area, up from 35 last Monday.
Banyule now has the second highest number of cases of any of the state's 79 local government areas, behind Stonnington in Melbourne's inner east with 86.
An elderly man has become the fourth person in the state to die of COVID-19.
The man, believed to be in his eighties, died at Royal Perth Hospital overnight due to coronavirus-related complications.
Western Australia has recorded seven new cases overnight.
WA Health Minister Roger Cook confirmed all seven of the cases were linked to cruise ships or overseas travel.
Mr Cook said the low number was again encouraging, as WA was still yet to see any "hard evidence" of community transmission.
Six of the new cases are from the metropolitan area, and one is in the Kimberley.
All new patients are aged between 41 and 79-years-old.
The Kimberley case is a WA Country Health worker who had been overseas, and had not been in the workplace since they returned.
There are currently 13 cases in the Kimberley, and seven at WA Country Health workers.
There are 58 confirmed COVID-19 cases in WA hospitals, and 162 recovered cases.
Despite cautious optimism about Victoria's slowing case numbers, the state government is still preparing for the 'worst case scenario', where every single hospital in Victoria could be treating COVID-19 patients during the virus peak.
Health Minister Jenny Mikakos said in the early stages of this pandemic, there may be processes to move non-COVID patients from public hospitals to private hospitals to increase their capacity to treat coronavirus victims.
"We are funding 4000 new intensive care beds … I certainly hope we don't need to use that scale of capacity, but we are planning for the worst case scenario," he said.
"We are still planning for that peak to be around May-June."