The government notably rejected one recommendation: the commission's call for "an overarching steering committee" led by an independent chair to oversee agency coordination and implement review triggers and other action.
Loading
Instead, the government offered support for an oversight group led by senior bureaucrats.
Rachel Walmsley, an Environmental Defenders Office NSW policy director, described the response as "totally inadequate".
"It was all a very secret process, with no action to [fix the problems] or commitment to transparency," she said.
She added the government had also "noted" the commission's call for it to finalise and release regulatory maps and to nominate areas of outstanding biodiversity value – despite the laws being active since August 2017.
The commission completed its report last July and the government released it last month following a threat of legal action from independent NSW MP Justin Field. Mr Field said the state's response to the audit – prompted by a previously secret deal between the Liberals and Nationals if land-clearing approvals topped an annual rate of 20,000 hectares – was to "kick the can down the road again and let the escalated land clearing continue".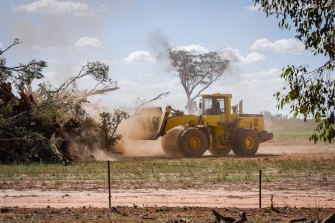 "The National Party keep getting away with environmental vandalism in this state and the Liberals appear unable or unwilling to hold their feet to the fire and back in the expert advice," Mr Field said.
Separately, the Herald has learned the Planning Department has ordered compliance officers to finalise all investigations related to alleged breaches under the former laws by August 25, 2020.
In some instances, such a deadline will mean the 24-month statute of limitations for bringing action against offenders from the first official warning will be cut by half a year or more.
Loading
Social isolation limits prompted by the COVID-19 lockdown is also hindering work across the agriculture and environment departments, including compliance.
However, the government spokesman denied there was an interruption to work: "All compliance activity is currently continuing while adhering to NSW government guidelines and rules on social distancing, self-isolation where required and strict hygiene protocols to protect staff and our stakeholders.
"At this stage we do not anticipate any statute of limitations impacts because of COVID-19," he said.
The government did not respond to questions about the recommendations.
Peter Hannam writes on environment issues for The Sydney Morning Herald and The Age.
Most Viewed in Environment
Loading