Loading
Not this year. To ensure social distancing, some are blocking their door and moving tills so people don't have to gather inside, with phone-in or online orders highly encouraged.
One has gone even further.
"Our plan of attack is to have a security guard at the front door," said Nicholas Souvlakis, owner of Oakleigh Fish and Chippery.
"They will limit how many people in the shop. We're having only pick-ups, no one can sit inside."
Many Christians traditionally forego meat on Good Friday because it was the day Christ was crucified.
"People are still going to keep that normality," said Zak Elkhouri at the Kensington Fish Shop.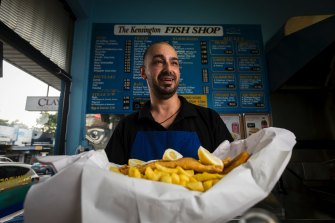 While he's not sure exactly how things will go this year, Mr Elkhouri has ordered an extra 300 pieces of fish and 200 kilograms of chips to meet the expected demand.
"I wish I had a crystal ball," he said.
With only three people allowed in to order, he's hoping customers are understanding of any long waits during the dinner rush.
"I've put rules in place in my shop. I've got a big stop sign which catches their eye. Most people order from the door."
At Bulleen Fish and Chips, owner John Tang has doubled his usual level of stock in preparation. He will also be taking orders at the door and asking people to wait outside for their number to be called.
"I expect it will be busier than usual but I'm not sure," he said.
"People all have to stay at home, the only thing they can do is go to the fish and shop."
Archie Aspros at Archie's Fish and Chips in Mount Waverley said he would block his front door with a table and take orders from there to stop people getting inside.
"Even though everyone is supposed to be staying at home, it's still Friday night," he said.
He is asking his customers to call ahead with their orders – and not just at 6pm when the phone might be taken off the hook if things get too crazy.
"I'm pretty sure it's going to be busy, if not busier, because a lot of restaurants are closed," he said.
"With all this going on a lot of people will want to do the right thing, while having some fish and chips to feel better about themselves."
Tom Cowie is a journalist at The Age covering general news.