Federal Energy Minister Angus Taylor will address an emergency G20 meeting on Friday as world energy ministers convene to discuss the coronavirus crisis and the unprecedented turmoil rocking global markets.
The extraordinary meeting, to be held via video link, comes as global travel bans aimed at arresting the spread of the pandemic wipe out global fuel demand and gut the profits of fuel refiners and producers in Australia and around the world.
The pain across the oil and gas sector has been deepened by the escalation of an all-out price war between Saudi Arabia and Russia, unleashing greater supply at a time of falling demand, and driving crude oil prices to their lowest levels in nearly 20 years.
Mr Taylor will emphasise that Australia has a highly reliable fuel and energy supply even during significant global and local disruption. "This meeting will be an important opportunity to assess impacts on global energy markets and reassure both markets and energy consumers," he said on Wednesday. "Australian motorists should be assured that there is no current risk to our fuel supplies due to COVID-19."
Australia has become increasingly reliant on imported fuel over the past decade, with just four local oil refineries in operation. However, the government and industry leaders are confident in the reliability of Australia's fuel supply due to the fact Australia imports fuel from more than 70 nations, with no single country providing more than 20 per cent of petroleum imports.
Ensuring the continuity of power and liquid fuels amid the coronavirus uncertainty has become a priority for energy chiefs and governments. Energy companies ranging from oil producers to power generators have activated pandemic-response plans including putting in place measures aimed at minimising infection, diverting staff from non-essential work and ensuring there is available back-up for key personnel in the event anyone become sick.
Labor has stepped up its calls for government to come to the aid of Virgin Australia, saying the beleaguered airline's survival is vital for Australia's economy and for industry competition.
The federal government has announced close to $1 billion in industry aid since the coronavirus outbreak, which has obliterated travel demand and put airlines around the world under severe financial pressure.
But it has balked at Virgin's request for a $1.4 billion loan, which the debt-laden carrier says it needs to ensure it can survive the crisis.
Read Patrick Hatch's full story here.
For Melbourne bottle shop owner Tim Cohen, the last two weeks of March were busier in his store than any Christmas period.
"It was just extraordinary," he says. "I've never seen it like that before. I had to separate customers on three different occasions who were arguing over a case of beer or wine."
Mr Cohen, who has owned the Brunswick East Wine Store in Lygon Street for five years, is one of many bottle shop owners and employees across the country who have been witness to a national surge in alcohol sales since the coronavirus pandemic began.
New data shows food delivery, online gaming and alcohol sales have registered strong gains since the start of the COVID-19 crisis. Meanwhile, other sectors of the Australian economy such as gyms, travel and fashion have suffered an 80 per cent slump.
Read Simone Fox Koob's full story here.
Qantas will run rescue flights out of Chile as the Morrison government works on a plan to get more Australians out of South America.
As a flight operated by Latam Airlines prepares to take off from Lima in Peru on Thursday (Australian time) to pick up hundreds of Australian travellers, The Age can reveal there will be more commercial charter flights operated by Qantas in the coming days. They will likely take off from Chile's capital Santiago.
The move comes as Uruguay has authorised another rescue flight to evacuate Australian and New Zealand passengers stranded on a coronavirus-infected cruise ship. About 128 of the 217 people on board the Australian-owned Greg Mortimer, including passengers and crew, have tested positive for COVID-19.
The Australian government is also in discussions with Qantas about running flights out of India, where thousands of Australians are wanting to get home.
For the duration of the COVID-19 crisis, our podcast Please Explain is coming to you five days a week.
In today's episode of Please Explain, national editor Tory Maguire and China correspondent Eryk Bagshaw discuss the theoretical modelling that has shaped the national cabinet's COVID-19 response.
Listen to today's episode here, or via Apple, Google or Spotify.
An Australian Border Force officer instructed a Sydney harbour master to allow the troubled Ruby Princess to dock despite as many as 140 passengers in isolation on board, official sources said.
Sources with knowledge of official inquiries into the debacle revealed a conversation took place with the Port Authority of New South Wales employee and a female Border Force officer in the hours before the ship was due to dock.
The Border Force officer expressed concern about passengers disembarking as she had been made aware that as many as 140 passengers on board were in isolation due to health concerns. So serious were the concerns she flagged, the harbour master offered to stop the ship at Bradley's Head to prevent it docking at Sydney Harbour.
According to the sources, the harbour master was told by the Border Force officer that she needed to check with a supervisor and 15 minutes later, she called back and said the ship could dock.
The crucial development is understood to be a key part of a NSW Police criminal investigation examining the fiasco. There are as many as 650 passengers with COVID-19 and there have been 15 deaths.
Read Nick McKenzie and Alexandra Smith's exclusive full story here.
More than 730,000 businesses had signed up for the $130 billion JobKeeper program as of 10am on Wednesday, the government has revealed in a quieter, more sparsely populated question time.
The House of Representatives, recalled today to pass the JobKeeper package, attended the usual question time without the usual heckling, one-liners and hear, hears.
Labor pushed the government on concerns the package did not cover 1.1 million casual employees and put at risk workers' annual leave.
Prime Minister Scott Morrison said the JobKeeper program would operate alongside JobSeeker (formerly known as Newstart), which would cover some casual workers who miss out on the new package.
"[The two welfare payments] work together to provide the foundational supports in our economy and in our community," the Prime Minister said. "When you're putting these lifelines in place you have to draw a line somewhere."
Treasurer Josh Frydenberg also said around 6 million payments, totalling $4.5 billion, had been made out of stimulus packages already put in place.
The JobKeeper package is expected to pass today.
Thousands of Australian healthcare workers have pleaded with authorities to urgently provide them with more protective equipment amid a "terrifying" shortage on the frontline of the coronavirus pandemic.
The medical staff say the shortage is forcing nurses and doctors to improvise with household items, buy unreliable equipment online and skip their drink and toilet breaks to conserve as many masks as possible.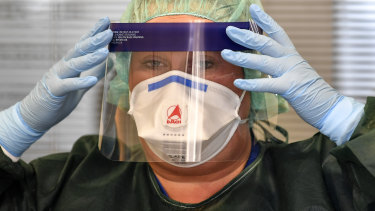 Protective protection equipment (PPE) is being rationed or locked away, they say, potentially exposing essential health workers to the COVID-19 virus as they treat patients. "We're having to wear $2 shop raincoats and re-used masks for seeing patients with viral symptoms," one GP said.
About 4500 workers have signed an open letter demanding state and federal governments urgently provide more PPE for medical staff working on the coronavirus pandemic, saying they fear for themselves, their families and vulnerable patients.
Read Aisha Dow and Melissa Cunningham's full story here.
The world after the coronavirus will probably be far more digitised, and payment systems appear as likely to be impacted by this as any other aspect of daily life, writes business columnist Stephen Bartholomeusz.
The use of cash has been falling around the world. In Australia, less than 30 per cent of payments are in cash these days, whereas a decade and a half ago more than 70 per cent of transactions were in cash. In Sweden, the use of cash for payments is so low – about 10 per cent of payments – it is a near-cashless society.
The pandemic and the fear of infection from bank notes are accelerating the trend away from cash towards digital payments.
Read Stephen's full column here.
Parents can take their children to the homes of family and friends for babysitting if they are working, studying or need to leave their house, according to updated advice from the state's Chief Health Officer.
The clarification will come as a relief for the many families that have been struggling with working and studying from home while taking care of children.
Chief Health Officer Brett Sutton has amended the stay-at-home orders to explicitly state parents can have another person come to their house to look after their children if they need to go out for one of the four valid reasons identified under the new rules, or if they are working or studying from home.
Parents are also allowed to drop off theirchildren at a babysitter's house, including the homes of friends and family.
Read Sumeyya Ilanbey's full story here.