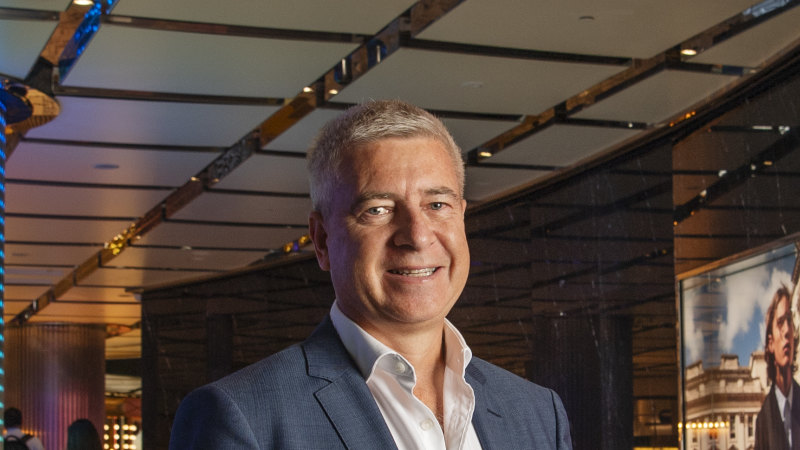 Mr Allen said shopping centres were deemed "public transient places" and "essential activities" because they included supermarkets, grocery stores, food markets, retail stores and medical centres.
Government is confusing in its messaging.. they say there are restrictions in moving around, yet the PM says jobs are essential.

Scenre CEO Peter Allen
"Some of our retailers have been required to close to meet government requirements and unfortunately some have voluntarily decided to close," Mr Allen said on a call after the group's annual general meeting.
"If you are a retailer and know you can get staffing costs paid through JobKeeper … and we are working with SME [small and medium enterprises] and bigger retailers.. it makes sense to me to open to keep staff employed and these businesses have the support of the banks.
"Money is a merry-go-round and retail is such a big part of the GDP."
Loading
On Tuesday the federal government introduced mandatory regulations for landlords to give rent relief for businesses with less than $50 million in turnover and rent reviews for others.
Mr Allen said his leasing team was talking to all 3600 tenants in its Westfield shopping centre portfolio and would assess each one on a case by case basis. He said he would not discuss lease agreements with dissident tenants, "through the press".
Last month retailer Solomon Lew, chairman of Premier Investments, which owns Smiggle and Portmans brands, said he would not pay rent during the shutdown.
In his address to the annual general meeting, Mr Allen said: "We continue to work our way through the economic shock with our retailers and their banks, in particular, our small to medium-sized retailers or 'mum and dad' retailers who are most vulnerable."
As a way to help tenants and keep sales ticking over, Scentre has bought forward the launch of Westfield direct, a drive-through service at the shopping centres to pick up goods bought online.
At the AGM, the remuneration report received a 23 per cent vote against, although it is a non-binding resolution, while the vote to give performance rights to Mr Allen received a 21 per cent vote against, which is a binding resolution.
Scentre securities are up 7.7 per cent to $1.88.
Carolyn Cummins is Commercial Property Editor for The Sydney Morning Herald.