"The Sunday services didn't stop for world wars or even the 1919 Spanish flu pandemic or the polio epidemic in 1937."
The current coronavirus pandemic, however, has closed the doors of every place of worship in Australia on the instructions last month of federal and state governments.
Among other historic bluestone churches in Portland closed down are the graceful Catholic All Saints Church, built above the town's harbour in 1857, and Wesley Church, now a Uniting Church, built in 1865.
Since the closure, either Reverend Lineker or his fellow cleric, Deacon Alan Ford, have performed lonely prayer services, morning and evening, at St Stephen's. They admit they lack the technical ability to stream the services via the internet.
The two deacons devote part of each day to phoning parishioners to ensure their needs are being met.
Loading
The lack of a congregation for services, however, is causing a crisis of purpose, Reverend Lineker says.
"I'm also the chaplain to the Mission to Seafarers here in Portland, but of course that's not operating. I'm the chaplain to three nursing homes, and I'm not allowed to enter any of them, either.
"So I give the morning and evening prayers alone, and I go for a run. It's a difficult time."
The activities director at one of Portland's larger nursing homes had told him many of the residents were distressed at the loss of a Sunday service.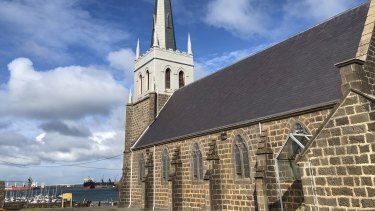 "A lot of the people there are in their 80s and beyond. They look forward to the Sunday service, and suddenly, it's not there for them," the deacon said.
St Stephen's was built in 1856 with the support of the Henty family, making it Victoria's oldest Anglican church.
However, continuous Church of England services had been held in the 24 years before that, first in the open, later in the Henty family home and at the Henty woolstore and, from 1842, in a schoolhouse that still sits next to the church.
A huge olive tree, planted in 1881 from a seed taken from the Garden of Gethsemane at the foot of the Mount of Olives in Jerusalem – where the Gospels say Jesus underwent his anguish, sweating drops of blood the night before he was arrested and crucified – sits by the church walls.
And now, like all the other churches in the land, a virus has condemned the old bluestone churches of south-west Victoria to sit empty, apart from the lonely whisper of morning and evening prayers.
Tony Wright is the associate editor and special writer for The Age and The Sydney Morning Herald.