The asthmatic child of a Qantas cabin crew member has been diagnosed with COVID-19 after contracting the virus from their mother.
The child is among four family members and flatmates of Qantas staff who caught the virus from flight crew exempt from mandatory quarantine rules and returned home after working on international flights.
A total of 59 Qantas staff – including 37 cabin crew – have tested positive for coronavirus and several more family and flatmates are awaiting results, the Australian Council of Trade Union said.
The cases confirm concerns that exempting crew from the 14-day quarantine would put their loved ones at risk, the union's president Michele O'Neil said.
"This is exactly what the workers were fearful of, and now the tragic consequence of these is that they've had members of the family infected," Ms O'Neil said.
"Everyone in hospital, all the time, should be wearing a mask. This is what they did in Wuhan, as soon as they realised how transmissible it was."
Official advice from the World Health Organisation remains that personal protective gear such as such as gloves, P2 or N95 masks, goggles, face shields and gowns must be prioritised for clinicians treating COVID-19 patients, due to global shortages.
Women are bearing the brunt of economy-wide efforts to protect Australia from the spread of coronavirus, with female-dominated industries most likely to stand down staff or cut pay.
Ahead of the March jobs report, expected to show one of the biggest monthly falls in the number of people holding down work this century, Australian Bureau of Statistics data and surveys suggest women are at most risk from the virus-induced economic slowdown.
Retail, accommodation and food services, and the healthcare sector employed 30 per cent of the nation's workers before the virus outbreak. Two-thirds of those workers were women.
The ABS found the retail, hospitality and healthcare sectors were being hit hard by efforts to curb the coronavirus.
To recap the day's events:
Victoria's death toll now stands at 13 and 43 people remain in hospital.
A fourth man has died in Tasmania, bringing the national toll to 54.
Staff at seven hospitals and one radiology unit have been diagnosed with the coronavirus, with 157 healthcare workers testing positive in the state so far.
Deputy Chief Medical Officer Paul Kelly has warned against believing claims a cure for coronavirus has been found, saying it is illegal to peddle such misinformation.
Australia will send an urgent flight carrying emergency supplies to Vanuatu, as the Pacific Island nation recovers from a devastating cyclone at the same time it tries prevent an outbreak of COVID-19.

Victoria Police fined another 98 people in the 24 hours until 11pm last night, and officers conducted 654 spot-checks.

The Victorian government announced a $40.2 million package to support people experiencing family violence during the pandemic. Of that, $20 million is for short-term accommodation for those who cannot isolate or recover at home over safety fears.

The state announced a further $8.8 million to fund four pop-up sites to provide health care and supported accommodation for people experiencing homelessness.

UK Prime Minister Boris Johnson has been moved out of intensive care, and in a statement Downing Street said the PM was in "good spirits".
The Australian government took the extraordinary step of withdrawing its top diplomatic envoy to Jakarta, Gary Quinlan, because of the fast-spreading coronavirus.
This morning, National Affairs editor Rob Harris reported the behaviour of Australians over the Easter break would dictate how soon state governments could begin easing COVID-19 social-distancing measures.
Health Minister Greg Hunt declared the weekend would the "the most important" the nation would face in combating the disease.
"The virus does not take a holiday – therefore none of us can relax what we do. This in many ways is the most important weekend we may face in the whole course of the virus."
This photo was taken by Joe Armao on Friday afternoon.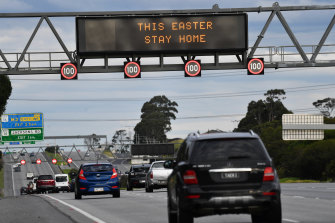 Some patients who recover from COVID-19 develop very few antibodies, a new early-stage study suggests, raising questions over the development of a vaccine and whether people get lasting immunity.
Nearly a third of 175 patients studied produced low antibody levels. In 10 people, antibody levels were so low they could not be detected.
What this means for the fight against COVID-19 is unclear and experts differ on how to interpret the findings.
Some called them expected and reassuring, while others raised questions about what they mean for the development of a vaccine – or whether people who recover from the virus develop lasting immunity.
In a change of pace, and to bring a smile to your face, we recommend this heartwarming video.
More than 6000 strangers, across 45 countries, took part in this 'couch choir' to sing David Bowie's Heroes, and it has been dedicated to "all the frontline heroes who are keeping us safe".
We reckon we've spotted a few famous Australian faces, including former Prime Minister Kevin Rudd at 0.55 and ABC political editor Andrew Probyn (who went viral on TikTok recently) at 2.31.
Here are some graphs of new daily cases and daily deaths from across the globe.
The trajectory in Australia looks promising, but these graphs show just how grim it is in the UK and US.
Haileybury is standing down staff as the independent school seeks to cut costs during the pandemic.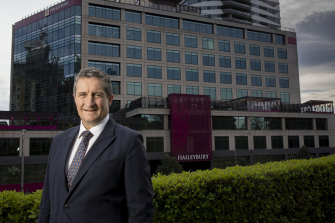 Principal Derek Scott issued this statement:
"The recent outbreak of the COVID-19 global pandemic is having a significant effect on the majority of Australian organisations and its employees, including Haileybury.
This is a time when difficult decisions need to be made. Haileybury is in discussions with a number of staff where some may be stood down due to a work stoppage in certain departments.
These decisions are not being made lightly and impacted staff will have access to their annual leave and any long service leave they are entitled to and these will continue to accrue.
This is a distressing and sad situation for both the school and its impacted employees. All affected staff are highly valued members of our school community.
When the school operations recommence as per normal, once the COVID-19 global pandemic is contained, and government shutdowns are lifted, we look forward to welcoming our employees back to the school."
Cambodia's parliament passed a law on Friday to prepare the way for a state of emergency, which Prime Minister Hun Sen has said he might have to declare to reinforce the fight against the spread of coronavirus.
Human rights groups say a state of emergency would give sweeping powers to Hun Sen, who Western countries have long condemned for crackdowns on opponents, civil rights groups and the media.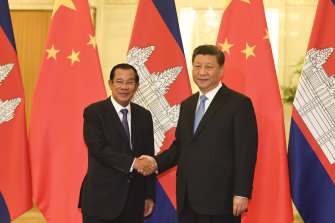 The law allows the government under an emergency to monitor communications, control media and social media, prohibit or restrict distribution of information that could generate public fear or unrest, or that could damage national security.
"The purpose of making this law for Cambodia is not unique, as there is this law already in many other democratic countries," said Ministry of Justice spokesman Chin Malin.
"The law is intended to protect public order, security, people's interests, lives, health, property and the environment."
Cambodia reported one new coronavirus case on Friday, taking its confirmed tally to 119, the health ministry said.
Hun Sen was initially sceptical about the threat posed by the coronavirus but cases have been increasing, and in recent weeks the government has ordered restaurants, bars and casinos to close and limited entry visas for foreigners.
Hun Sen said he might need emergency powers to help stem the outbreak.
His party holds every seat in the 125-seat National Assembly and all members present voted to adopt the Law on Governing the Country in a State of Emergency.
Human rights groups say the law contains broad and vague provisions that would violate fundamental rights and could be misused against critics.
It allows for prison terms of up to 10 years for anyone convicted of obstructing authorities, or not respecting government measures that leads to unrest or affects national security.
Brad Adams, Asia director at Human Rights Watch, said Cambodia should be passing laws to protect public health not using the coronavirus as an excuse to extend government powers.
"The Cambodian government is using the COVID-19 pandemic as a pretext to assert absolute power over all aspects of civil, political, social, and economic life – all without any time limits or checks on abuses of power," Adams said in a statement.
Amnesty International said the law had been rammed through Parliament with no transparency, consultation or due process.
"The idea of concentrating even more unchecked power into the hands of this government is worrying in the extreme," group official David Griffiths said.
Reuters