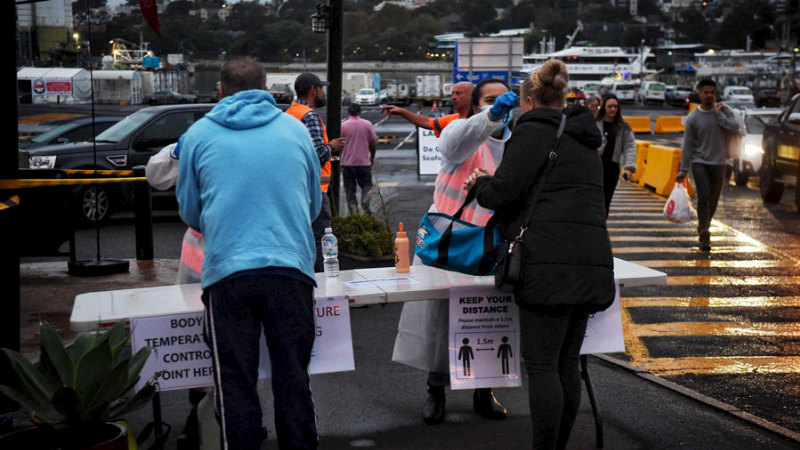 "It was a very organised process of getting in the shops," he said, "There was a heavy police and security presence but they were helpful and not at all intimidating.
"It was easy enough for people to browse and buy items compared to the pre-pandemic period."
De Costi Seafood retail manager Carmelo Lombardo told Nine News: "It's been an interesting Easter, very, very different to other Easters, but we are doing fine."
Police will be on-site over the weekend to ensure people adhere to social distancing measures.
Authorities have also reminded holidaymakers not to travel, with number plate recognition to identify those who should not be out.
Loading
NSW Deputy Commissioner Gary Worboys said those with Queensland, ACT or Victorian licence plates who were "moving into the state for holiday activities" could expect to be pulled over.
"If you don't have a good excuse for the travel, you will be issued a $1000 fine," he said.
Deputy Commissioner Worboys ruled out closing NSW's borders.
In the past 24 hours, almost 50 infringement notices of $1000 have been issued to those who are disobeying social distancing measures.
Many families who can't see each other in person over the long weekend have turned to video services. Churches have also moved their annual Easter services online.
Loading
Reverend Bill Crews has pre-recorded his sermons and is uploading them onto YouTube.
Reverend Crews is also the chief executive of the Exodus Foundation, which provides support services to those who need it most – including a hot meal every day, said they're busier than they've ever been.
Other food providers have been forced to shut their doors amid the coronavirus crisis, with the foundation working to cater for the extra demand.
Laura is a journalist for The Sydney Morning Herald.