Community legal centres have blamed inconsistent government messaging and rapidly changing rules for dozens of Victorians inadvertently breaking the law during the crackdown on freedom of movement designed to slow the spread of the coronavirus.
Police have carried out 550 checks and fined a further 92 people in the 24 hours before Saturday night as the total number of Victorian spot checks since March 21 nears 20,000.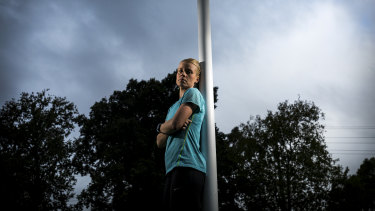 While the state braces for the impact of possible stage four lockdown, police have refused to provide breakdowns of fine and spot-check data as some Victorians struggle to comply with the measures.
Competitive runner Nikki Lesberg was about 20 minutes into her six-kilometre jog when a police car drove up, hailed her down and asked if she had driven to the park to exercise that afternoon.
"I told the officer 'yes' and she said 'driving to exercise is not permitted'."
An athlete who exercises daily and has recorded times just 10 seconds short of qualifying for the national competition, Nikki thought she was abiding by the social distancing laws passed during the lockdown.
"She's like – I'll let you do your last lap and then you have to go back to your car and go home," she said.
"How are we expected to maintain social distancing rules if we can't drive to the place to do our exercise?"
John and Pam Arnold should have been exploring South Georgia Island in the southern Atlantic Ocean, but quarantined on their cruise ship outside the port of Montevideo, they created their own adventure.
By moving the furniture in their cabin, the Newcastle couple made a loop of 13 paces from the door past the bed and around a little table. The person nearest the sliding door to the balcony had to give way to the person coming past the bed.
When the ship rollicked on the lumpy sea, sometimes they had to walk uphill. Sometimes they had to run.
"One time I bent over to pick up our meals from outside the door and the ship rolled the wrong way and I nearly went rolling down the corridor," Mrs Arnold said.
The tumult endured by 112 Australian passengers on the Greg Mortimer cruise ship ended on Sunday morning after nearly four weeks at sea, when they arrived in Melbourne.
The Department of Foreign Affairs and Trade said "a significant number" had tested positive for COVID-19. Two have remained in Montevideo due to ill health.
Their voyage to Antarctica "In Shackleton's Footsteps" departed on March 15, a few days before the Australian government closed its borders, and was pounded by setbacks after it was cut short due to the coronavirus pandemic.
Former prime minister Kevin Rudd has joined an International Monetary Fund external advisory group to tackle dilemmas including the coronavirus and its global economic impact.
"Even before the spread of Covid-19 and the dramatic health, economic, and financial disruptions it has brought, IMF members confronted a rapidly evolving world and complex policy issues," IMF managing director Kristalina Georgieva said.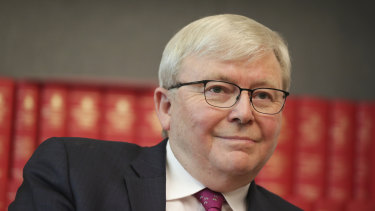 "To serve our membership well in this context, we need top-notch input and expertise from the widest range of sources, inside and outside the Fund.
"Toward this end, I am proud that an exceptional and diverse group of eminent individuals with high-level policy, market, and private sector experience has agreed to serve on my external advisory group."
The group's other members include former United Nations deputy secretary-general Lord Mark Malloch Brown, former Nigerian finance minister Ngozi Okonjo-Iweala, Monetary Authority of Singapore chairman Tharman Shanmugaratnam, Massachusetts Institute of Technology professor Kristin Forbes and Guggenheim Investments chief investment officer Scott Minerd.
Mr Rudd has held numerous international roles since resigning from parliament in 2013, including senior fellow at Harvard University's John F Kennedy School of Government, the Centre for Strategic and International Studies and president of the Asia Society Policy Institute.
AAP
Melburnians who have spent their last 14 days stuck in hotel rooms say they're looking forward to fresh air and a "good Aussie barbecue".
Health authorities are now staggering the release of people from mandatory quarantine, starting at 12pm Sunday, to avoid large groups of people gathering outside.
The 450 people exiting quarantine today will be primarily transported via taxi to their homes.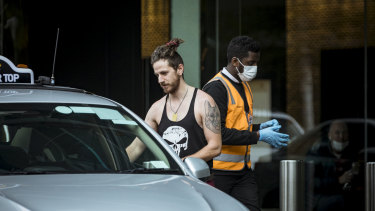 Joseph Cugno said the 14 days he'd spent at the Crown Promenade since he flew back into the country from Brazil had been "better than I thought".
"I've had my laptop here, my guitar and books, so there's been enough to do. It does get a bit difficult towards the end – you're just pacing up and down the room – but it was manageable," he said.
Those in mandatory isolation were subjected to regular temperature checks and could not leave their rooms for any reason. Sustenance was delivered in the form of soup, sandwiches, chocolate bars, and cheese and biscuits.
At a press conference on Sunday, Premier Daniel Andrews said the measures designed to curb the spread of the virus were protecting the state's health system and saving lives, as he announced only three Victorians were diagnosed with coronavirus overnight, bringing the state's total to 1268.
English teacher Freddi Saleeba will taste freedom sometime after 3pm today, according to a message he received from a taxi company last night.
Set to return to his parent's Port Melbourne home, he said the quarantine had proved more difficult than he expected, despite being able to work from the hotel room.
Universities have welcomed a funding guarantee from the federal government but warn it is not enough to prevent significant job losses and plug the "big hole" blown in their budgets by the COVID-19 crisis.
Education Minister Dan Tehan announced the government would guarantee funding for domestic students based on expected enrolment levels before the pandemic hit. Under the relief package for higher education providers, the government is also creating cut-price online courses for Australians to re-skill at home.
Mr Tehan said the guarantee of $18 billion for domestic undergraduate education would provide "ballast" for the sector to see out the crisis. Ordinarily, the funding would be revised down throughout the year if enrolments dropped.
But university sector leaders immediately said the package would not address the billions of dollars in lost revenue from international students. An estimated 21,000 jobs could still be lost in the next six months, Universities Australia chair and Curtin University vice-chancellor Deborah Terry warned.
Professor Terry said the package was an "important first step" and the guarantee of government funding had prevented "even higher" job losses.
"Individual universities are already cutting costs across the board through very substantial reductions in operational spending, deferral of vital capital works, and reductions in senior staff salaries," she said, adding the measures would be "nowhere near enough" to cover estimated losses of $3 billion to $4.6 billion or more.
International education has become a major revenue source for Australian universities over the last decade. The Group of Eight elite universities now rely on it for a third of their funding. A third of the students are Chinese and enrolments have crashed since the outbreak of COVID-19 in Hubei province.
About 750 Qantas staff working at Adelaide Airport have been asked to self- quarantine for two weeks amid concerns over a cluster of coronavirus cases that has spread from baggage handlers to other airline staff.
The move comes as South Australia recorded no new virus cases on Sunday but also confirmed a fourth death from the disease.
The airline cluster stands at 34, including 18 baggage handlers, 13 of their close contacts and three other Qantas staff.
SA's Chief Public Health Officer Nicola Spurrier said those recently included indicated a spread to other areas of the airline's operations.
She said there were now concerns for people who worked as airport duty managers, pilot and cabin crew managers and for people who used an area where the airline's engineers were located.
"For this reason, we'll be requesting approximately 750 Qantas staff who have worked in those three areas since the 18th of March to self-isolate and be in quarantine immediately," Prof Spurrier said.
Qantas has sent an email to all staff and SA Health is also accessing mobile phone numbers to contact each person.
The concern is specific to the Qantas operations and does not extend to public areas of the airport.
However, a general call remains in place for anyone who attended the airport in recent weeks and who develops respiratory systems to get tested.
Sunday's good news on infections was the first time SA had no new cases since March 10, leaving the state's total at 429. Of those 14 remain in hospital with six in intensive care.
Prof Spurrier said 239 people had now recovered.
SA Health also confirmed the death of a 74-year-old man succumbed to the virus in the Royal Adelaide Hospital overnight.
He contracted COVID-19 as a passenger on the Ruby Princess cruise ship.
Prof Spurrier said the lower number of new cases in SA in recent days was a good sign.
"I suspect that we are in this very, very fortunate position in South Australia….that we are really getting on top of this," she said.
"It's important though to realise this is a new virus and we don't know everything about this disease."
She said restrictions put in place to halt the spread of the virus should be maintained, something echoed by Premier Steven Marshall.
"If we go back four weeks, nobody would expect that we would have fewer than 200 active cases in South Australia," Mr Marshall said.
"By putting our strong borders in place, by putting these strong social distancing restrictions in place, South Australia has done extraordinarily well.
"But, we can't take our foot off the brake. We need a lot more data before we can even talk about lifting any of the restrictions."
AAP
Queensland Premier Annastacia Palaszczuk has poured cold water on plans to restart the NRL by the end of May, warning league authorities it would send the wrong message to the public.
The NRL announced on Thursday that the competition would start again on May 28 but many details were yet to be decided, such as the format of the season and where the games would be played.
Confusion arose the following day when NSW Health Minister Brad Hazzard said he had not spoken to ARL Commission chairman Peter V'Landys or chief executive Todd Greenberg for more than a month and national Deputy Chief Medical Officer Paul Kelly said the NRL was not a "law unto themselves".
It was later revealed the NSW government gave the NRL written permission to restart the competition in front of empty stadiums, featuring only NSW-based teams.
On Sunday, Ms Palaszczuk said: "There has been no discussions with me about it."
"I think we all have to abide by the same rules and I think we have to have very clear health advice about this," she said.
The rugby league fan said she based all her decisions on health advice and she would not change that ruling.
"Look, I would like to see the footy returned as much as everyone else," she said.
"I would love to see the State of Origin played this year.
"But, unless we get firm health advice that it is OK, I think it sends the wrong message to the public."
Ms Palaszczuk said she would not give exemptions to Queensland rugby league teams to cross the Queensland-New South Wales border to play in a revised competition without going into 14-day quarantine.
London: British Prime Minister Boris Johnson has thanked staff at a London hospital for taking care of him while he recovers from COVID-19.
"I can't thank them enough. I owe them my life," Johnson said in a brief statement issued late on Saturday, local time.
The 55-year-old conservative politician, who was hospitalised last Sunday running a high fever, spent three days in the intensive care unit at St Thomas' Hospital after his health deteriorated.
He was moved back to a normal ward on Thursday. When the Prime Minister will be able to return to work remains unclear.
Foreign Secretary Dominic Raab is currently in charge of running the British government, with aides reportedly expecting Johnson to be out for as long as a month.
DPA, Bloomberg
Thanks to the lovely reader who sent in these pictures of an "Easter kindness" box they have left out the front of their house for parents, carers and their children who pass by.
What a brilliant thought in such a difficult time.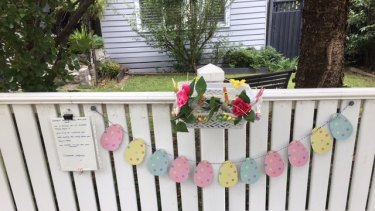 Tasmania is closing and conducting a "super clean" of two hospitals at the centre of a coronavirus outbreak in the state's northwest.
The North West Regional Hospital and North West Private Hospital in Burnie will close from 7am on Monday, it was announced by Premier Peter Gutwein.
All staff and their households, more than 1000 people, will be placed into quarantine for two weeks.
Forty-nine virus cases are linked to the two hospitals, including 35 health workers.
Tasmania recorded its fifth virus death on Sunday, an elderly woman at the North West Regional Hospital.