However, V'landys personally told Canberra's Ricky Stuart, Melbourne's Craig Bellamy and Parramatta's Brad Arthur that the points from rounds two and one will not be deducted.
Still, some claim the 70-year old-Bennett, who presumably has not heard of Zoom, drove from Brisbane to Sydney to meet with Politis, an unusual alliance insofar as the coach reneged on an agreement to coach the Roosters in 2006. But, I asked, haven't Souths won a game in 2020? "Wayne hates Anthony Seibold more," came the response referring to his replacement at the Broncos who have four points.
Welcome to world of rugby league, PVL! You'll find administering NSW racing sedate and gentlemanly by comparison. The soul of the once working man's game is equality and fairness and the case for clubs retaining their points is put best by Parramatta's Arthur.
"Everyone knew before round one that the virus was coming and the competition would stop," Arthur said. "We were all talking about getting early points on the board. Regardless of whether the comp would last 10 or 20 games, it was important to get early wins. In those games I had a player suspended, one with a broken foot and another fined $1500. Tell them those games meant nothing."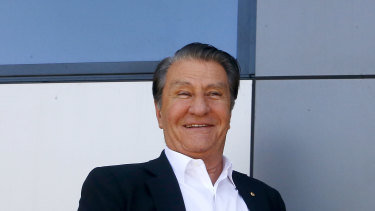 Newcastle's Adam O'Brien also had star player Kalyn Ponga suspended from the round-two game, and player of the year Mitch Barnett sustained a neck injury which forced him to miss the first month of the resumed competition. The Knights' star recruit, Jayden Brailey, played nearly the entire Wests Tigers game with a torn ACL and will miss the rest of the season.
"We also had some young players on match payments," O'Brien said, "Do they hand it back? What about the members who rolled over their memberships because we won the first two games? Do the fans who turned up on a miserable day get their money back?"
And do the broadcasters want their money back? Or do they also want a say in a two-conference model with everyone on zero points?
The argument of retaining points from rounds one and two in a two-conference system of eight teams each is that it would create unbalance. Yet, as O'Brien points out, there are six undefeated teams, four with a 1-1 record and six winless. By placing three undefeated teams, two with a 1-1 record and three winless teams in each conference, balance is achieved.
Furthermore, it can be accommodated in the Innovations Committee's two-conference system by simply swapping the Knights and Wests Tigers/Manly. A follow up argument is: 'How is it fair for a team to keep points for beating a team they may not play against in their own zone or conference?'
Yet, the NRL has a competition structure over 24 rounds where a club plays some teams twice in a season and others only once. Then there is: And if we have less games with teams to meet each other once, that means there will be extra importance on for and against, so that becomes a far bigger conversation.
Hasn't the NRL always had State of Origin in the middle of the season, prompting clubs to run up big scores against other team minus their stars? Curiously, St George Illawarra have been allocated to a non-Sydney conference, meaning that if the other states open their borders to travel, the Dragons are on the road for seven long trips.
Remarkably, Politis and Bennett's clubs wouldn't leave the Sydney metropolitan area for 14 weeks.
Roy Masters is a Sports Columnist for The Sydney Morning Herald.