The state government is currently "grappling" with the issue of getting West Australians back home, something Premier Mark McGowan says is of national concern.
Mr McGowan said the problem of getting Australians back to their home states after being quarantined on arrival from oversea was widespread.
"It's a problem all over Australia, Sydney has literally thousands if not tens of thousands of people kept in hotels and getting them home it's not easy," he said.
"Virgin has essentially stopped, Qantas has wound back its flights so much that it's very difficult to get flights home for these people and that's something that we're currently grappling with."
Mr McGowan said he was working with the Prime Minister and other state premiers to try and get flights arranged for those stuck in other states.
"There's national moves on that," he said.
"It may mean that the state needs to work with Qantas to support flights or underwrite flights to get people from the east home but also to get Western Australians back here."
While the state recorded its lowest confirmed cases overnight, Premier Mark McGowan said the war against coronavirus wasn't won and restrictions would remain in place for at least six months.
Mr McGowan said although the three most recent confirmed cases was the lowest recorded number since testing commenced, the state needed to remain vigilant.
"We've been fighting a battle for the last month, and we're obviously doing well," he said.
"But the war isn't won and so, while we need to continue to fight the battle we also need to plan for the recovery, which is what we will do in the coming months."
Mr McGowan said any form of loosening restrictions would come down to medical advice but no such plan was on the horizon any time soon.
"I don't want to give people false hope at the same time, I don't want to be too too pessimistic," he said.
"If the medical advice says that there can be some alleviation of restrictions and we have very low numbers of infection and certainly infection in Western Australians from contacts within the state, well then that will guide any decisions.
"But I just make the point, there's going to be restrictions in place at least for six months of one form or another and we're not going to lose some things that will make the situation worse."
State government will continue to review the restrictions on a daily and monthly basis, with a continued emphasis on closed borders rather than closing down more businesses.
Mr McGowan said keeping people employed was his main priority rather than allowing domestic and international travel.
"I'd much rather put in place strong borders than close down more businesses," he said.
"Certainly, we'll review to see what more we can do over time to tweak to perhaps lift restrictions."
Premier Mark McGowan said he was still concerned about what may happen with the seven cruise ships "hanging around" or on their way to WA and wouldn't be able to breathe a sigh of relief until they're all gone.
With the majority of COVID-19 positive patients in WA from cruise ships or from overseas, Mr McGowan said he looked forward to the day when WA waters were clear.
Mr McGowan said five of the ships had passed Fremantle and were on their way north, while two were still rounding down the cape in the south west and were yet to pass Fremantle.
"When they're all gone and when they're all clear of Australian waters I think we'll breathe a sigh of relief," he said.
"But until that point time we're still concerned about what might occur.
"It is at this point in time good news that the significant number [of them] has gone past Perth and hopefully they'll go past Geraldton and go on their way.
"That's hopeful for our health system."
Western Australia has recorded its lowest number of cases since the testing regime was introduced.
Premier Mark McGowan confirmed on Sunday that three new cases were recorded in the state within the past 24 hours, bringing the total to 517.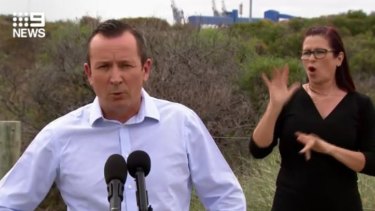 The three new cases are West Australians from the metropolitan area and none of them were from the Artania cruise ship.
Two of them were, however, passengers on a cruise ship in the meditaranean.
Mr McGowan said it was unclear how the third person contracted the virus and contact tracing was under way.
"Three new infections in Western Australia is very encouraging, very encouraging for all of the measures that we've taken over the course of the last month or six weeks or so," he said.
"It shows that some of the things that we've been doing have had an impact, certainly on the spread of infection within the state.
"We continue to be hampered by people coming back from overseas, whether they're on cruise ships or on holidays … that's continuing to be the threat for Western Australia but three new infections today is unambiguously good news."
The three new cases bring the state's total to 517, of which 68 were passengers or crew members on the Artania.
Of that, 449 cases are West Australians, 239 people have recovered and 278 are still suffering from the illness.
About 39 people are in hospital, 13 in ICU.
A woman in her 70s has died from the virus at North West Regional Hospital, Tasmanian Premier Peter Gutwein confirmed on Sunday, offering condolences.
"It's again a stark reminder that this virus is deadly, it's taken lives and as I said it will take more yet," he said.
The state has 133 confirmed cases of COVID-19, with 11 new cases in north-west Tasmania, where health authorities are working to contain an outbreak of the virus.
Thirty-eight cases have been linked to the North West Regional Hospital and North West Private Hospital in Burnie, with 26 staff among them.
People living with quarantined hospital staff and recently discharged patients were on Saturday told to self-isolate for two weeks by the state government.
About 130 staff from the hospitals have been stood down and placed in quarantine to mitigate the outbreak.
The state recorded 11 extra cases on Saturday, all in the north-west, although no links to the hospitals have been confirmed.
Three of the cases are in their 20s, five are in their 30s, one is in their 40s and two are in their 60s.
Mr Gutwein hasn't ruled out tougher measures to limit the spread of the virus in the north-west, including a lockdown of the region.
Australia's national death toll from the virus stands at 59.
National cabinet has begun planning for advanced coronavirus surveillance and tracking methods to take the place of tough social distancing measures but Australians should not expect restrictions to be lifted any time soon.
Chief Medical Officer Brendan Murphy on Sunday said Australia was in a stronger position than most as the coronavirus curve flattens to fewer than 100 new cases recorded each day.
But he said it was not the right time to consider lifting any of the restrictions on non-essential activities as the government warns of the threat of a second and third wave of cases, citing the experiences of Singapore and Japan.
Professor Murphy said the national cabinet was seeking advice on methods to "enable them" to reach a decision on potentially removing some of those restrictions in the future.
"There is a huge risk in doing so and we have certainly said that it is not the right time now," he said. "We want to spend the next few weeks looking at the framework with the national cabinet and helping them to make a decision."
Prime Minister Scott Morrison has repeatedly said he expects social distancing measures to be in place for the next six months.
A father-daughter duo delivered a unique drive-by concert on the back of a ute in a Perth neighbourhood this weekend to help promote resilience among their community.
Pianist Robert Graham and his singer-songwriter daughter Scarlett Graham performed for the west Beaconsfield residents as a way to say thank you for their efforts in staying safe, staying home and sticking to social distancing.
Organised by the West Beacy Bunch, the father-daughter duo spread the community spirit between Hampton Road and Lefroy Road by encouraging residents to get out in their front yards and have a dance.
The father-daughter duo are both out of work musicians and unassisted by the current stimulus package but wanted to give back to the community by encouraging unity.
Robert's sister Shani Graham and the street coordinators from the West Beacy Bunch said it was about building community and resilience during these hard times.
When COVID-19 hit, the community group set up a special phone line for people needing assistance, made hand sanitiser, and have established a phone roster to check in on older residents.
"Driving around playing songs on the back of a ute is fun," a post about the event read. "But building resilience into our community systems is essential."
Australian residents forced into hotel quarantine across the country on their return from overseas are emerging to a new challenge: getting back to their home states.
Some of those on last-minute mercy flights into Australia have found themselves essentially stranded a second time, along with cruise ship passengers offloaded into mandatory isolation in Western Australia.
After flying into Brisbane on a mercy flight from Nepal earlier this month, Perth-based IT consultant Eric Sweet said he was unsure how he would make it back to Western Australia.
"Pretty much everyone in quarantine who needs to travel interstate has no way home," he said.
"Virgin [are] no longer flying and Qantas seems to have cancelled every flight without sending customers any notice. So we're all stranded, once again."
Having already scaled back domestic flights, Virgin Australia on Thursday scrapped all but one single Sydney to Melbourne service, to run daily except Saturdays.
Qantas has also stripped back its domestic offerings to only five flights across capital city routes such as Sydney to Melbourne or Brisbane.
Mr Sweet said the first he knew of his flight home – booked with the carrier for April 16 – being cancelled was when he checked the app.
The first available flights between Brisbane and Perth listed on the Qantas site as of Friday night were not until April 24.
Continue reading, here.