As the tentative peace holds, displaced Syrians are weighing up grim options: remain in tightly packed camps with few services where a viral spread could be lethal, or return to homes still at risk of getting caught in renewed bloodshed.
"Our lives go from danger to danger as we flee from bombing, the regime, and conflict, to overcrowding and coronavirus," said Abu Abdo, 45. On Sunday Abdu returned with his family of seven to a village in Idlib's countryside.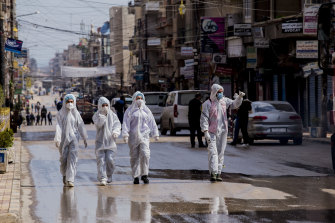 "Here it's agricultural land and the air is clean and there's no congestion, but it's still a dangerous area," he said.
Vans and trucks stacked with mattresses and household appliances choked a road snaking south through Idlib province on Sunday as families driven out just months earlier by air strikes sought to return.
"We fear there will be a regime escalation again but life in the town, in our home, is better than displacement and poor conditions," said Fayez al-Assi, 49, who fled Jabal al-Zawiya in Idlib's southern countryside two and a half months ago.
Loading
The Syrian Response Coordination Group, a north-west Syria relief agency, said 103,459 Syrians had returned to towns in the Aleppo and Idlib countryside since the ceasefire.
"Even if there is bombing we aren't afraid of it. We've gotten used to it," said Zakaria Shawish, 25, from the town of Ariha, south of Idlib. "Sitting here under the bombing is better than being displaced in the camps and not having a home."
Last week, the Syrian regime dismissed a report by a global watchdog that said Syrian jets had carried out a series of chemical attacks on an opposition-held town, under orders from its top military command.
The report from the Organisation for the Prohibition of Chemical Weapons (OPCW) said Syrian air force pilots flying Sukhoi Su-22 planes and a helicopter had dropped bombs containing toxic chlorine and sarin nerve gas on the village of Latameneh in the Hama region in March 2017.
The Foreign Ministry said in a statement that the report was "deceptive and included fabricated conclusions, the purpose of which was to distort truths and accuse the Syrian government".
Loading
Assad and Russia have both repeatedly denied using chemical weapons, and accuse insurgents of staging attacks to implicate Syrian forces.
The OPCW's Investigation and Identification Team (IIT), whose formation was opposed by Moscow and Damascus, said more than 100 people had been affected by the attacks, carried out on March 24, 25 and 30, 2017.
It said the 50th Brigade of the 22nd Air Division of the Syrian Air Force had dropped M4000 bombs containing sarin on the town, and a cylinder containing chlorine on a hospital.
"Military operations of such a strategic nature as these three attacks only occur pursuant to orders from the highest levels of the Syrian Arab Armed Forces," the report added.
Reuters